Back to selection
25 Picks for the 2013 Tribeca Film Festival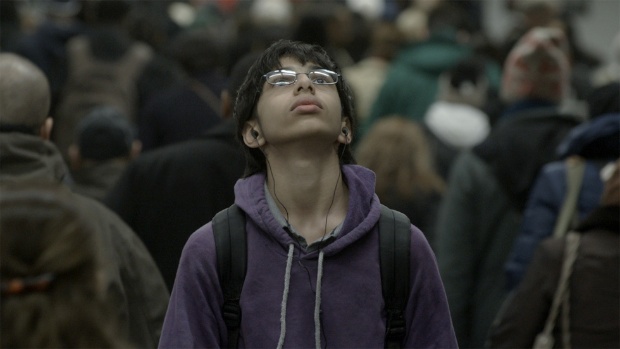 Stand Clear of the Closing Doors
In the world of film festivals, "12" isn't a particularly
notable number. "Ten" — connoting if not institutional status than
at least permanent residence — has come and gone. So too the after
party of "11." "Twelve" should just be rolling along, business as
usual, dependent more on the quality of that year's cinema than
anything else. So, while it would be a stretch to say that Tribeca
has reinvented itself for its twelfth edition, which opens today, I
can't help but note that something seems pleasantly different.
Maybe it's the lack of celebrity bloat — gone are the tin-ear gala
titles which traded credibility for ephemeral red-carpet sizzle.
(To wit: Tribeca's Opening Night film was not a celebrity affair
but rather the lo-fi Brooklyn band doc, Mistaken for
Strangers.) Perhaps its the addition of new sections,
like Storyscapes, that seem genuinely exciting. Or maybe it's
simply the presence of a number of films I've been looking forward
to seeing and am happy to see receive premieres. Whatever the
reason for my optimistic take, this year the Tribeca Film Festival
programming team does seem to be well defined, working together and
drawing on each other's strengths. Artistic Director Frederic Boyer
arrived at Tribeca last year following his stint at the Cannes Film
Festival's Directors Fortnight, but, in truth, he arrived too late
in the programming cycle to make much of an impact. That's not the
case this year, as Boyer has drawn on his connections with both
international and local filmmakers to convince them to premiere
their films at Tribeca. And Director of Programming Genna Terranova
remains an indefatigable searcher for new voices. Indeed,
introducing the festival at yesterday's press lunch, Tribeca
Enterprises Chief Creative Officer Geoff Gilmore, who in 2011
accepted "an active programming role" in the festival, seemed truly
energized by his team and their selections. The result is a line-up
containing a youthful energy and plenty of promising titles,
including quite a few by important New York independent filmmakers
familiar to readers of this magazine. I'll write more about the
festival as it goes on, as will other correspondents at
Filmmaker. But for now, to kick off, here are
25 of my picks drawn from all sections of the festival, with a
heavy emphasis on films by directors we've followed here at
Filmmaker. A Journal
of Insomnia: Receiving its world premiere
within Tribeca's Storyscapes program, A Journal of Insomnia
is a collective interactive work conceived and
produced by Hughes Sweeney comprised of contributions from
tossers-and-turners the world over. Responding to an online
call-out, insomniacs uploaded webcam videos and drawings detailing
their own restless hours. The most compelling of these submissions
now constitute a work that looks at insomnia both poetically and as
an expression of the anxiety of life in late-stage capitalism.
The piece went
online today, April 18, when an
installation version also premieres at Tribeca's Bombay
Sapphire House of Imagination on Varick Street. My only critique
here concerns the hours: the installation closes at 10:00 each
night. How wonderful would it have been if it had only opened at
2:00 AM and closed at 7:00, making it not only a site about
insomniacs but a site for them?
Bluebird.
Bluebird is the eagerly awaited debut feature
from Lance Edmands, whose Vacationland short
film made the festival circuit a while back and who's known for
cutting features like Lena Dunham's Tiny
Furniture. Supported by the various Sundance and IFP
Labs, the film promises to be a piercing drama of small town life
in the wake of tragedy. It's also got a strong cast: Amy Morton,
John Slattery, Louisa Krause, Emily Meade, Margo Martindale, and
Adam Driver. The
Cinema Redefined: People talk a lot about
"the theatrical experience," but one thing always seems to get left
out of the conversation: the experience. In their Future of Film
series, Tribeca and the Verge tackle various relevant topics, with
"The Cinema Redefined" seeming the most interesting to me. Media
ReDEFined curator Jason Hirschorn discusses the future of theater
design with reps from various theater chains and architecture
firms. The Genius of
Marian: Tackling the subject of
Alzheimer's in the form of personal documentary, Banker White's
The Genius of Marian examines the disease's
impact on two family members: the director's mother, Pam, currently
finding her own faculties diminishing, and her mother Marian, an
accomplished artist who died from the disease. White documents his
mother's attempt to remember and save the memories of his
grandmother in compellingly intimate footage. (I had the
opportunity to see some of this footage a couple of years ago, and
we supported this project on our curated Kickstarter page.)
Lenny Cooke. Josh
and Benny Safdie are particular favorites of mine with their
almost-throwback NYC tales of life in the margins. After a number
of shorts and two excellent feature narratives, they premiere at
Tribeca their first feature doc, Lenny
Cooke, about a high-school basketball player
for whom stardom is both pre-ordained and just out of reach. Of
interest to sports fans will be appearances by various basketball
stars, including LeBron James. Aatsinki:
The Story of Arctic Cowboys: Like Josh
Safdie, Jessica Oreck is one of our "25 New Faces," and she follows
her Beetle Queen Conquers Tokyo with a
year-long portrait of sheep herders in Finnish Lapland. Bold,
poetic and smart, Oreck reimagines the ways in which cinema can
create dialogues with science and anthropology. #SIXSECFILMS.
In the lead-up to Tribeca the festival partnered with the app on a
contest to create the best Vines in a number of categories. The
winners will go live this week, and I'll be interested in checking
them out. And that's because Vine is hard. Really hard. Sure, it
looks easy, but creating a six-second moment, making the sound
work, finessing the edits — all within Vine's restrictively simple
UI — takes either great skill, great luck, or probably both.
A Birder's Guide to
Everything. Director Rob Meyer made the
celebrated short film Aquarium, and his
screenwriting partner, Luke Matheny, is the guy with the crazy hair
who won a short film Academy Award a few years ago. A coming-of-age
teen road trip dealing with amateur birdwatchers, this is a
long-gestating and much anticipated New York indie project. Alberi:
Michelangelo Frammartino's brilliant Le Quatro
Volte told a story of life, death and regeneration as
the seasons unfolded in a small Italian town. It was a film you
could sink yourself into, and now Frammartino returns with an even
more immersive experience. An installation at the VW Dome at
MoMA/P.S.1, Alberi transports viewers to the
Italian town of Satriano, where, in an ancient rite, the town's men
disguise themselves as ivy-covered walking trees. I watched
Frammartino give a presentation about this project at CPH:DOX a
couple of years ago, and, yes, it's as deeply and intriguingly
weird as it wounds. Herblock: The Black and
the White: Herblock — Herbert Block —
was the Washington Post's long-running political cartoonist, a man
whose sly satire reinvented the form. Growing up in D.C., I'd read
him every morning in the Post, but I haven't thought about him in
years. Seeing his name in the Tribeca catalog flashed me back to
his insider irreverence and made me remember how much I liked his
work. Michael Stevens tells the story of this three-time Pulitzer
prize-winner. Big
Bad Wolves. I've heard good
word about this Israeli revenge thriller, about a cop and a
vengeful dad teaming up against an accused serial killer. Dark
Touch. A decade ago, Marina de
Van put a new spin on body horror with In My
Skin, in which she starred as a woman reexamining her
own body in the most graphic of ways following an accident. With
her latest, she shifts her focus to that of an 11-year-old girl
whose own home — as in the furniture and the fixtures — is deadly.
She
told Fangoria:
The subject of child
abuse, sexual child abuse, which was my interest in this movie. I
wanted to show in what precise way a kid is mutilated by sexual
abuse, and how she's unable from there to have any normal, happy
contact with others—physical as well as affectionate contact. It's
about a trauma and a failure coming from the trauma. And this
particular trauma I wanted to speak about, is a trauma from
childhood.
Adult
World. Emma Roberts and John Cusack star
in 25 New Face Scott Coffey's Adult World, a
story about the literary life set in and around a sex shop.
Coffey's debut feature, Ellie Parker, starred
Naomi Watts and was an observant satire of the Hollywood acting
community. For the last decade Coffey's been working in music while
developing various projects. He's also got a great Instagram.
Almost Christmas.
Here's another long-in-coming second feature: Phil Morrison's
Almost Christmas. In the '90s Morrison made
one of the funniest shorts of all time, Tater
Tomater. In 2005 he made one of the best
independent features of the '00s, Junebug. His
latest is an odd couple comedy starring Paul Rudd and Paul Giamatti
as small-time Christmas tree salesman. Bottled
Up. As I've noted here,
long-gestating second features by New York independent directors
seem to be a programming strand at Tribeca this year. Here's
another: Enid Zentelis's Bottled Up. Nine
years after her debut feature, Evergreen,
Zentelis tells a tale of prescription drug abuse with a fantastic
cast that includes Oscar-winner Melissa Leo and the excellent Marin
Ireland. Richard
Pryor, Omit the Logic. After
plumbing the life of Roman Polanski in two films, documentary
filmmaker Marina Zenovich chronicles the life of a different kind
of genius, Richard Pryor. As Filmmaker's
Brandon Harris noted recently at The
New Inquiry, Pryor "inhabited the experiences of working
class urban and exurban mid-to-late 20th century blacks, finding
cathartic waves of laughter in the sex lives, addictions, familial
relationship, and delicately concealed anger of the kind of people
he almost never got to play on movie screens." Zenovich's film
features interviews with Gene Wilder, Dave Chappelle and others,
and promises unseen rehearsal and behind-the-scenes footage. This
Exquisite Forest. I asked a
colleague the other day, what's the transmedia project you'd
recommend to the average filmmaker looking for an approachable
example of the form? "The Johnny Cash
Project," he replied. And if you ask me to name a work
that shows how interactive media can produce genuine emotion in the
viewer, I'd probably think of The Wilderness Project
Downtown first. So, This Exquisite
Forest, by the creators of those projects, Chris Milk
and Aaron Koblans, is high on my Tribeca list. It's another
Storyscape project, this time commissioned by Google and the Tate
Modern. And it uses the always interesting "exquisite corpse"
formula, this time applied to browsers and user-generate
animations. Sandy Storyline.
An interactive participatory
documentary included in the Storyscapes section, Sandy
Storyline "seeks to become the largest living archive of
testimonies about Hurricane Sandy and visions for the region's
rebuilding." The project already includes over 250 first-person
accounts. These can be viewed and listened to on the site, as well
as in installation form at Tribeca. Robots
in Residence. Can you tell that
I'm into Tribeca's Storyscapes program? Robots in
Residence was commissioned by IDFA DocLab and it's
billed as a filmmaking collaboration between robots and their
interviewees: festival audience members. Back when she saw it at
IDFA,
Rose Vincelli wrote for Filmmaker,
"While I doubt the little bots will be putting directors out of a
job anytime, the candidness those interviewed offered to a box of
circuits puts us one step closer to the Singularity, and to the
robot overlords that theorists like Sherry Turkle warn us against.
I'll definitely be watching for the final cut of this project!"
Stand Clear of the Closing
Doors. Sam Fleischner follows up his
Jamaica-set Wah Do Dem with this tale of an
autistic teen on the run in the New York subway system. Set in the
Far Rockaways and shot before and after Hurricane Sandy,
Stand Clear of the Closing Doors wound up
incorporating the storm into its narrative during production. This
film particularly has picked up a lot of buzz going into the
festival. Big
Men. Another 25 New Face, Rachel Boynton
explored the import of American-style campaign strategies to Latin
America in her doc, Our Brand is Crisis. With
Big Men, she travels to Africa, this time
looking at American oil executives. Teenage:
25 New Face Matt Wolf looks at teenagers not as a natural stage of
human development but as a socially created group, one determined
by post-War politics and capitalist consumer culture. Based on Jon
Savage's book, Teenage is narrated by actors
including Jena Malone and Ben Whishaw, and it is scored by
Deerhunter's Bradford Cox.
TEENAGE teaser
from Teenage
on Vimeo.
Sunlight, Jr. As
I noted, long-awaited second features form a trend at Tribeca this
year. Here's another: 25 New Face (yes, another) Laurie Collyer
follows up her debut narrative film,
Sherrybaby, with this Florida-set tale of life
on the margins, starring Matt Dillon and Naomi Watts.
Ali Blue Eyes.
Claudio Giovannesi's Ali Blue Eyes picked up a
prize at the Rome Film Festival last Fall that tells a simple story
about an Egyptian Italian teenager who takes to the streets
following family conflict. It's also said to have a propulsive
energy to it, a great non-pro cast, and the street smart vibe of a
New York indie. King of Comedy.
"Mom!!!!!" The joke — a guy sits in his basement,
trying to act all professional as he records his podcast, web
series or, in the Beevis and Butthead days, public access radio
show, when his mom yells down at him to take out the trash. We've
seen this gag a thousand times, having been around since at least
the days of Rupert Pupkin and Martin Scorsese's enduring black
comedy about the toxic side of celebrity culture. Starring Tribeca
co-founder Robert DeNiro, what better revival for TFF 2013 and the
age of Jenna
Marbles?