Back to selection
Exploring Transmedia at the IDFA DocLab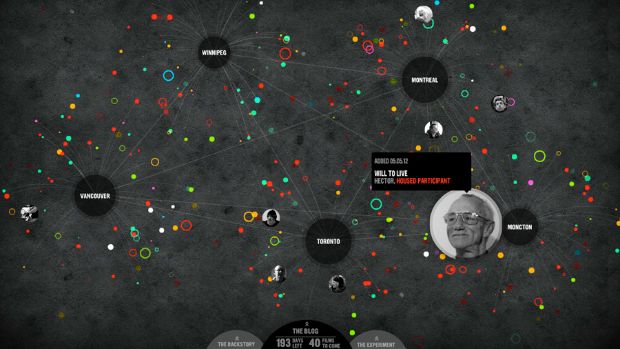 Here at Home
It's been more than a week since IDFA, but I can't stop thinking about their DocLab program, a competition section showcasing "new and unexpected forms of digital documentary storytelling." This program presents new non-fiction transmedia projects, each allowing the viewer to interact with the reality the filmmakers have documented and constructed. Most of the projects were presented in screenings or in talks at the excellent DocLab Interactive Documentary Conference. In addition, each was presented on their own computer monitors in the DocLab's gallery space.
What makes most of these mostly web-based projects different from a "normal" documentary is that the audience chooses the focus of the story while, often, the core narrative thread remains constant. The stories are so detailed that viewers choose which of the layers are most interesting. Here's a simple graphic from Drew DeVigal's talk in the Interactive Doc Conference that explains it further.
(DeVigal, of the Portland interactive firm Second Story, was generous enough to share his whole presentation, "There Is No Screen," here, and it is highly recommended.)
To understand all of this within the context of a specific project, check out Bear 71, created by Jeremy Mendes & Leanne Allison, with the support of the National Film Board of Canada. Told from the point of view of a young grizzly in Banff National Park, the project follows her real-life path through the park using her GPS collar. The narration cheekily reports her life and shrinking domain, and while listening, the viewer can navigate the grizzly's intersections with other tracked animals and watch surveillance video at her favorite scratching tree and of her learning to safely cross the railroad tracks with the help of another bear. Viewers can also go off on their own wander through Banff and come back to the bear at will. So for the 20 minutes of the piece, viewers make their own visual story while still living in the world the filmmakers have created.
This kind of freedom, the ability as the audience member to manipulate what you see, is also evident in another NFB-supported project, Here At Home. This is a live, web-based documentary, showing stories from Canada's nationwide program putting homeless citizens into their own apartments. Viewers become engrossed in the life of a bearded man in Toronto, living in an apartment for the first time in 30 years, unable to turn on the stove, and concerned that living in a house will make him soft. Can an an old hobo settle in to a a "normal life," replete with frozen pizza? You can follow his progress through 2013, along with that of his case worker, landladies in Winnipeg, and dozens of others living in and supporting the program across the country.
On the other end of the interactive spectrum was the Robots In Residence installation from robot artist Alexander Reben, and filmmaker and Wholphin co-founder Brent Hoff. Reben has been studying how to best get robots and humans to interact, and, with Hoff, built an adorable director robot. You borrow a robot, who then interviews you, asking the most base questions: tell me a secret, who do you love the most, are you happy? The creators screened a rough cut of their first few days of shooting, and the IDFA audience answered with a candidness that most would never afford a human with such gall. While I doubt the little bots will be putting directors out of a job anytime, the candidness those interviewed offered to a box of circuits puts us one step closer to the Singularity, and to the robot overlords that theorists like Sherry Turkle warn us against. I'll definitely be watching for the final cut of this project!
Other noteworthy projects in the slate include Alma, A Tale Of Violence, a harrowing first-person sort of confession from a former gang member in Guatemala, which won the prize for the DocLab competition, and, from the U.S., Cowbird, a "free public library of the human experience." It features personal stories cataloged by venue and topic from Jonathan Harris and the same folks who brought us We Feel Fine a few years ago.
I could probably write an entire article about the MIT Open Documentary Lab project, Moments Of Innovation. Made in collaboration with the IDFA DocLab, this is an exhaustive web archive of the history of documenting. As a total statistics nerd, I love this! I also love the unique ability of this kind of academia to look at history in the light of the contemporary; like putting stereoscopic viewers in the same Immersive Experience camp as Danfung Dennis' Condition One. Over in their Data Visualization camp, which also includes cave painting, I spent a lot of time looking at the Felton Annual Report. A man meticulously documents the stats of his life: places visited, drinks drunk, experiences savored, all together and with Olga, mom and the others in his life, all visually and numerically tallied. While I am tired of reading others' location check-ins on Foursquare, here I am fascinated with the stats of a stranger's life. My favorite stat: "Teeth lost by cat: one, June 4 2011, his remaining canine." RIP, kitty tooth.
The DocLab reinforced my excitement for this new genre, or storytelling platform, if you prefer. While heading to DocLab I was grappling with what transmedia extensions could look like for independently produced, small-budget films, and DocLab helped answer that question. The search continues for more examples, but the DocLab presented a bevy of projects that helped expand my ideas of the genre.