Back to selection
Invisivision: New 3D-And-More Glasses to Allow Multiple Simultaneous POVs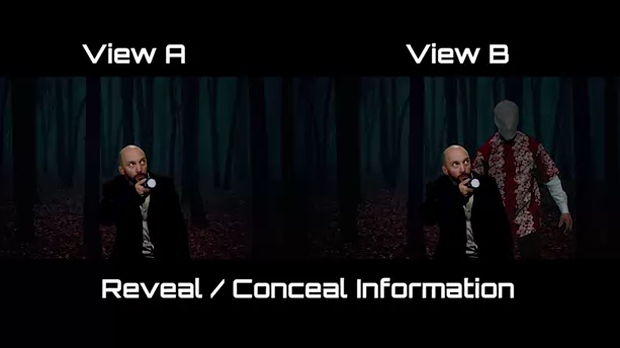 How Invisivision works (still taken from the YouTube "Invisivision Explainer" video)
"Have you wondered what your favorite movie looked like from the sidekick's perspective?" asks the pitch video for Invisivision, a proposed new kind of 3D-and-more glasses being developed by PipeDream Interactive. The basic idea: since 3D already projects two images simultaneously, why not put those two information streams to a use other than creating stereophonic depth? The pitch video below outlines a potential multitude of uses. Would you like to choose which angle you watch a scene from — e.g., to toggle from the hero's POV to the villain's? Now you can, and that should be no extra work for the studio. "A lot of films are already filmed from multiple perspectives so that afterwards in post-production when they're choosing which clips to use," company co-founder/CFO Robert Bruski told CBCNews. "Now they can choose multiple clips."
Early DVD adopters may recall that remote controls used to have an "angle" option that would theoretically allow viewers to choose which angle they wanted to see a scene from (in actuality, this didn't seem to become standard practice). Other proposed uses for the glasses seem a little wackier, like the idea that parents could take their kids to violent fare or straight up horror movies and get all the gore while the little ones see a cleaned-up image. Wouldn't the cranked up levels of multiplex volume drive the scares home anyway? And wouldn't such an innovation inadvertently turn what's onscreen into inexplicable nonsense?
There are also intuitively valid ideas floating through this proposal: a second layer of closed captions accessible to deaf viewers would be a boon, since the current system — setting aside a few screens for open caption projection — is inefficient and limiting. Invisivision glasses can also be used as normal 3D glasses, which would reduce the waste of the current recycling-and-cleaning system. As an aide towards playing video games, the applications seem more obviously useful for first-person shooters.
A Kickstarter for Invisivision was launched this morning. The plan is to raise funds for manufacture of prototype glasses and post-production on a short film demonstrating their possibilities, to be screened in August at select Regal Cinemas in the US and Cineplex Theatres in Canada.