Back to selection
Welcome to the Terrordome: Sundance London (April 25-27, 2014)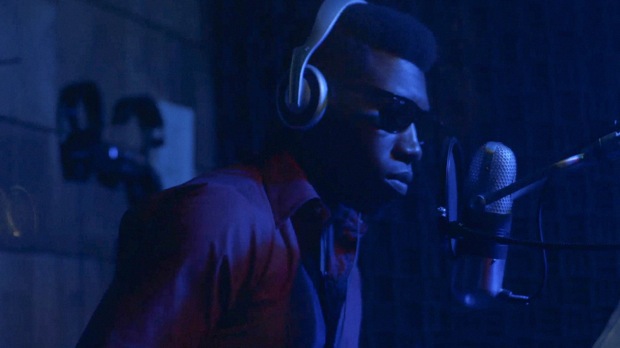 Memphis
Over one long weekend at the end of April, the third annual edition of Sundance London — a slimmed-down, satellite companion to its 30-year-old US forebear — took place.
The first thing to note about the festival is the sheer oddness of its location. The films screen at a characterless (though decently-appointed) Cineworld multiplex inside the O2 Arena, a corporate enormo-dome that hosts everything from musical concerts to live comedy to darts tournaments. The O2 is situated at the Greenwich peninsula on the south bank of the River Thames, roughly six miles to the east of central London, where most of the capital's arthouse and rep cinemas are clustered. Sundance London's topographical disconnect from the traditional "hub" of London film culture might, you'd think, lend it some sort of edge, but that potential dissipates the moment you step inside the cavernous space.
One is immediately confronted by aggressive branding (a clue's in the title: it's named after a major telecommunications company), a string of unappetizing chain restaurants with bafflingly ginormous queues snaking from their entrances, and a panoply of bizarre promotional activities. On day one, the very first thing I saw was a shirtless, dead-eyed, orange-skinned man gyrating with a procession of excited teenage girls: I think he was a human advert for Diet Coke, but I can't be sure. Later, when I tried to leave the venue after a press screening, I found myself swimming meekly against a palpably hormonal tide of fans of the band McBusted, who were playing the venue's music hall later in the evening. (For the curious: McBusted are a Frankenstein's Monster cobbled from two defunct boybands named McFly and Busted. To illustrate McBusted's level of popularity in the UK, none other than the Backstreet Boys have been drafted in as a support act for their massive summer shows at London's Hyde Park. One feels compelled to ask the question: did they want it that way?)
The O2 Arena has a curious history. In its previous incarnation it was known as the Millennium Dome, a project developed by Tony Blair's "New Labour" government of the late 1990s. It opened on January 1, 2000 and was vaunted, loudly and extensively, as a visitor experience to trump lauded bazaars like the Great Exhibition of 1851 and the Festival of Britain in 1951. For an idea of what it was going for, check out this poignantly overconfident promo video from 1999, replete with characteristically over-enunciated Tony Blair cameo ("It promises — and will be — the most fan-tas-tic day out in the world!")
Unfortunately, despite the hundreds of millions of pounds of lottery money the venue's creation swallowed up, its array of uninspiring educational attractions failed to capture the attention of the public, who stayed away in their droves. The Millennium Dome ended up as a national punchline, and became one of the most infamous white elephants in British history. It closed on Dec 31, 2000, and lay untouched and unloved for years until developers moved in, and it reopened — refurbished and rejigged — as the O2, in 2007.
And now, here it is, hosting an "indie cinema" festival. While the term "indie" has become increasingly amorphous (nay, nebulous) over the past couple of decades, it still surely signifies enough of an ethos to make this sterile monument to unfettered capitalism a confounding choice of venue; it's a little like hosting a bullfight at the ASPCA headquarters. One can only suspect that O2 have offered the Sundance organizers a hell of a sweet deal for their services.
The strangeness doesn't end there. There's the festival's program, which isn't so much a "best-of" curated from the Park City festivities, as a grab-bag of whatever's available — i.e. whatever hasn't been snapped up by Cannes, or isn't currently being fought over by international distributors, thus keeping it out of contention. Such limitations meant that there was no place in the 20-film slate for any of the big winners from January, including: Damien Chazelle's Whiplash (Grand Jury Prize: dramatic); Andrew Droz Palermo and Tracy Droz Tragos' Rich Hill (Grand Jury Prize: documentary); Alejandro Fernández Almendras's To Kill a Man (World Cinema Grand Jury Prize: dramatic); or Talal Derki's Return To Homs (World Cinema Grand Jury Prize: documentary). The only major award-winner to make the program was Ben Cotner & Ryan White's compelling gay rights doc The Case Against 8, while the sole UK exclusive was something called Axiom, the debut attempt at filmmaking by "South London trip-hop collective Archive" (I wasn't tempted.)
The most interesting film I saw was probably Tim Sutton's woozy Memphis, a teasingly ambiguous docudrama about the ongoing existential crisis of real-life soul man (and Wesley Snipes dead ringer) Willis Earl Beal. Also on a musical theme, I enjoyed Alex Gibney's informative Finding Fela — a doc on the late Nigerian founder of Afrobeat — well enough. Its archive footage is superb, and there are illuminating contributions from a host of articulate talking heads (Questlove, Bill T. Jones etc…), but I couldn't help but feel that a more formally adventurous filmmaker would have been a better fit for such a vibrant, insanely complicated subject; it's actually a bit of a crime to make a workaday film about a man who once married 27 women at the same time. Ryan Coogler's excellent Fruitvale Station made an appearance more than a year after it picked up the Grand Jury Prize in 2013, while romcom spoof They Came Together proves that Paul Rudd and Amy Poehler, even on autopilot, are still well worth watching. Other highlights included: the Zellner Bros.' chilly Kumiko, The Treasure Hunter; a "from the collection" rep screening of Reservoir Dogs (the first time I'd ever seen it on the big screen: a treat); and the diverse short film programs. The film I most regret missing was Marjane Satrapi's The Voices, which my Twitter hivemind assured me featured a career/reputation-rejuvenating turn from Ryan Reynolds as a beady-eyed psycho.
So the program's not bad, but what is this festival for? The first, and most obvious answer, is that it represents a rare and welcome chance for UK cinephile audiences to catch a diverse range of non-blockbuster American films weeks or months ahead of their eventual bow (if, indeed, they ever get released at all). From what I could see, attendance was fairly healthy at public screenings, suggesting that the Sundance brand carries enough of a trans-Atlantic buzz to get folks excited even if the film selection isn't screamingly exciting.
Secondly, it offers a decent launchpad for UK distributors to get the word out about their upcoming releases. Films like Lenny Abrahamson's wacky music drama Frank and Jeremy Saulnier's revenge thriller Blue Ruin had imminent UK release dates, and no doubt benefited from high-profile premiere screenings with talent in attendance. (Gabriela Cowperthwaite's orca doc Blackfish got a huge publicity bump from the festival last year.)
Credit must also go to US Sundance team members, including festival director John Cooper and director of programming Trevor Groth, who came over from Park City to put in a genuine, public-facing shift. Both men could be frequently spotted introducing films, popping up on panels about the practicals of filmmaking and programming, and shepherding slightly startled-looking filmmakers about the place. There is no question of them not taking this event seriously, even if its ultimate direction is difficult to discern at this stage. The festival would surely flourish if it were to move to Central London (a suggestion I heard echoed by many colleagues), but would the funding be there? As I hinted at earlier, there must be a damn good reason why the organizers would continue to hold a film festival in a venue this utterly devoid of atmosphere and antithetical to the concept of independent spirit.