Back to selection
Maine Course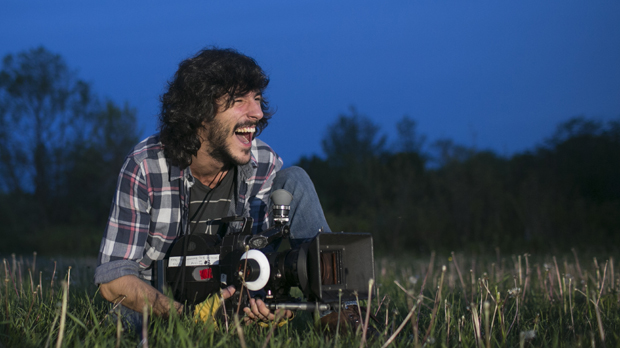 Uruguayan cinematography intensive student Diego Pavese on a night shoot (Photo by Christian Tyler Randolph)
Ready for a big change, back in 1997, I packed up my L.A. apartment, loaded the cat into a pet carrier and hopped on a flight to the East Coast. It was May, and I was joining the team at the Maine Photographic Workshops for the summer to help edit a new publication devoted to toy camera photography. The Workshops were a major advocate of the Diana and the Holga, cheap plastic cameras used by amateurs and pros alike to create unpredictable, often stunning, black-and-white photos. In the tiny plane between Boston and Portland, I tried to ignore my BlackBerry's pitiful yowling from the baggage compartment as I contemplated my bright new future.
The next day, I eagerly headed to the quaint town of Rockport, with its giant pine trees and gorgeous views of the Penobscot Bay. In an old building on the hill overlooking the town's harbor, I found the main office of the Maine Photographic Workshops. I announced my arrival, but no one seemed to know anything about me or my new job. So I tracked down David Lyman, the man who'd hired me by phone from L.A. The charismatic Lyman had founded the Workshops back in 1973 and then expanded the operation two years later when he created the International Film Workshops; these were again expanded in 1996 when Rockport College was created.
Lyman claimed he didn't know what I was talking about. I was stunned. We had an agreement! I left, driving glumly back up Route 1, wondering what I was going to do. Later that night I got madder and madder. The guy had promised me a job! I drove to Rockport the next morning and confronted Lyman angrily. He shrugged and said, "Okay, let's get started."
That was the beginning of a wonderful few months. I cheerfully interviewed photographers who used the Holga or Diana — including Sylvia Plachy! – and wrote stories for what became Alternate View. It was the first and the last (as far as I know) issue of the journal, but I had a blast and still remember the Workshops with great fondness. The place is absolutely beautiful, and every corner of the campus buzzes with creativity. The curriculum is robust, with dozens of great courses for filmmakers, photographers and designers. And Lyman? He had a big vision, and although he was a little tricky to work with (maybe as unpredictable as the toy cameras), I didn't really care. He supported me all summer in that magical place.
Lyman handed the Workshops over to a nonprofit organization in 2007, and it's now overseen by Meg Weston. She stepped in as president in 2012 and guides the organization, now titled the Maine Media Workshops + College, with aplomb, paying careful attention to the differing audiences for the vast array of courses offered each year.
MMW+C still boasts an incredible curriculum, and Weston understands the changing landscape of media-making. Indeed, when she took over, she did an analysis of the school, talking with students, faculty, staff and alumni to find out how various stakeholders identify the key strengths of all of the MMW+C programs. One of the strengths was the fact that the school is clearly identified with the art and craft of visual storytelling.
This reputation has been built over four decades through the caliber of professional photographers, filmmakers, cinematographers and artists who come to Maine each summer to teach. These include cinematographer Amy Vincent, who this summer is teaching a course titled "Camera Operator"; documentary director (and Filmmaker 25 New Face) Michael Palmieri, who will teach a course called "Cinematic Documentary"; and Andi Isaacs, former head of production at Summit Entertainment, who is teaching a course called "Understanding the Hollywood Studios and Distribution."
While there are many courses every week of the summer designed to enhance particular skills, or to introduce new concepts to beginners, the curriculum now includes two major certificate programs, one of which builds a comprehensive education in visual storytelling and the other of which is dedicated to fostering independent filmmaking. Designed in a modular way to allow working professionals to enroll when they can in short-term "intensives," the two 30-week programs include courses taught September through May. The Independent Filmmaking Certificate includes courses in screenwriting, a directing intensive, a producer's master class, editing, digital workflow, and more. "This certificate is designed for people who want to work in film at the level of an independent filmmaker or a crew member working in film," Weston explains.
The Professional Certificate in Visual Storytelling is broader than the Filmmaking Certificate in bringing together more diverse courses for artists who will use their skills in multiple ways. These include collaboration in multimedia, digital printing, audio and image, images and the Web, and so on. "People leave here with a broad skill set," Weston says. "They know how to put their story together, whether they're working for a magazine or they're a photographer and they need to use social media. We really train them for the world, one that's not what it used to be."
The second strength Weston identified when she did her initial analysis builds on the interdisciplinary aspect of the visual storytelling program and the fact that the school has always offered courses beyond photography and filmmaking. "We realized that in this era of media convergence, people need skills in multiple areas to make their way in media, so we teach photography, filmmaking, design and e-publishing," Weston says. "We're a nexus — a place where this all comes together and, in an era of convergence, we see this as our strength and our future."
Yet another strength is location. MMW+C is set in the small town of Rockport, which is nestled between the tourist haven of Camden on the north and the larger, grittier town of Rockland to the south. MMW+C is very close to Rockport Harbor, which is part of the dazzling Penobscot Bay, dotted with islands and tall ships. It's all very picturesque and idyllic, which might be totally annoying for some, except that the natural beauty — huge trees, dramatic afternoon skies, glittering sunlight on waves — offers an experience of the sublime that can inspire even the grumpiest and most cynical urbanite.
Weston understands that it's not easy for people to get to Maine for a weeklong course, so she and her staff have been creative with some of the programming. This year, for example, MMW+C will offer courses that bookend the dates for the Camden International Film Festival, scheduled to take place Sept. 25-28, 2014. "Jack MacDonald is teaching a course on writing and developing the documentary just before the festival, and Stephen McCarthy is teaching documentary camera that overlaps with the festival," Weston explains.
If I had a week to spend at MMW+C, I'd opt for poetic documentary, a course taught by experimental filmmaker Jonathan Schwartz in August, building on Schwartz's decade-long investigation of image and sound. Caitlin FitzGerald, who plays Libby Masters in Masters of Sex, is teaching another interesting course, in this case for actors and directors titled "Unlocking the Emotional Experience: Directing and Acting for the Camera."
As higher education continues to get lambasted for rising tuition costs and students struggle with enormous debt, alternatives to expensive three-year MFA programs look pretty good. The courses and certificate programs offered by Maine Media Workshops + College put forward one pretty compelling alternative, where you work with professionals at your own pace any season of the year, in a place whose natural beauty inspires great things.