Back to selection
How Is a Filmmaker Consumed by a Passion Project?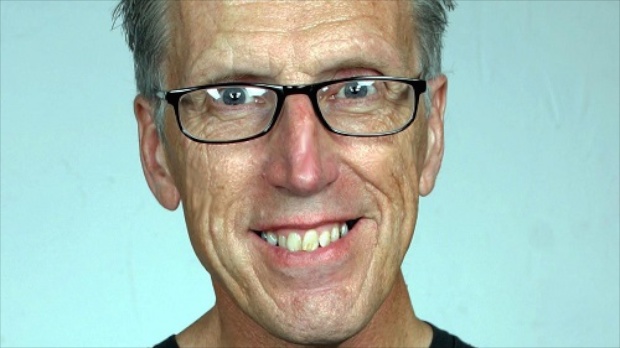 Michael Barnard
The following is a guest post from Michael R. Barnard, who is in the final days of an Indiegogo campaign for his film, Everybody Says Goodbye: The Story of a Father and Son.
For many years, I have been chasing a motion picture project that has completely consumed me. It's called Everybody Says Goodbye: The Story of a Father and Son, and I first began writing the screenplay in 1998. Having come so close to making the movie a few times, I keep referring to this project as "a fish-hook in the eye" because it's impossible for me to ignore and walk away from.
It is a gritty story about real life unknown to many of us… certainly to me. I was a lily-white ignorant married church-going father who grew up in a fancy suburb in the Midwest when I arrived in Hollywood in the late 1980s. I was not aware of the mean streets of Hollywood.
This is how the passion project that I've pursued for years evolved.
We lived in Burbank (the most Midwest-feeling area of Los Angeles) and I was working at MGM, which was still in Culver City at that time. My commute included Santa Monica Boulevard as it wound through Hollywood.
Late one evening, after a long day, I was driving home, stopped at the light at La Brea Avenue and Santa Monica Boulevard. There is a Target store and fancy shopping center there now, but back then, it was a seedy bunch of buildings and an old car wash. Several young people were hanging out and chatting in the parking lot.
It turned out they were street hustlers, just hanging out with each other at that moment. While I was sitting in my car at the stop light looking at the unusual gathering, a gunshot rang out. I could not see what happened, and never did find out, but what happened next burned into my mind: all the boys, frightened, ran from the lot, running through the cars stopped at the light. The group was amazing. There were boys dressed as girls, there were boys in provocative shorts and tank tops, there were boys who looked preppy, and all of them were fleeing, some in tennis shoes, some in high heels. In a moment, the parking lot was empty. Being Angelenos, when the light turned green, we all just drove on.
I could not get the image out of my mind, and the stark realization that there really were young people who lived on the streets, struggling to survive. I figured there had to be a story to be told, but could not figure out what that story might be.
A few years later, I got a job on a film shoot. It was a very edgy job for me; it was for Playboy. They were going to shoot their very first soft-core porn movie on location instead of in the warehouse in West Los Angeles where they had shot everything before. The location was the mountain resort area of Big Bear Lake. I was offered the job of driving the actors back and forth between Big Bear Lake and Hollywood. ("Um, Playboy bunnies in my car for a couple hours? Hell, yeah!")
There I was, grabbing breakfast in a diner in Big Bear Lake, which, when it's not ski season, is just a little town of good ol' boys driving pickup trucks. Each morning they would be there at the counter, chatting away before going off to do whatever good ol' boys go off to do.
One morning, the subject of discussion turned to gay boys. All those good ol' boys were telling each other how their own children would never be gay, and nobody they knew was gay, but if one of their children were to be gay, they knew there was only one thing to do: throw the boy out. They were adamant about it. Ignorant, but adamant.
For me, it was a sickening conversation to hear. My brother Scott had come out as gay more than a decade earlier, and our dad took it hard, but he never could have thrown him away. That was the reality. Things got worse when Scott went off to San Francisco in 1980. He came home to Minneapolis a couple years later with an unknown disease that we didn't even know back then was killing him. My family watched him slowly die, the first AIDS death in Minnesota, shortly after the term AIDS was first used. He died in our parents' living room. We could never have even thought of throwing him away at any time.
So, I could not ignore the conversation of those ignorant asshole good ol' boys at that counter in Big Bear Lake.
I was thinking how it was fathers like that, men who would abdicate the meaning of "father," who would let their sons end up on the streets of Hollywood in that horrible struggle to survive that I witnessed.
The story for Everybody Says Goodbye: The Story of a Father and Son came from those experiences and grabbed and compelled me to push forward against all the odds and adversities.
It is a passion project; it compels me even when I do not want anything to do with it anymore.
The screenplay, fully developed by Hollywood standards, has been at studios and in production and up and down in a frustrating string of false starts and dashed hopes.
I am making one more run at it, after several other attempts. We are crowdfunding the budget to make a short film from the finished feature-length screenplay, hoping to get it into film festivals and attract the people and resources to make the full-length feature film. There is a campaign on the crowdfunding site Indiegogo, and it appears to be failing, as do the lion's share of crowdfunding campaigns.
But this is a passion project, that "fish-hook in the eye," and I expect I won't be able to throw it away regardless of what happens to the crowdfunding campaign.
Michael R. Barnard has been in creative production for three decades. He helped launch a major-market TV station (Channel 29, Minneapolis), produced live on-location TV broadcasts with network-quality TV trucks, worked with Prince to launch Paisley Park Studios and create his "Alphabet Street" music video and other productions, produced the theatrical feature film Collier & Co.: Hot Pursuit! with John Schneider (/Dukes of Hazzard, Smallville), worked at Sundance Film Festival as Special Theater Operations, worked on several studio feature films as Manager, assessed manuscripts and materials for development at Warner Bros. Television, and worked as director and/or producer, or crew, on many video, TV and movie projects.