Back to selection
Redrawing the Boundaries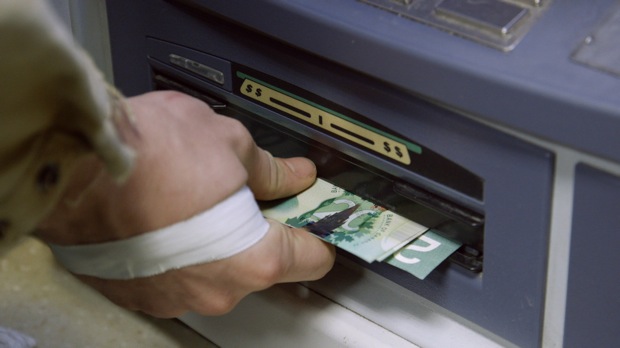 Cutaway (Photo courtesy of MDFF)
MDFF is a Toronto-based production company steadily churning out nuanced humanist films that capture a particular middle-class Canadian experience, while at the same time challenging the tendency for Canadian cinema to stay ghettoized within its own borders. Its founders, Kazik Radwankski and Dan Montgomery, are doing more than just bringing regional idiosyncrasies such as Toronto's racoons or Vancouver's methadone clinics to European film festivals. They're using MDFF as an umbrella to foster a film-going culture in their own city, simultaneously supporting the emerging independent filmmakers north and south of the border whose films they produce and screen.
Radwanski and Montgomery started MDFF, which stands for Medium Density Fibreboard Films, at Ryerson University in Toronto, where they met and began experimenting with a stripped-down, drawn-out filmmaking approach. "It was like chipping away at a piece of marble over time," explains Montgomery, who produces while Radwanski directs. With slow-paced perfectionism, they shoot on evenings and weekends with skeleton crews, improvising and editing along the way, economically telling small stories of mundane alienation featuring characters such as a depressed real estate agent or a balding man still living with his parents. The films are all done on digital with natural light, almost like documentaries, and with very regular-looking people — "you'd be surprised how hard it is to find an overweight actor!" noted Montgomery. The word their art director Eva Michon uses over and over to describe their performers is "real."
Early in their history, MDFF discovered Antoine Bourges, who was making similarly meticulously crafted micro-budget films on the other side of the country. Radwanski and Montgomery produced his next two films; in the latest, East Hastings Pharmacy, addicts in a methadone program in Canada's most notorious drug-addled neighborhood collaborated with Bourges to play fictionalized versions of themselves. Radwanski and Bourges both have the same instinct to favor the usually obscured banalities of life; drugs and violence are left just out of the picture. We see addicts waiting in line but not shooting up, just like in Radwanski's Assault, where we see a young man flipping through the yellow pages and cold-calling lawyers, but not his prior confrontation with a police officer. More often, estrangement comes without any danger at all, even offscreen. Radwanski notes how safe Canada is: "The alienation that is present in these cities, the drama or the pain in people's lives, it's unique. It comes from a different place." I hope I'm not making these films sound boring, because they aren't. They're just small and intimate, like a Raymond Carver short story. (And their focus on the banal is certainly budget-friendly.)
A couple of summers ago, MDFF began hosting screenings outside of theaters, at bars and lofts in Toronto. The series grew out of them promoting their first feature Tower, which premiered at Locarno, in their home city. "We felt like we tapped into a bit of an audience in Toronto," Radwanski explains. "It was a nice feeling that there was a community. We just wanted to play other films that we just wished were playing in Toronto and weren't." Although their own films are undeniably Canadian, they aren't favoring Canadian films in their programming. They are playing a lot of independent American films that share a sensibility of low-budget craft.
Growing up in Canada can produce a certain angst for proverbially "Canadian" content and the quota system that funds nationally produced arts and media. "There's this feeling of Canadian content being forced on you," Radwanski says. "In high school, I remember realizing there was better music out there than was on the radio." The silver lining of Canadian content, though, is that the country's arts councils dole out grants. Like a lot of young Canadian filmmakers working on micro-budgets, MDFF doesn't have to turn to crowdsourcing like their American peers.
MDFF's latest short, Cutaway, will have its US premiere at the Hamptons Film Festival this month. Right now MDFF is working with first-time director Deragh Campbell on her debut short. Though a Toronto native, Campbell has been acting in some of the American indies by emerging directors like Matthew Porterfield and Nathan Silver, who MDFF have been introducing to Canadian audiences through their screening series. "It's so important for people to cluster together and support each other," noted Campbell about the community forming. "Why would you want to stand on your own?"