Back to selection
Men, Women and Children: The 8th Abu Dhabi Film Festival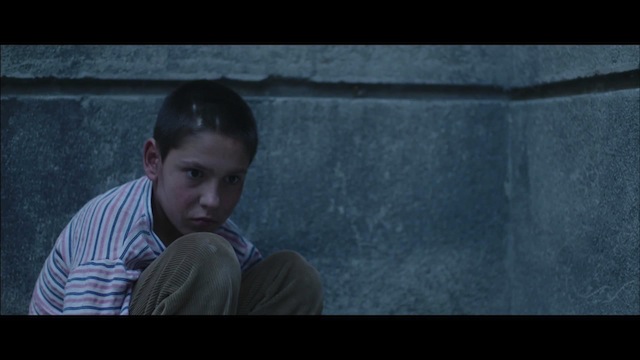 No One's Child
In Abu Dhabi, it's easy to let the smoke cozy up to your eyes. The festival, now in its 8th year, unfolds in one of the city's most dazzling corners, with the mammoth, labyrinthine, five star Emirates Palace as its proverbial hub. Gold dripping from its vending machines and balconies alike, the place is sheer, 11 billion Dirham, stadium sized spectacle.
As a festival guest, you are chauffeured from the seaside St. Regis tower to screening venues in a designated Mercedes, which, barring the unwanted sexual advances that come with being a long-haired, white American female, can make you feel very important indeed. Deign to live like a local and hop a gender-segregated bus down the esplanade, however, and the inner city hits fast. Workers idle in the shade cast by a defunct air-conditioned rest stop. Shards of glass and thinning clotheslines jut out from the windows of a high rise filthy with pollution.
80% of the city's population consists of "expats," and my educated guess is that a solid 60% of these "expats" are actually service workers. From a handful of conversations with the locals who shuttled me about, being born in the UAE doesn't even guarantee citizenship: you are forever the child of immigrants. Such inequality was scarcely on the minds of the sheikhs and assorted Emeriti big wigs that descended upon the festival's black tie opening night screening of From A to B. Through a series of introductions, it became readily apparent that the gap most in need of closing is between Abu Dhabi's film industry and Hollywood.
A representative from Image Nation, the production company with pockets deeper than a rig, thanked the festival for committing to the opening film sight unseen, before another shared the Emeriti desire to "[compete] with Hollywood and Bollywood, Insha'Allah." All of which will get you Ramin Bahrani's Image Nation-funded, clear-eyed 99 Homes (or, Man Push Cash) and a bag of chips. In any event, they seemed to have high hopes for the film's director, Ali Mustafa, though, not to burst anyone's bubble, he may have a long way to go.
A well-intentioned but rote road trip comedy with a mocktail-muddled tone, From A to B sees three old friends making good on a promise to the recently deceased by caravanning their Range Rover from Abu Dhabi to Beirut to visit his grave. With dialogue that dances from Arabic to English at the drop of a hat, discarded love interests, CGI camels, and a staunch devotion to banal renderings of social media, From A to B would verge on self-parody if not for its gutsy political jabs that seemed to land well with the randy audience. To me, they seemed out of place, but I'm not sure the penguin to my right who took a call during the screening paid much mind.
Thankfully, From A to B was head and shoulders below the festival's other offerings. A broad program with over 150 titles culled from the likes of Berlin, Venice and Cannes (Leviathan and The Wonders took home the top gongs in their respective Narrative and New Horizons Competitions), the festival programming neatly juggles notables with new arrivals. Toss in a healthy revivals sidebar, including a restoration of Manila in the Claws of Light, and an anniversary Truffaut retrospective, where I took in a pristine 35mm print of Day for Night, and you have yourself a genuinely international slate.
By accident or design, I ended up piecing together a Venice heavy itinerary, with notable standouts in No One's Child and A Pigeon Sat on a Branch Reflecting on Existence. The latter, a stunning debut from Vuk Rsumovic that took home the FIPRESCI prize, Audience Award and Best Screenplay at Critic's Week, reimagines the real-life tale of a boy raised by wolves. Lumbering about the forest like an orangutan, he is plucked from his habitat by hunters and placed in a Belgrade orphanage. What follows is a brutal, vivid rendering of emotional and physical assimilation at all costs, making No One's Child an altogether unusual and heightened bildungsroman.
The 14 year-old actor Denis Muric is a marvel of body language, fantastic in a nearly wordless performance that sees him graduating from all fours to his feet, a biology textbook come to life. When he arrives at the dilapidated orphanage in 1988, isolated in his own wing, he is utterly feral: sleeping beneath his rickety bed, turning his slop onto the floor to lap it up with his tongue, passing the time by chasing the shifting light. To the students and the administration, he is a helpless, dumb mongrel, but, as is so often the case, one teacher (Milos Timotijevic) sees a way in.
Rsumovic has a knack for blending objective and subjective imagery, with shoes figuring prominently throughout the film, a reminder of his protagonist's formerly accustomed eye level. It is with a pair of blue high tops, parting a scuffle, that Rsumovic introduces Zika (Pavle Cemerikic), an older boy who takes the wolf cub under his wing, first as a sort of pet, and then as a friend, with whom he shares quite literally an unspeakable bond. Puchke, as Zika dubs him, slowly begins to find his footing, but it doesn't take long till he learns the horrors of being human and our unavoidable reliance upon one another.
All the world's a stage and its men and women merely Roy Andersson's players in the blistering, black masterpiece A Pigeon Sat on the Branch Reflecting on Existence. The winking strings of a circus-like refrain cue the disclaimer that this is Andersson's "final part of a trilogy about being a human being," but, like its two predecessors, it's more or less an indictment. As a series of vignettes, each executed in a single wide take with petri dish precision, the closest thing the film has to protagonists is a pair of hapless men in the "entertainment business." With their dour, downcast glances and paunchy guts, they explain again and again that they "just want to help people have fun," as they peddle their suitcase of vampire teeth (extra long fangs), laugh bags and one-toothed masks to unmoved clients.
With a muted color pallet consisting solely of browns, greys, greens and yellows, and characters like mimes or the undead with their faces caked in white, Andersson asks us to reconsider the building blocks of our existence through his brand of biting simplification. With the "entertainers," he covers the irony; with a stunning parade of anachronistic petticoat soldiers who cleanse a bar of women, he covers the absurdity; with a dead man who leaves an uneaten shrimp sandwich and beer to a crowd determined to find them a new owner, he covers the futility; but most often, he's interested in tragedy, or, more precisely, tragicomedy. Indeed, the film has one of the funniest sequences I've seen all year, in which a flamenco instructor repeatedly gropes one of her students, and one of the most disturbing, in which slaves, yoked at the neck, are turned into a human spit roast for the aristocracy's viewing pleasure.
If it doesn't match Pigeon in scope, the German drama Stations of the Cross may up Andersson's film in its formal rigor. Winner of Best Screenplay at the Berlinale, Stations' religious schema finely seeps into its narrative and visual structure. Consisting of the fourteen chapters pulled from its Catholic namesake (i.e. Jesus died on the cross), each section unfolds over an unflinching, unbroken fixed take for up to several minutes. By my count, the camera only moves three times in the film, and not without reason.
The tragic character at its center is a lithe, pale young teen named Maria (Lea van Acken), who is insidiously tied to her Catholic faith, though it's not entirely her fault. Her emotionally abusive mother (Franziska Weisz, bone chilling) sees sure to it that she maintains a puritanical lifestyle, void of such "satanic" music as funk and soul, and any indulgence of hormones. In the film's entrancing opening, Maria asks her priest if it's possible to sacrifice one's life to God as the ultimate sign of devotion. He explains that such a measure is not up to her, and yet, information begins to seep through in each of the film's sections that point towards its harrowing conclusion. There isn't an ounce of fat on the script's bones, and to writer-director Dietrich Brüggemann and co-writer Anna Brüggemann's credit, they are able to humanize its frequent dogmas through Maria's naïve devotion to her cause, and the audience's empathy for a young woman misled by both scripture and guardian.
At times, you may wish that Venice's Best Screenplay winner Tales had a little taken in from its frame, but this roving mosaic of have nots in lower class Iran paints a portrait of altogether human rhythm. Unveiling the film after a four-year ban in her native country, director Rakhshan Banietemad told me between drags of a cigarette that nothing peeves her more than when people ask if the dialogue is improvised. Undoubtedly meant as a compliment, I see the insult to Banietemad's talent. As the film's final, excellent scene between Peyman Moaadi and Negar Javaherian makes clear, the woman can turn a phrase. Not unlike her contemporary Asghar Farhadi, Banietemad has a gift for turning a slight glitch into a carefully orchestrated spat on the essence of their person, as Moaadi and Javaherian playfully tear into one another's projections and consciences. When not brutally poignant, Banietemad is slyly self-aware. As the narrative through line amongst the film's many faces, a documentary filmmaker is frequently met with resistance from authorities and subjects alike: "Haven't they already made 100 of these films?" He doesn't ever respond, but both Banietemad and her character seem to suggest they aren't quite finished.
Liv Ullman is not exactly a visionary, but, unsurprisingly, she knows how to direct actors. Throughout her 2-plus hour adaptation of Miss Julie, I found myself wondering why she didn't just take it to the stage. The film shifts almost exclusively between establishing shots and close-ups, at an eventually predictable pace, all against the drab interior décor of a woodland estate's kitchen. The greatest liberty taken is to set the film in Ireland, allowing a fine Colin Farrell to exercise his native brogue, and challenge Jessica Chastain to commit to a flighty, upper-crust English lilt. Whether or not Chastain sticks this linguistic landing is beside the point. With her near-equine cheekbones, porcelain skin and scarlet lips, the actor again proves herself a chameleon of unimpeachable range, progressing from sadistic poise to manic ruin after defying rank and falling subject to misplaced passion. Once John and Julie sleep together, Chastain's dress hangs off her shoulder for the remainder of the film, and her performance seems equally unhinged. You only wish that she and the always-solid Samantha Morton had some semblance of a visual backdrop to match.