Back to selection
"Is This Line to See the Avant-Garde Show?": NYFF 2014 Projections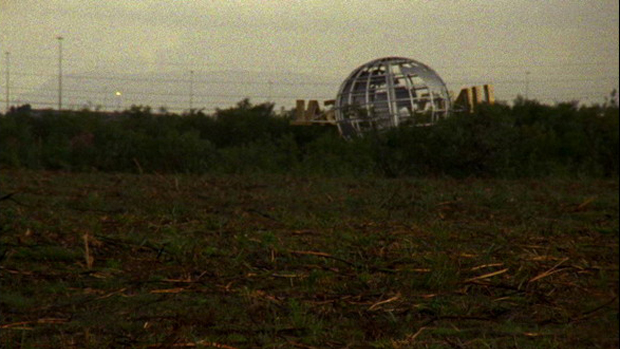 Fern Silva's Wayward Fronds
There was an inauspicious start to the New York Film Festival's inaugural Projections sidebar, a weekend showcase of experimental film and video, which, for 17 years prior as "Views from the Avant-Garde," had been curated by Mark McElhatten and Gavin Smith. Nearly an hour before the first screening, a long line extended along the exterior glass wall of the Eleanor Bunin Film Center. Having successfully secured my tickets, I scuttled around looking for familiar faces in the crowd. As I began chatting with a friend, an elderly gentleman with a confused expression approached us. "Excuse me. Is this line to see the avant-garde show?" We responded affirmatively. "Well, I don't mean to be rude…but why?"
A fair question, and one likely asked by Projections co-curators Dennis Lim, Aily Nash, and Gavin Smith as they re-conceived what the festival's annual experimental sidebar should be (or, at least, what it should do) following the critical mass of Views 2013, which featured 34 short film programs (many of which ran concurrently) as well as 11 free programs in the Film Center Amphitheater. A year later, Projections most evidently illustrates a scaling back in terms of size with "only" 13 non-concurrent shows, including four feature films. Still, one major challenge for the slimmer Projections, as with most experimental film festivals, is not to collapse contemporary experimental work into a prescribed genre and lose the breadth and depth of questions concerning moving image work represented by the mammoth proportion of the final Views. "Sprawling" need not be pejorative.
Retaining an emphasis on "artists' film and video work which expands upon our notions of what the moving image can do and be," Projections demands a certain sense of uncanny multiplicity in both programming and the works themselves. Unlike the hermetic "experiments" operating in the service of explicit, almost always didactic statements (of which there were several), the most successful programs and individual works were ones which functioned as open-ended explorations and investigations of subsumed histories, image creation and social context. If these works suggest something utterly elusive, their mysterious ambiguities point towards the crucial at the limits of the perceptible.
The most striking work of Projections was Fern Silva's Wayward Fronds, an otherworldly vision of the Florida Everglades. After decades of neglect, the Everglades appear as a subtropical, practically toxic environment devoid of human life. The opening shot reveals a pile of bones, remnants of a forgotten history, smashed by an industrial, mechanical claw. After crushing the bones, the claw quickly exits, isolating the bones at the bottom edge of the frame, visible but surrounded by darkness. Accompanied by an intricate, intoxicating soundtrack, Silva surveys the extraordinary landscapes and locates a primal underbelly emerging from beneath the bubbling surface. Snakes inhabit hotel rooms and watch nature documentaries, while humans retreat to the cramped confines of clubs hidden behind walls and doors disguising themselves as nature. Eventually, after the destructive forces have subsided, a reconfigured civilization emerges, one in which the earth's inhabitants evolve and adapt with their planet. A new evolution occurs in which a human voice drifts around making gator sounds. Silva initiates a radical and necessary reversal of course, and maps an alternate future materializing from the brink of extinction.
A similar impulse can be found in Ben Rivers's Things, in which expanded possibilities emerge from seemingly fixed geographies. Rivers is known for films featuring individuals often found in extreme environments who isolate themselves from the outside world. In Things, Rivers takes up a friend's challenge to make a film around his house. In so doing, Things internalizes Rivers' mode of experimental ethnography and provides a delicate extension of his artistic practice through a retraction into his own unique, private space. Utilizing a number of objects, photographs, songs, and figures from around the domestic environment, Rivers' observational approach not only takes account of the changing mood in the atmosphere across a year but also deeply engages with the histories of space and "things" temporally bound to that space. A particularly curious example emerges as a squirrel holding a nut confronts a model squirrel seated next to a staircase. The squirrel approaches cautiously and taps the imposter squirrel before running away to eat its nut. Soon, the squirrel attacks the imposter, knocking it over and gnawing on its face. Things poses a challenge to consider through what and by what we represent ourselves, and how our lives and histories become embodied in those things. Rivers suggests those things demand confrontation if we are to understand who and what we are as beings bound by time and space.
Domestic materials play a significant role in the work of Jodie Mack, one of the most exciting, talked about experimental artists in recent years. After a highly acclaimed showcase of five films in Views last year, the indefatigable Mack returned to NYFF with two films, Razzle Dazzle and Blanket Statement #2 – It's All or Nothing, which infuse histories of avant-garde film with material culture from the domestic sphere. The phenomenal Blanket Statement #2 begins with a sound familiar to experimental film audiences: the repetitive purr of 16mm film running through a projector. Soon, images of various quilts fill the frame, with Mack's collage establishing rapidly shifting colors and textures, a terrific multitude of formations offered by the quilting medium. Here, though, the sound isn't as loud as the aggressive color field films of Paul Sharits, in which the double-sided 16mm sprockets violently hammer through the projector with a radical intensity. And neither can this be film noise, since the projector was hidden inside the booth. Instead, as Mack has explained, the image of quilts extends across the optical soundtrack, initiating a direct connection between image and sound. Mack's "quilted call and response" expands the horizons of what abstract film can be by playfully referring back to something as familiar as a family quilt and ingeniously binding it directly to properties of the film medium. At only four minutes, Blanket Statement #2 is brief, bold, and essential.
A decaying film reel is digitally examined in Julie Murray's End Reel, a fascinating look into narrative development, image construction, and cross-platform documentation. Murray examines the final reel of a 35mm Hong Kong action film by hand-cranking it over a light box and recording from above with a low-res digital camera. By hand cranking the film at different rates, Murray allows the image quality to shift and challenges her pocket camera to keep up. The blurred images create indecipherable patterns, which are mirrored by increasing signs of decay on the film strip. Further enhanced by technological deficiencies of the pocket camera, Murray reveals strange associations within the contemporary shifts in image format, and indicates the heart of this matter as perpetually unsettled and resulting in increased abstraction.
A vivid explosion of color was found in Jennifer Reeves' spectacular Color Neutral, which gradually gives life and depth to what first appears as a flat color field. Mike Gibisser's Blue Loop, July utilizes long exposure photography to awaken the nighttime sky through a dazzling, tremendously unique fireworks display. In Gibisser's work, color, texture, and depth are captured against the sky, while Tomonari Nishikawa attempts to find them in film material infused with social agency. In sound of a million insects, light of a thousand stars, Nishikawa buried an original 35mm negative about 100 feet underground for nearly six hours about 15 miles from the Fukushima Daiichi Nuclear Power Station in Japan. Warped by potentially radioactive materials, the celluloid's dense textures and vivid colors suggest film's unique ability to absorb its surrounding environment. While the burial of footage fits somewhat comfortably within histories of avant-garde film, Nishikawa's gesture toward social and political processes grants it a deeply felt immediacy and potency.
While Kevin Jerome Everson's works often seem simple in isolated group programs, their cumulative impact and critical importance is increasingly apparent. With Fe26 and Sound That, Everson turns figuratively and literally to the underground, respectively observing the illegal work of stealing manhole covers and investigating the crumbling infrastructure lurking beneath Cleveland, Ohio by listening for underground leaks above ground. Filmed in rundown areas with high levels of unemployment, Everson implicitly asks how and where the structural underpinnings of society are made manifest in everyday life, particularly in the lives of minority communities. Often dislodging sound and image, he opens ways of thinking about the literal construction of what is around us in order to rethink our relationship with "what's seen above ground and the elements taken from granted beneath the surface."
Basma Alsharif's O, Persecuted confronts layers of history and ideology emanating from a recently restored 1974 Palestinian militant film. The grainy black-and-white images often appear hidden, barely glowing from beneath a thick, perhaps painted surface, which a performer methodically removes over the course of the film. At the end, suddenly, there is an outburst of energy as the film shifts registers and shows a series of wildly energetic beach party images. What is this Israeli Spring Breakers doing here? Are these youthful bodies finally free from the constraints represented film the uncovered film images? Or is this a further form of false escape, a willfully hedonistic ignorance of what has come before and after? Alsharif diagnoses a troubling uncertainty and disengagement in youth which slingshots from the past to the present day.
Luis Lopez Carrasco's stunning debut feature El Futuro pinpoints a willful political ignorance in Spain following the socialist victory of 1982 through one of the most wild parties ever caught on film. Set to outrageously loud underground Spanish punk music from the '80s and '90s which muffles the large majority of voices and conversations in the film, El Futuro represents a young generation ready to party until the end of time without ever recognizing the precarious social and economic climate that had been percolating all around them from the beginning.
An eerie, ominous tone emerged from Jonathan Schwartz's a certain worry, a stirring work that seems impossible to pin down. Bones of an animal's jaw sit in a corner, illuminated by a rectangular shaft of light. Figures slowly emerge from behind slightly flickering, abstract textures. A child with a missing tooth appears. A red flower is cast in front of a window on a rainy day. From these seemingly mundane images, death and decay lurk in every corner. At only three minutes, its brevity deepens the chilling effect that haunts long after the screening.
As is likely evident by now, many of the highlights of Projections involve a kind of close looking that activates, reconfigures, and reconsiders the past and present of the surrounding world. This is indicative of the work of Harun Farocki, certainly one of the most important moving image artists of our time, who died this year at the age of 70. Farocki's name loomed around conversations at Projections, as it did at the Toronto Film Festival, particularly in the Wavelengths section (which I covered in September and included many films also featured in Projections). Projections featured one of Farocki's last completed works, Sauerbruch Hutton Architects, a documentary following the detailed processes of a group of Berlin-based architects. Always engaged with form, material, and politics, Farocki finds a kind of partnership with the architects who engage in dense conversations with regard to the smallest details of everyday life. If this makes Sauerbruch Hutton Architects less critical than much of Farocki's work, it nonetheless locates an essential, fundamentally Marxist conception of the world in contemporary architecture. While a 15 minute conversation concerning the precise shape of office door handles may strike the outside viewer as completely ridiculous, there is something riveting and essential in this discovery. Sauerbruch Hutton Architects profoundly documents the form of everyday life before it collapses into quotidian, banal, uncritical function.
Why look? Because there is so much to see.