Back to selection
Unknown Pleasures: Viewing U.S. Indie Cinema From Afar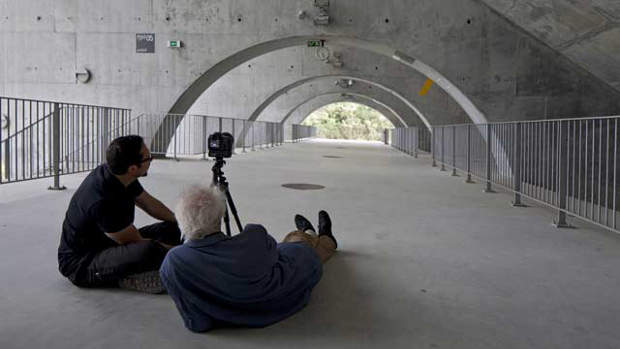 Catering to virtually every niche, Berlin offers some 70 film festivals each year. Since 2009, the first on the calendar has been the Unknown Pleasures Festival. Held during the first two weeks of January at the historic Babylon Cinema in former East Berlin, it is a work of love run entirely by three enthusiasts of US independent cinema, providing a sorely needed platform for recent American arthouse films.
This year's edition opened on a disappointing note with the German premiere of Michel Gondry's The We and the I. Typically saccharine and contrived, Gondry's latest portrays a group of Bronx teens on the bus ride home after their last day of school. During the improbably long journey each makes major discoveries about themselves, their friendships, the virtues of loyalty and the woes of bullying. With nothing new to say, it compares miserably to films with an actual feel for adolescent realities, such as Laurent Cantet's The Class.
Gondry was one of a handful of big names on the program, which also included Quentin Tarantino, Kathryn Bigelow and Werner Herzog. While sometimes stretching the indie label, these titles attract the largest audiences each year and guarantee the festival's survival. The true highlight, however, is the always excellently curated selection of microbudget films, as the majority would be all but impossible to see otherwise, having little hope of being picked up by a German distributor.
The greatest discovery this year was Amy Seimetz's feature debut Sun Don't Shine. A worthy addition to the rich cinematic tradition of young lovers taking flight on the American road, it's everything an indie film should be. Fully transcending its budgetary constraints, the film employs a bare premise – a runaway couple's desperate attempt at getting rid of a body, kept within a 24-hour timeframe and involving only three other characters – and focuses on capturing the lovers' manic intensity as they fall victim to increasingly acute paranoia. The excellent lead performances (Kate Lyn Sheil is particularly superb) create compelling characters whose actions, though often hysterical, never beggar belief, while the feverish 16mm cinematography anticipates their undoing from the very first frame, imbuing their predicament with tragic resonance.
Interestingly, both Mark Jackson's Without and Nathan Silver's Exit Elena center on a girl in her late teens / early twenties who takes up a job as caretaker for a senior as an attempt at emotional escape. While Without benefits from higher production values, Exit Elena is the more accomplished film. In Without, the protagonist is left alone with her charge in an isolated house and Jackson plays with horror film conventions, using red herrings to build up intrigue and suspense around the trauma that haunts his heroine, sacrificing psychological depth at the service of a strained and unsatisfying denouement. Silver approaches his material more subtly, relying on the titular Elena's awkward though increasingly intimate interactions with her invasive host family to hint at her backstory without ever fully revealing it, thus painting a far more nuanced and involving portrait.
In Dan Sallitt's The Unspeakable Act, approaching adulthood forces 17-year-old Jackie to overcome her longstanding sexual attraction to her older brother. In a manner distinctive of a lot of American independent cinema – Juno being the most successful example – the dialogue-heavy script presents young characters that are uniformly blasé and wise beyond their years, which may up the hip factor, but radically undermines the realism aspired to, robbing the film of any real import. Considering how the same themes have been used to brilliantly probe and deconstruct the institution of the family in recent Greek cinema, as in the work of Yorgos Lanthimos and Athina Rachel Tsangari, the appropriation of the arch-taboo topic of incest here merely serves to spruce up an otherwise conventional coming of age story.
This year's program featured a number of documentaries, the most outstanding being Thom Andersen's Reconversão, which continues the director's preoccupation with the filmic representation of architecture. Made up primarily of stationary shots running at a few frames per second and accompanied by a steady and soothingly monotone voice-over, the film works like a particularly fascinating and philosophical lecture on the oeuvre of Portuguese architect Eduardo Souto de Moura. No small credit goes to Andersen's DP Peter Bo Rappmund, whose own Tectonics was also shown at the festival.
In an extraordinary and purely visual essay film, Rappmund photographs the entirety of the US-Mexico border in 200 shots, also played at a few frames per seconds. Without voice-overs or titles, Tectonics finds a happy medium between photography and film, inviting the distanced appreciation and scrutiny characteristic of the former all the while maintaining the latter's contextualizing linearity. Impeccably composed and often arrestingly poetic, Rappmund's images elicit a deeply introspective consideration of the geopolitical circumstances they portray and of the infinite associations they conjure.