Back to selection
"You Have to Learn Fast if You Want to Stand Out": Lorna-Lee Sagebiel on Film Sales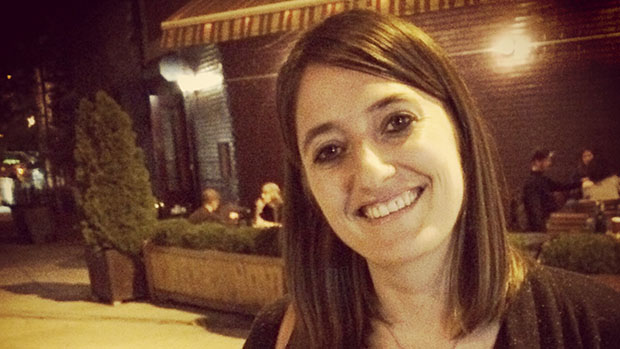 I'm on my terrace watching what will probably be my last New York sunrise before I move to Berlin. Later, I learn that my early morning insomnia coincided with not just any sunrise, but a total lunar eclipse, which is technically called syzygy — when the sun, earth, and moon are aligned to form an almost or exact straight line. I couldn't have contrived an experience more poetic — my final New York sunrise, my first and probably last syzygy. Like all perfect New York moments, this feels like the most perfect New York moment, which is another way of saying that it feels like a pointed gesture specifically from New York to me, like a departing gift in my honor.
I fell in love with New York when I moved here at 18. I take the emotional roller coaster of loving New York as personally as the rest of them (you know who you are, most likely pining away somewhere wondering when you'll return, for you know it's not a question of "if" but a question of "when"). Maybe the syzygy isn't a departing gift just for me after all, but maybe it's a reminder, a sign to all those New York lovers out there that no matter where you are, a profound alignment (we're talking sun, earth, and moon here) exists between you and New York. On any horizon of change, this solidarity is a constant long-lasting love affair.
In my mind, I've crafted this poetic departure from New York, and I've imagined a similar arrival in Berlin. The week I immigrate is the 25th anniversary of the fall of the Berlin Wall, which incidentally marks halfway in my own 25th year. This parallel feels significant to me (yes, I'm continuing to relate epic natural and historical events to myself).
Or maybe it's just that in this purgatory of moving country — when your body is still in the old city, your brain in the new one, and your heart, who knows where — I'm grasping to extract meaning to justify this existential experience. If this sounds heavy, it's because it feels heavy. Luckily, I can relate to Lorna-Lee Sagebiel, Director of Sales and Marketing at Visit Films, a worldwide film sales company specializing in director-driven work. Sagebiel, who is from a 2,000-person town in the south of France, explains how immersion in foreign culture heightens our sense of experience — that new environments affect us viscerally, so much that we perceive art as more raw, people as more alive, food as more nourishing. Sagebiel assures me that this kind of cultural awakening and larger-scale awareness has had a fundamental impact in her own life and career. Of course, working in a foreign country has its challenges, as I will soon encounter first-hand, but Sagebiel, an expat herself, has hit the ground running.
Having moved to New York three years ago, Sagebiel previously worked at several international film festivals and promotional organizations including Unifrance/French Film Office in New York, the Festival de Cannes, and FICCO (Mexico City International Contemporary Film Festival). She's worked for European telecom operator Orange in its film co-production and acquisition division department (known for acquiring The Artist), and was also involved in the marketing and artistic departments. Sagebial has a Master's degree in Audiovisual Law and Business from Pantheon-Sorbonne University.
You studied law — what led you to film?
I initially studied law because I was attracted to the dream of justice. My mother was a painter and my father was a writer, so I come from an artistic background, and I realized I could use my legal and administrative tools toward cultural projects. I found film to express and combine all the art forms I like, so I focused my internships and experience on film.
Was New York always in the cards, or did you happen to land here?
I first came to New York when I was 22 to intern at the Unifrance NYC office to promote French films around the world. This snowballed my desire to work abroad and internationally in general. Also, my father is American, but I was raised in France so there was always a part of me that wanted to explore my American side.
But after the internship in New York, you moved back to France.
Yes, I had to finish my Master's and got the opportunity afterwards to work at Cannes for the film market. Then I wanted to work abroad and learn Spanish, so I moved to Mexico to work for the Mexico City International Film Festival (FICCO). When I returned from Mexico, I was hired at Orange as an assistant to the CEO Frederique Dumas and was also a script reader for the artistic department. 
What was your assistant experience like?
I was a good assistant. I was attached to my boss and stayed for three and half years. She is a strong woman who really takes risks, and she is also deeply involved in multiple areas of the industry, which I admire. While working at Orange, our main partner for international sales was Kinology, and I was completely fascinated by its work. I realized then that I really wanted to work in international sales.
How did you make the transition from being an assistant to working at Visit Films?
I was finishing my Master's during my last year at Orange so the transition was natural. Ryan Kampe [President, Visit Films] actually hired me via Skype interview. I was looking for something young and dynamic and Ryan's editorial choices impressed me. I just took the risk and started to work for Visit Films while wrapping up at Orange. Within two weeks, I was at my first market. Ryan really believed in me and spent a great deal of time to fully train me. He's really ambitious — constantly working to grow the company.
What was it like in the beginning?
I had to learn so fast. You have to learn fast if you want to stand out – just like a company has to learn to be creative in order to stand out.
What's been your greatest accomplishment with Visit thus far?
The indie horror film It Follows was a hit at Cannes and the sales were thrilling. There are other smaller victories that I'm proud of, such as closing Rolf de Heer's Aboriginal drama Charlie's Country in Greece, a notoriously difficult territory, and selling Sophie Hyde's 52 Tuesdays to Hong Kong and Taiwan, a challenge because of the film's transgender content.
What sort of background preparation goes into a meeting with a challenging territory?
So much of film sales is understanding the partner's culture. A territory's social and political climate has such an impact on the market and the audience, and you have to bring that understanding to the business relationship. Also, different distributors have different tastes, so in order to position your slate well, you need to have a sense of their company lineup and activity.
Do you ever feel disingenuous — pitching a project for a sale?
No, I'm never going to lie to someone. You have to pitch the elements of the project that make sense for that particular buyer — you aren't a robot just trying to make a deal, at least I don't work that way. It's more than selling. I need the distributors to trust me, so I'm sincere when presenting the assets of our titles. It's a relationship and one that I'm invested in because I'm interested in long-term partnerships.
What's your relationship to the filmmaker?
I oversee all the marketing so positioning the film with the filmmaker is an interesting conversation. It's sometimes hard for them to distance themselves from the films they've probably been working on for years, so we work to find the balance between packaging a film in a way that's sellable and being faithful to their art. Now that I share marketing responsibilities with a colleague, my work is more dedicated to the distributors. But my ultimate goal is for filmmakers to get their movies seen around the world, so I'm happy when they're happy!
What do you like most about working in New York?
In Europe, it's easy to put people in professional boxes so it's hard to change fields or jump around. But here, there are so many professional opportunities to change and to grow. I should really explore New York (and the country more), but just being out of my comfort zone is good for me. Everything is more exotic and fascinating when you are out of your culture. And as long as you don't take yourself too seriously, you don't get too frustrated.
What's your greatest horror story?
Apart from airports? I have a lot of airport horror stories…one time it took me two days to get to Hong Kong! I guess you can get screwed over — it happens a lot. But I'm cautious, and I try to stay peaceful and calm.
What helps you stay calm?
I try to leave my work at the office. Especially now with smartphones, you have to force yourself not to work 24 hours a day (I make an exception for markets). And on top of that, working internationally, everyone wants to communicate at all hours. While living in Mexico, I learned this expression, "No te preocupes, no pasa nada," which is a reminder to take a step back — no matter the pressure, there's always a solution.
This kind of perspective comes with getting older, yes?
Yes, I think there's this image of what you want in your 20s that you put on all this pressure on yourself to attain. But you must have room for spontaneity.
What do you wish you could have told yourself ten years ago?
Don't regret anything — just explore. But this is what I've done! What's better…? No, it's just that. Don't feel bad about anything. Live your decisions.
I think Americans have a harder time with this than Europeans.
People in general waste so much time regretting their choices. But everything is experience. The key is to remember the errors so you can learn from them.
Do you think people can fundamentally learn, or rather, change?
There are some people who get old fast and some people who stay young forever. It doesn't matter — it's about staying open.
You've certainly managed to be open, not only to new people and cultures, but to changes in your life — cities, jobs, etc. I have to say that this kind of adventurous spirit is a rare commodity, especially for someone who's achieved so much professionally.
As a child, I remember wondering, "where is everything?" I think I've always had the urge for more stimulation, to see as much as I can.