Back to selection
"MAN WITH A MOVIE CAMERA" AT STRANGER THAN FICTION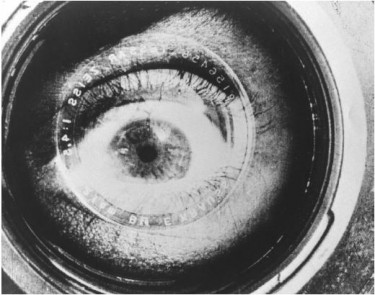 Since part of the mission of Stranger Than Fiction is to promote "lost gems," it should come as no surprise that programmer Thom Powers would choose to screen Dziga Vertov's Man With A Movie Camera, a little seen (outside of film schools) Soviet classic that has had a profound influence on everything from Jean-Luc Godard to car commercials.
A mish-mash of documentary material and visual effects, Man With a Movie Camera is a rapidly edited documentary experiment — and perhaps the world's first music video. Last night's screening featured a modern score arranged by John Walter, an editor and filmmaker whose 2002 film, How to Draw a Bunny, never quite got the attention it deserved.
Walter's score is impressive — his atmospheric sampling manages to enhance this fever dream of a film without ever getting in its way. While purists may scoff at some of his individual song selections, his juxtapositions often work in witty and surprising ways — it turns out that Vertov cut this avant-garde film experiment to a hip-hop beat.
Afterwards, Thom Powers hosted a discussion with Walter, who confessed to being an unabashed fan of Vertov's "self-contained manifesto" whose "faced ached after watching it because I'm grinning so hard." His score is a true labor of love, a sort of "imaginary collaboration" with a filmmaker who was determined to "wake people up to the world around them."
One of the great joys of repertory screenings is that they provide context for the state of contemporary filmmaking; they show how far we've come or how far we've fallen. With the advent of the digital age, it has never been easier to make a film, but instead of inspiring adventuresome cinematic image-making of the type Vertov celebrated, there has been instead a rather disappointing embrace of mere proficiency over craft and experimentation.
Like it or not, we live in an era where theatrical release documentaries are in direct competition with reality television and youtube auteurs. If theatrical release documentaries are going to compete with free entertainment, they are going to have to create experiences that demand to be seen in a theater. Several recent docs have done this — Anvil: The Story of Anvil is a movie best seen with a crowd ready to cheer and Man On Wire told a glorious story so well, the screen could hardly contain it. The theater was full last night, so here's hoping that Vertov inspired a few fledgling filmmakers to take out those oh so-easy-to-use cameras for a spin to see what they can really do.
— Mary Anderson Casavant
A graduate of Amherst College, Mary Anderson Casavant was selected as the 2004 Academy of Television Arts and Sciences Documentary Intern. Since then, she's held almost every freelance job that exists in documentary television, including being the coordinating producer of the Emmy Award winning second season of This American Life. Her feature screenplay, Judgey, was one of ten screenplays selected from more than 3500 entries for the final round of the Final Draft Big Break contest. She lives and works in New York City.