Back to selection
New Directors/New Films Announce 2015 Program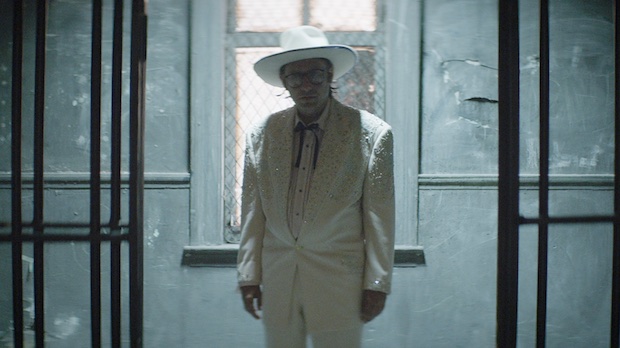 Entertainment
The first of the "new" modifiers in FSLC and MoMA's always solid showcase New Directors/New Films has taken on a somewhat amorphous application as of late. A handful of this year's standouts, for instance, are the fourth (Rick Alverson's Entertainment) or third (Stephane Lafleur's Tu Dors Nicole; Bill and Turner Ross' Western) films from their respective directors, while Nadav Lapid, whose Policeman bowed at NYFF in 2011, seems to be making a reverse trip down the FSLC ladder with his third film, The Kindergarten Teacher, which premiered last May in Cannes. Nevertheless, there's much to look forward to here, especially the inclusion of Britni West's Tired Moonlight — a micro-budget, Montana-set film that took home the Grand Jury Prize at Slamdance — which is just the sort of unique, form-bending work that a festival dedicated to new talent ought to promote.
Opening Night
The Diary of a Teenage Girl
Marielle Heller, USA, 2014, 100m
Minnie could be your typical 15-year-old girl, awash in the throes of sexual awakening. But because she's growing up in the free-love-induced haze of 1970s San Francisco, instead of losing her virginity to a schoolmate, Minnie opts for an affair with her mother's boyfriend. Based on Phoebe Gloeckner's illustrated novel and brought beautifully to cinematic life by first-time writer/director Marielle Heller, The Diary of a Teenage Girl features a heroine who is smart, funny, and talented—with the cartoon characters she sketches occasionally coming off the page to offer additional insight into her psyche. As the precocious protagonist, British newcomer Bel Powley is a revelation, fearlessly embodying the curiosity, heartache, and pleasures of adolescence as Minnie stumbles along on her journey to adulthood. Powley is supported by the moving and tender performances of Alexander Skarsgård as Monroe, the object of both mother and daughter's affection, and Kristen Wiig as the mom who sees her own youth slipping away in Minnie's face. A Sony Pictures Classics release.
Closing Night
Entertainment
Rick Alverson, USA, 2015, DCP, 110m
Following up his 2013 breakthrough, The Comedy, director Rick Alverson reteams with that film's star, Tim Heidecker (here serving as co-writer), for a hallucinatory journey to the end of the night. Or is it the end of comedy? Cult anti-comedian Gregg Turkington (better known as Neil Hamburger) stars as a washed-up comic on tour with a teenage mime (Tye Sheridan), working his way across the Mojave Desert to a possible reconciliation with the estranged daughter who never returns his interminable voicemails. Our sort-of hero's stand-up set is an abrasive assault on audiences, so radically tone-deaf as to be mesmerizing. Alverson uses a slew of surrealist flourishes and poetic non sequiturs to fashion a one-of-a-kind odyssey that is by turns mortifying and beautiful, bewildering and absorbing. John C. Reilly, Michael Cera, Amy Seimetz, Dean Stockwell, and Heidecker are among the performers who so memorably populate the strange world of Entertainment, a film that utterly scrambles our sense of what is funny—and not funny.
Christmas, Again
Charles Poekel, USA, 2014, DCP, 79m
A forlorn Noel (Kentucker Audley) pulls long, cold nights as a Christmas-tree vendor in Greenpoint, Brooklyn. As obnoxious, indifferent, or downright bizarre customers come and go, doing little to restore Noel's faith in humanity, only the flirtatious innuendos of one woman and the drunken pleas of another seem to lift him out of his funk. Writer-director Charles Poekel has transformed three years of "fieldwork" peddling evergreens on the streets of New York into a sharply observed and wistfully comic portrait of urban loneliness and companionship. While Christmas, Again heralds a promising newcomer in Poekel, it also confirms several great young talents of American indie cinema: actors Audley and Hannah Gross, editor Robert Greene, and cinematographer Sean Price Williams.
Screening with:
Going Out
Ted Fendt, USA, 2014, 35mm, 8m
Liz thinks she's going on a date with Rob to see RoboCop, but things take an unexpected (and inexplicable) turn. World Premiere
Court
Chaitanya Tamhane, India, 2014, DCP, 116m
Marathi, Gujarati, and Hindi with English subtitles
Winner of top prizes at the Venice and Mumbai Film Festivals, Chaitanya Tamhane's Court is a quietly devastating, absurdist portrait of injustice, caste prejudice, and venal politics in contemporary India. An elderly folk singer and grassroots organizer, dubbed the "people's poet," is arrested on a trumped-up charge of inciting a sewage worker to commit suicide. His trial is a ridiculous and harrowing display of institutional incompetence, with endless procedural delays, coached prosecution witnesses, and obsessive privileging of arcane colonial law over reason and mercy. What truly distinguishes Court, however, is Tamhane's brilliant ensemble cast of professional and nonprofessional actors; his affecting mixture of comedy and tragedy; and his naturalist approach to his characters and to Indian society as a whole, rich with complexity and contradiction. A Zeitgeist Films release. U.S. Premiere
The Creation of Meaning / La creazione di significato
Simone Rapisarda Casanova, Canada/Italy, 2014, 95m
Italian with English subtitles
Though its title arcs toward grand philosophical inquiry, the stirring power of Simone Rapisarda Casanova's second documentary-fiction hybrid—winner of the 2014 Locarno Film Festival's Best Emerging Director prize—lies in its intimacy of detail and wry political observation. Filmed with a painterly Renaissance beauty in Tuscany's remote Apennine mountains, where memories of Nazi massacres and partisan resistance remain vivid, The Creation of Meaning centers on Pacifico Pieruccioni, an aging but defiant shepherd whose very livelihood and traditions are threatened by a New European reality of Berlusconi-caliber corruption (hilariously evoked in a profanity-laden radio talk show rant) and German land speculation. U.S. Premiere
Dog Lady
Laura Citarella & Verónica Llinás, Argentina, 2015, 95m
Spanish with English subtitles
An indelible and quietly haunting study of a nameless woman (memorably played by co-director Verónica Llinás) living with a loyal pack of stray dogs in silent, self-imposed exile in the Pampas on the edge of Buenos Aires. Almost dialogue-free, the film follows this hermit across four seasons as she patches up her makeshift shack in the woods, communes with nature, and forages for and sometimes steals food, making only the briefest of forays into the city and only fleetingly engaging with other people. She's a distant cousin of Agnès Varda's protagonist in Vagabond, perhaps, and just as enigmatic. Dog Lady is filmed with an attentive and sympathetic eye yet is careful never to "explain" its subject—but be sure to stay to the very end of the film's extended final long shot. North American Premiere
The Fool
Yuriy Bykov, Russia, 2014, DCP, 116m
Russian with English subtitles
The lives of hundreds of the dregs of society are at stake in this stark and grotesque  portrait of a new Russia on the verge of catastrophe. Investigating a maintenance problem in a decaying provincial housing project, plumber and engineering student Dima (Artyom Bystrov) discovers two massive cracks running the length of the building. Convinced that the building is about to collapse, he rushes to alert the mayor, who is celebrating her birthday with a drunken crowd. The town's councillors, who've siphoned off much of the town's budget to feather their nests, greet his warning with skepticism and hostility—and as events spiral out of control during one long night, Dima learns that nobody, even those he's trying to help, likes a whistle-blower. Building on his first film, The Major, about a police cover-up, writer, director, and actor Yuriy Bykov delivers a stinging rebuke to the endemic corruption of the Russian body politic that earned him four awards at the 2014 Locarno Film Festival.
Fort Buchanan
Benjamin Crotty, France/Tunisia, 2014, 65m
French with English subtitles
The feature debut of American-born, Paris-based writer-director Benjamin Crotty marks the arrival of something rare in contemporary cinema: a wholly original sensibility. Expanding his 2012 short of the same name, Crotty chronicles the tragicomic plight of frail, lonely Roger, stranded at a remote military post in the woods while his husband carries out a mission in Djibouti. Over four seasons, Roger (Andy Gillet, the androgynous star of Eric Rohmer's The Romance of Astrea and Celadon) seeks comfort and companionship from the army wives of this leisurely yet sexually frustrated community, while trying to keep a lid on his volatile adopted daughter, Roxy. Shot in richly textured 16mm, Crotty's queer soap opera playfully estranges and deranges any number of narrative conventions, finding surprising wells of emotion amid the carnal comedy. North American Premiere
Screening with:
Taprobana
Gabriel Abrantes, Portugal/Sri Lanka/Denmark/France, 2014, DCP, 24m
Portuguese and French with English subtitles
A sensuous and debauched portrait of Portugal's national poet Luís Vaz de Camões teetering on the borderline between Paradise and Hell. U.S. Premiere
Goodnight Mommy
Severin Fiala & Veronika Franz, Austria, 2014, DCP, 100m
German with English subtitles
The dread of parental abandonment is trumped by the terror of menacing spawn in Severin Fiala and Veronika Franz's exquisite, cerebral horror-thriller. Lukas and Elias are 9-year-old twins, alone with their fantastical playtime adventure-worlds in a countryside home, until their mother comes home from facial-reconstructive surgery. Or is she their mother? Her head entirely bandaged, and her personality radically changed, the boys begin to wonder what this stranger has done to their "real" mother. They set out to uncover the truth, by any means their childish minds can conjure. As with most fairy tales, it turns out that children can imagine and endure things that cause more mature minds and bodies to wither from fear. Produced by renowned auteur, and frequent script collaborator with Franz, Ulrich Seidl, Goodnight Mommy is an intelligent and engaging step forward for Austrian cinema. Fans of Michael Haneke's work will find much to appreciate as well. Ultimately, this is a heartbreaking tale of love and loss wrapped in one of the scariest films of the year. A RADiUS-TWC release.
The Great Man
Sarah Leonor, France, 2014, DCP, 107m
French with English subtitles
When we first meet Markov (Surho Sugaipov), he and fellow French Legionnaire Hamilton (Jérémie Renier) are tracking a wild leopard in a desert war zone, at the end of their posting in Afghanistan. An ambush results in an abdication of duty—despite it stemming from an act of fidelity. We learn that Markov had joined the Legion as a foreign refugee, hoping to gain his French citizenship and provide a better life for his young son. Ultimately, the complications of immigration and legal status seem petty when compared with the primal urge to do right by those who have committed their lives to saving others'. The intrinsic struggle between paternal/fraternal responsibility and unfettered mobility takes on a deeply moving dimension in Sarah Leonor's alternately heartbreaking and empowering sophomore feature. A Distrib Films release. U.S. Premiere
Haemoo
Shim Sung-bo, South Korea, 2014, DCP, 111m
Korean with English subtitles
First-time director Shim Sung-bo (screenwriter of Memories of Murder, the debut film of Haemoo's producer Bong Joon-ho) distills a gripping drama from a real life incident and delivers a gritty, brooding spectacle of life and death on the high seas. With the country in the throes of an economic crisis, the Captain of run-down fishing boat Junjin sets out with his five-man crew to smuggle a group of Korean-Chinese illegal immigrants. During the hair-raising transfer of their human cargo from a freighter, rookie fisherman Dong-sik (Park Yu-chun) saves the life of Hong-mae (Han Ye-ri). Smitten and solicitous, he shelters the young woman in the engine room. But after a tense coast-guard inspection, things go horribly wrong and as the titular sea fog rolls in, the Captain forces his crew to set a new course from which there's no turning back.
Los Hongos
Oscar Ruiz Navia, Colombia/Argentina/France/Germany, 2014, 103m
Spanish with English subtitles
Cali street artists Ras and Calvin are good friends and collaborators despite hailing from disparate backgrounds. While one takes art classes, the other steals paint from his job in order to tag whatever surfaces he can find. Inspired by the Arab Spring protests, the pair bands together with a group of graffiti artists in order to paint a tribute to the student demonstrators. Oscar Ruiz Navia's second feature could be termed a coming-of-age film, but Los Hongos heads in unexpected directions: while possibilities of hooking up abound, the pair's mutual interest in making a statement that might also push forward new ideas in their own country expands what we usually see in characters growing up on-screen. This moment in the lives of two kids figuring it out encompasses all the possibilities: family, friends, sex, art, and, when they least expect it, the prospect of doing something of value. Full of color and great music, Los Hongos comprises a charming and vibrant portrait of a young, lively Colombia.
K
Darhad Erdenibulag & Emyr ap Richard, China, 2015, 88m
Mongolian with English subtitles
Franz Kafka's unfinished novel The Castle is relocated to present-day Inner Mongolia, and the translation is startlingly seamless. Land surveyor K (Bayin) arrives in a frontier village, and soon discovers that his summons was a clerical error. Taking a job as a school janitor, K seeks an audience with the high-level minister he believes will resolve the situation, but cannot gain access to the castle where the local government is based. Intermittently aided by a barmaid and two hapless minions, K finds his efforts at clarification stymied by local hostility and administrative chaos alike. Produced by Jia Zhang-ke and rendered with great stylistic economy and a delirious sense of illogic, K is the rare literary adaptation that honors the source material even while reinventing it. At once familiar and strange, the film is both specific to its setting and faithful to Kafka in portraying faceless bureaucracy as a timeless and universal frustration. North American Premiere
The Kindergarten Teacher
Nadav Lapid, Israel/France, 2014, DCP, 119m
Hebrew with English subtitles
Nadav Lapid's follow-up to his explosive debut, Policeman, is a brilliant, shape-shifting provocation and a coolly ambiguous film of ideas. Nira (Sarit Larry), a fortysomething wife, mother, and teacher in Tel Aviv, becomes obsessed with one of her charges, Yoav (Avi Shnaidman), a 5-year-old with a knack for declaiming perfectly formed verses on love and loss that would seem far beyond his scope. The impassive prodigy's inexplicable bursts of poetry—Lapid's own childhood compositions—awaken in Nira a protective impulse, but as her actions grow more extreme, the question of what exactly she's protecting remains very much open. The Kindergarten Teacher shares the despair of its heroine, all too aware that she lives in an age and culture that has little use for poetry. But there is something perversely romantic in the film's underlying conviction: in an ugly world, beauty still has the power to drive us mad.
Screening with:
Why?
Nadav Lapid, Israel, 2015, DCP, 5m
French and Hebrew with English subtitles
A filmmaker is asked by Cahiers du Cinéma to choose the image that made him believe in cinema. North American Premiere
Line of Credit
Salomé Alexi, France/Georgia, 2014, 85m
Georgian with English subtitles
Things are tough all over. Mortgage crises and other economic woes have hit the entire world, including the Republic of Georgia. Nino is a fortysomething woman with a small shop in Tbilisi who grew up (along with her countrymen and -women) without thinking about the complexities of finance. But the advent of Capitalism in the former Soviet republic changed all of that. When the money gets tight, Nino goes about taking loan after loan, but even as the situation gets out of hand, Salomé Alexi maintains a beautifully light, comedic tone in her feature-film debut (her short Felicità showed in ND/NF 2010). Her camera observes the deadpan humor that exists alongside the desperate straits in which the people find themselves: entertaining a French tourist in her shop while finagling yet another loan with her employee, who's been skimming money from her, Nino represents us all: someone trying to keep her head above water while working to make things right. North American Premiere
Listen to Me Marlon
Stevan Riley, UK, 2015, 100m
With a face and name known the world over, Marlon Brando earned acclaim for his astonishing acting range and infamy for his enigmatic personality. With unprecedented access to a trove of audio recordings made by the actor himself (including several self-hypnosis tapes), documentarian Stevan Riley explores Brando's on- and off-screen lives, from bursting onto the cinematic scene with such films as The Men and A Streetcar Named Desire to his first Oscar-winning role in On the Waterfront. Archival news clips and interviews shed light on Brando's support for the civil rights movement as well as on the many trials and tribulations of his children, Christian and Cheyenne. But between these many revelations and disclosures, Brando manages to tell his own story, filled with bones to pick, strong opinions, and fascinating traces of one of the most alluring figures in the history of cinema. A Showtime presentation.
Mercuriales
Virgil Vernier, France, 2014, DCP, 100m
French and Russian with English subtitles
With an eclectic assortment of shorts, documentaries, and hybrid works to his name, Virgil Vernier is one of the most ambitious young directors in France today, and one of the hardest to categorize. Taking a cue from Godard's 2 or 3 Things I Know About Her, Vernier's most accomplished film to date trains his camera on the Parisian suburb of Bagnolet, shadowing two receptionists who work in the lobby of the titular high-rise (Ana Neborac and Philippine Stindel). As the girls drift from one enigmatic situation to the next—going to the pool, visiting a maze-like sex club, hunting for new employment—Vernier's visual strategies and narrative gambits grow ever more inventive and surprising. Beautifully shot on 16mm by cinematographer Jordane Chouzenoux and set to James Ferraro's haunting electronic score, Mercuriales is that rarest of cinematic achievements: a radical experiment in form that also lavishes tender attention on its characters. U.S. Premiere
Ow
Yohei Suzuki, Japan, 2014, HDCAM, 89m
Japanese with English subtitles
You might call this blackly comic indie whatsit a Japanese episode of The Twilight Zone—except that it's not so easily classified. Jobless young Tetsuo and his girlfriend Yuriko are inexplicably immobilized after laying eyes on an orb-like object that appears out of nowhere, hovering near his bedroom's ceiling. In short order, Tetsuo's (secretly unemployed) father and several policemen find themselves likewise transfixed and when all are eventually released from their frozen state, they are left permanently catatonic. After a botched police inquiry, young journalist Deguchi sets out to get to the bottom of the mysterious happening. Given that the Japanese title, Maru translates as "Zero," he has his work cut out for him. An enigmatic, deadpan mystery that just might be a comment on the social malaise and inertia of 21st-century Japan. U.S. Premiere
Parabellum
Lukas Valenta Rinner, Argentina/Austria/Uruguay, 2015, DCP, 75m
Spanish with English subtitles
A Buenos Aires office worker finishes his day, visits his father in a rest home, lodges his cat in a kennel, and cancels his phone service. (Did you overhear the news report of riots and social unrest on the radio?) The next day, he and 10 equally nondescript individuals are transported up the Tigre delta in blindfolds and arrive at a secluded, well-appointed resort for a vacation with a difference. Instead of yoga and nature walks, the days' activities range from hand-to-hand combat and weapons instruction to classes in botany and homemade explosives. Welcome to boot camp for preppers, the destination of choice for the serious Apocalypse Tourist. Austrian filmmaker Lukas Valenta Rinner handles his material in his home country's familiar style, with cool distance, minimal dialogue, and carefully composed frames, interpolating the action with extracts from the invented Book of Disasters, a must-read for anyone warming up for the collapse of civilization as we know it—people, are you in? North American Premiere
Screening with:
Colours
Evan Johnson, Canada, 2014, DCP, 2m
A compact, chromatic visual essay on our way of seeing by Guy Maddin collaborator Evan Johnson. World Premiere
Theeb
Naji Abu Nowar, Jordan/Qatar/United Arab Emirates/UK, 2014, DCP, 100m
Arabic with English subtitles
A quietly gripping adventure tale that's perhaps intended as a corrective to the romantic grandeur of Lawrence of Arabia, Naji Abu Nowar's Theeb is classic storytelling at its finest. The year is 1916, the setting is a desert province on the edge of the Ottoman Empire, and it's a time of war. Seeking help, a British Army officer and his translator arrive at an encampment of Bedouins, who, according to their traditions, provide hospitality and assistance in the form of a guide. The guide's younger brother Theeb (Jacir Eid) follows and then tags along with the three grown-ups, who soon find themselves threatened by hostiles. As a boy who learns how to survive and become a man amidst the violent and mysterious agendas of adults, Eid carries this concise and unsentimental film on his young shoulders with amazing assurance.
Tired Moonlight
Britni West, USA, 2014, HDCAM, 76m
Britni West's directorial debut, which won the Jury Award for Narrative Feature at this year's Slamdance, discovers homespun poetry among the good folk of West's native Kalispell, Montana. Kalispell is a small town populated by lonely hearts engaging in awkward one-night stands, children with starry eyes and bruised knees, stock-car drivers, junkyard treasure hunters, and bighorn sheep. Rarely has Big Sky Country ever cast such a sweetly comic and tender spell. Photographed in Super-16mm by Adam Ginsberg and featuring a mostly nonprofessional cast (with the exception of indie favorite Alex Karpovsky) in semi-fictionalized roles, Tired Moonlight is a sui generis slice of contemporary naturalism.
The Tribe
Myroslav Slaboshpytskiy, Ukraine, 2014, DCP, 132m
A silent film with a difference, this entirely unprecedented tour de force was one of the must-see flash points at last year's Cannes Film Festival. Why? Because its entire cast is deaf and mute and the "dialogue" is strictly sign language—without subtitles. Set at a spartan boarding school for deaf and mute coeds, The Tribe follows new arrival Sergey (Grigory Fesenko), who's immediately initiated into the institution's hard-as-nails culture with a beating before ascending the food chain from put-upon outsider to foot soldier in a criminal gang that deals drugs and pimps out their fellow students. With his implacable camerawork and stark, single-minded approach (worthy of influential English director Alan Clarke), first-time feature director Myroslav Slaboshpytskiy overcomes what may sound like impossible obstacles to tell a grim but uncannily immersive story of exploitation and brutality in a dog-eat-dog world, delivering a high-school movie you won't forget. A Drafthouse Films release.
Tu dors Nicole
Stéphane Lafleur, Canada, 2014, 93m
French with English subtitles
With this disarmingly atmospheric comedy, Québécois director Stéphane Lafleur continues to secure his place high among the recent surge of talent flowing from French Canada. Tu dors Nicole follows the summer (mis)adventures of a band of utterly unique characters, centering on the coquettish 22-year-old Nicole (Julianne Côté), who leads an ostensibly carefree lifestyle. When the belatedly acknowledged reality of adulthood begins to nip at her heels and her older musician brother Rémi (Marc-André Grondin) enters the picture, complications prove inevitable. Shot in low-contrast black-and-white 35mm, Tu dors Nicole is a sweet and finely crafted ode to restless youth that, in its seductive and charming  way, recalls the likes of Aki Kaurismäki and Jim Jarmusch. A Kino Lorber release.
Violet
Bas Devos, Belgium/Netherlands, 2014, DCP, 82m
Flemish with English subtitles
The muted but harrowing tone of Violet emerges in the prologue, as closed-circuit monitors impassively display the stabbing death of a teenager at a mall. The victim's friend Jesse (Cesar De Sutter), unable to intervene, is the lone witness to the murder. Between attending black-metal concerts and prowling the suburban sprawl with his BMX biker gang, Jesse grapples with the aftermath of the crime within his community. Favoring exquisitely fluid compositions and telling silences over dialogue, writer-director Bas Devos's feature debut has a profoundly uneasy yet entrancing atmosphere, punctuated with bursts of online imagery and a meticulous, startling soundtrack. Reminiscent of Gus Van Sant's Paranoid Park in its minimalist portrayal of aimless, maladjusted youth, Violet is a continually surprising exploration of pain and guilt, an interior voyage that only grows tenser and more affecting as it arrives at darker, less comprehensible regions of the soul.
Western
Bill & Turner Ross, USA, 2015, 93m
Drug cartel violence and border politics threaten the neighborly rapport enjoyed for generations between Eagle Pass, Texas, and Piedras Negras, Mexico. In their trenchant and passionately observed documentary, Bill and Turner Ross render palpable the unease and uncertainty of decent, hardworking folk as they are buffeted by forces beyond their control, including senseless acts of torture, murders committed just outside their homes, and the temporary USDA ban on livestock trade. Drawing on archetypes of rugged individualism and community, Western focuses on Mayor Chad Foster, who presides over Eagle Pass with a winning, conspiratorial smile; José Manuel Maldonado, his kindly Piedras Negras mayoral counterpart; and Martin Wall, a cattle rancher whose Marlboro Man stoicism melts away in the presence of his young daughter, Brylyn. Western firmly positions the Ross brothers at the frontier of a new, compelling kind of American vernacular cinema.
White God
Kornél Mundruczó, Hungary, 2014, DCP, 119m
Hungarian with English subtitles
Thirteen-year old Lili and her mixed-breed dog Hagen are inseparable. When officials attempt to tax the mutt (a law that didn't pass in Hungary, but was actually attempted), Lili's father dumps Hagen on the street. While Lili tries in vain to find her dog, he goes through numerous trials and tribulations, along with other cast-off pets that wander alleyways looking for food and avoiding the pound. Hagen is taken in by some no-goods and trained to be a fighter, losing his domestic instincts in the process. When Hagen finally escapes with an army of canines in tow, they set out to take their revenge on the humans who wronged them, taking no prisoners. Kornél Mundruczó's shocking fable, which won the Un Certain Regard prize in Cannes, captivatingly weaves together elements of melodrama, adventure, and a bit of horror in order to pose fundamental questions of equality, class, and humanity. A Magnolia Pictures release.
SHORTS PROGRAMS
Shorts Program 1
Five short films by exciting new talents from around the world: San Siro (Yuri Ancarani, Italy, 24m), Boulevard's End (Nora Fingscheidt, Germany, 15m), Blue and Red (Zhou Tao, Thaliand, 25m), Nelsa (Felipe Guerrero, Colombia, 13m), and The Field of Possible (Matías Meyer, Mexico/Canada, 10m).
San Siro
Yuri Ancarani, Italy, 2014, DCP, 24m
This portrait of Milan's famed stadium is both clinical and otherworldly, casting game-time preparation as the subliminal, collective ritual of our day.
Boulevard's End
Nora Fingscheidt, Germany, 2014, DCP, 15m
Venice Pier, where L.A. meets the ocean, draws people to play, flirt, and dream. Two immigrants recount their long journeys to this place shared by so many. North American Premiere
Blue and Red
Zhou Tao, Thailand, 2014, DCP, 25m
From anti-government protests in Bangkok to rural areas in China, the march of human life is bathed in vibrant colors as if under a microscope, in what the artist dubs an "epidermal touch." World Premiere
Nelsa
Felipe Guerrero, Colombia, 2014, DCP, 13m
An obscure, trance-like tour of a place as menacing as it is incomprehensible. North American Premiere
The Field of Possible
Matías Meyer, Mexico/Canada, 2014, DCP, 10m
A single shot charts a Montreal residential building over the course of four seasons, deriving poetry from observation. World Premiere
Shorts Program 2
Seven short films by exciting new talents from around the world: Icarus (Nicholas Elliott, USA, 16m), The Chicken (Una Gunjak, Germany/Croatia, 15m), Heartless (Nara Normande & Tião, Brazil, 25m), I Remember Nothing (Zia Anger, USA, 18m), Discipline (Christophe M. Sabe, Switzerland, 11m), We Will Stay in Touch About It (Jan Zabeil, Germany, 8m), and Odessa Crash Test (Notes on Film 09) (Norbert Pfaffenbichler, Austria, 6m).
Icarus
Nicholas Elliott, USA, 2014, DCP, 16m
Desire and emotion pervade this enigmatic hangout film in which a procession of mystery men emerge ex nihilo and seek shelter in a young woman's cabin. World Premiere
The Chicken
Una Gunjak, Germany/Croatia, 2014, DCP, 15m
Bosnian with English subtitles
Six-year-old Selma is forced to confront the realities of life during wartime after she decides to let go of her birthday present.
Heartless
Nara Normande & Tião, Brazil, 2014, DCP, 25m
Portuguese with English subtitles
These sun-kissed fragments of a coming-of-age tale follow a boy who, while on vacation at a fishing village, finds himself entangled with an enigmatically nicknamed local girl. U.S. Premiere
I Remember Nothing
Zia Anger, USA, 2015, DCP, 18m
A student, unaware that she is epileptic, tries to get through another day. Structured in five sections after the phases of a seizure. World Premiere
Discipline
Christophe M. Saber, Switzerland, 2014, DCP, 11m
French, German, Arabic, and Italian with English subtitles
In this biting comedy of manners, it really does take a village.
We Will Stay in Touch About It
Jan Zabeil, Germany, 2015, DCP, 8m
After the shock of impact, reality suddenly seems out of reach. World Premiere
Odessa Crash Test (Notes on Film 09)
Norbert Pfaffenbichler, Austria, 2014, DCP, 6m
An iconic moment from Battleship Potemkin, remixed and reimagined. U.S. Premiere