Back to selection
ARRI's New Small Camera and Other News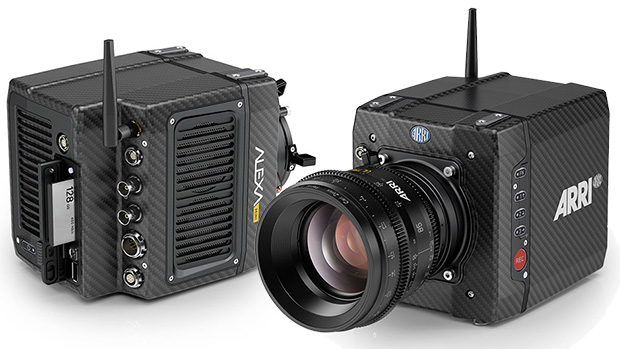 ARRI has announced a smaller ALEXA camera, the ALEXA Mini, that can record 4K UHD video. With a design described as "optimized for use on brushless gimbals, multicopters, and other specialized rigs," the Mini has a lightweight carbon housing and is 7.3" long, 5.5" inches high and 4.9" inches wide. There's also built in WiFi connectivity, a new internal sensor mount to ensure a stable flange focal distance when using heavy lenses, and motorized, remote-controllable internal ND filters,
With a 4:3 sensor the Mini offers 4:3 and 16:9 recording modes as well as an automatic de-squeeze mode for anamorphic lenses. Frame rates from 0.75 up to 200 fps are recorded in ProRes or uncompressed ARRIRAW to an internal CFast 2.0 cards.
Codex has announced simultaneously the Codex Mult-Camera Recorder which supports 8 channels of HD-SDI, and can record ARRIRAW from 4 ALEXA Minis at up to 360 fps.
To show off the camera, Freefly shot a short film, The Balloonist, using their rigs and the ARRI Mini. You can see the camera in operation in this Behind The Scenes video.
The only downside to the ALEXA Mini? This camera won't be cheap; starting at 32,000 Euro. The Mini is scheduled to ship in May and a prototype will be shown at this weeks British Video Expo.
ARRI: ALEXA Mini site

Other ARRI News
This was not the only new announcement from ARRI this month. Last week ARRI released software update ALEXA SUP 11.0 for ALEXA XT cameras and Classic cameras upgraded with the XR module. This release adds a new recording resolution, 16:9 3.2K ProRes, as well as an enhanced dabayering algorithm, ADA-5. Other improvements include: WiFi remote support, the ability to monitor audio channels individually, and frame rate adjustments while in pre-record mode.
ARRI also announced released dates for software updates coming for the AMIRA.
SUP 2.0, scheduled for March will enable 4K UHD recording and ProRes 3.2L recording, while SUP 3.0, scheduled for mid-2015 will add the ability to record in an XDCAM-compatible MPEG_2 format: 422P@HL at 50 Mbit/s in an MXF wrapper.
Other features for SUP 3.0 include a new audio accessory that will add a slot for a portable audio tuner/receiver, a remote control interface for multicamera productions and Super 16mm lens support.
ARRI: AMIRA SOFTWARE UPDATES: 4K UHD and MPEG-2 MXF RECORDING

Red Weapon
Meanwhile, Red has preannounced a new upgrade, the Red Weapon, available only as an upgrade for Red Dragon cameras. Very little is known about this upgrade, but the price to upgrade will be $9,500, and the upgrades are expected in Summer/Fall 2015. Full details will be at NAB.
Red User: RED WEAPON – Info and Data Sheets
Sony
Sony had a bad year last year, and has plans to shake things up, splitting off divisions and getting out of some businesses. Last week they said that they plan to spin off their video and sound business unit as a separate business by the end of the year. This appears to be the video players business, not the camera business, though Sony also said "other units will follow."
Re/code: Sony Will Spin Off Video & Sound Unit, Others to Follow
Forbes: Sony Shakes Things Up, Spinning Off Video Biz And Revamping Management Team