Back to selection
Getting Close: Remembering Albert Maysles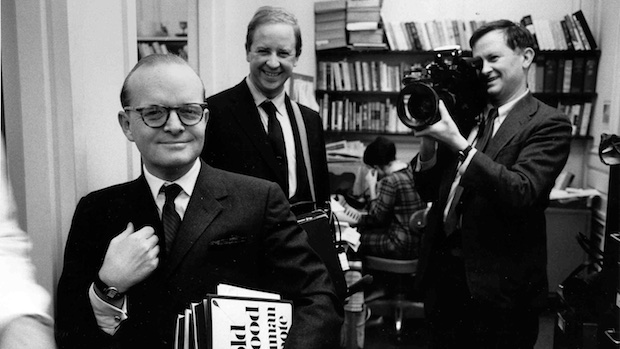 I woke up in a strange bed in Harlem on a cold and rainy Saturday morning. I was in the second floor guest bedroom of a beautiful old brownstone. The bookshelves were lined with revolutionary material from all cultures, resources for creating manned insurrections, overthrowing governments and surviving months in the wild with only a backpack. Stacks of old records littered the room, mostly '70s funk, Afro-Cuban jazz and Fela. I grabbed my iPhone, which had slept by my head next to the pillow and considered tweeting or instagramming the moment but quickly dismissed the idea. I stumbled down a wide old wooden staircase and into the kitchen, entirely cluttered floor to ceiling with pots and pans, every inch of space fitted with nicknacks and chachki's. Amidst the chaos sat Albert Maysles eating breakfast and reading the paper. I nervously smiled and bid him good morning. He smiled back, told me to take whatever I wanted in the fridge, and returned to his bowl of cereal. Somehow I had ended up a houseguest of perhaps the greatest documentary filmmaker of our time, and now I was scrambling eggs in his kitchen and watching him read the paper.
Albert Maysles was born on November 26th, 1926 in a largely Irish-Catholic part of Boston, Massachusetts to a Jewish family. As a kid he and his brother David were constantly getting into fistfights with the Irish boys at their school, a fact that Albert often discusses at screenings and retrospectives, of which I have attended at least a half-dozen. Albert began his career shooting photographs and journalistic documentaries. He served as cameraman on Primary, a film about the 1960 Wisconsin primary election between John F Kennedy and Hubert Humphrey. Primary was one of the first films to use completely mobile cameras and sound equipment, allowing Albert the type of access to his subjects – in this case John F. Kennedy – that no other professional filmmaker had ever had before. Albert's first breakthrough came in 1968 with Salesman, a film he directed with his brother David. The subjects of the film were Irish-American door-to-door Bible salesman from the same Boston neighborhood Albert grew up in (personal connection has often been the hallmark of his best films). He's described Salesman as a way for he and his brother to make friends with the same guys they used to fistfight with as kids – a quintessential Albert Maysles way of seeing things.
Albert and David were inspired in part by Truman Capote, the subject of their brilliant, underrated short film With Love from Truman. In the same way Truman was "inventing" the non-fiction novel, the Maysles sought out to "invent" the non-fiction feature film. To do this they would relinquish the use of narration of any kind (voiceover, on-screen cards, etc) and the manipulation or "setting up" of scenes that documentaries of the past relied upon. No longer would the camera be locked off on a tripod and the sound gear tethered to it by cables and wires. Instead they would shoot in a completely observational, unobtrusive style with compact handheld equipment and let scenes unfold in front of them, similar to photojournalism, yet instead of in three-minute chunks the resulting film would be of feature length – 85 minutes in the case of Salesmen – tell a story with a beginning, middle and end, like any Hollywood movie, and meant to be watched by an audience in the theater rather than simply on television.
Salesman changed the game. Looking back on it nearly 45 years later it's easy to see a direct throughline from Salesman to the independent film boom of the early '90s that I grew up on, films like Nick Gomez's underrated Laws of Gravity and Tarantino's Reservoir Dogs, through the mini-DV revolution of the late '90s (Dogma 95 anyone?) and finally mumblecore and its various spin-offs of recent years (shout-out Andrew Bujalski).
I found myself in Albert Maysles' brownstone that morning after screening my Lee Scratch Perry documentary The Upsetter at his Harlem cinema the night before. Albert owned and operated an awesome little theater with a bar in the basement. The existence of this little theater – completely not-for-profit – was a testament to his love of documentary films and selfless desire to share them with the community. Maysles Cinema was a beacon in Harlem, screening rare and obscure documentaries and training a young generation of local filmmakers in classes and workshops. When I was invited to come to Harlem and screen my film – travel and accommodations covered by Albert – I thought I would be put up in a hotel. I was pleasantly surprised to be ushered into Albert's own house and put in his son's bedroom. My first thought upon entering the 100-year-old, dark, cavernous brownstone, cluttered with artifacts, artwork and ephemera was, "the Beale's would be very comfortable here."
In many ways Albert's films barely resemble the documentary films that are most popular today. Alex Gibney, Michael Moore, Morgan Spurlock and their ilk have pushed the genre into a style that is fast-paced, loaded with talking heads and completely absent of Albert's laid back, observational approach that allowed the viewer to just sit in a moment as it unfolded across the screen. Scenes run long in Maysles films, at times over five minutes. You get the feeling you're just hanging with the subjects and slowly getting to know them and their personalities. No scene better illustrates than the "Wild Horses" moment from Gimme Shelter posted below.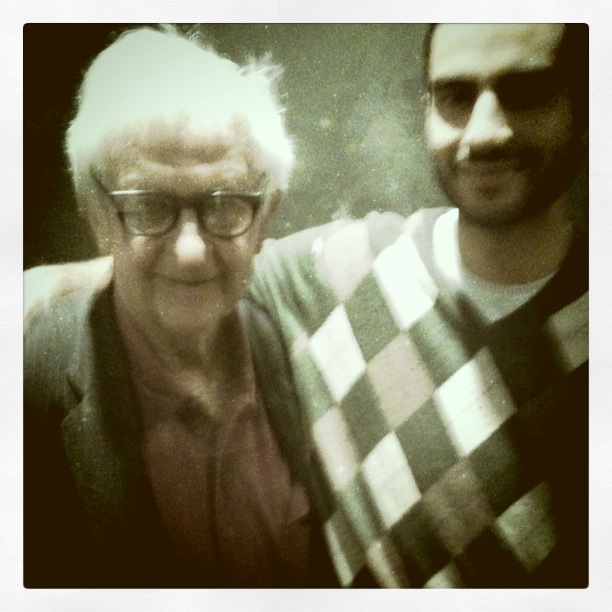 After spending 24 hours in the Maysles house I didn't expect to ever see Albert again. But In the Fall of 2011 I was invited to give a masterclass at the Gimme Some Truth documentary festival in Winnipeg, Canada. I was told I would be following another masterclass by none other than Albert Maysles. Initially I was like, "Well what the fuck do they want me for?" That's like asking Chief Keef to teach a class on Rap and follow Rakim. But they convinced me they needed a youthful perspective on documentary filmmaking so I agreed. Plus it gave me the opportunity to go see Albert's masterclass for free.
Albert's masterclass was definitely not what I expected. I thought it would be far more intellectual. What I was most surprised to learn was that Albert was a humanist. His greatest strength as a filmmaker wasn't his intellect; it was his heart. He shot films with love. He was a filmmaking Mandela. Someone asked him how he got all these subjects to trust him and open up their lives to him on camera. He answered, "The gaze is very important, how you look at them in that first moment (when you first meet). Then you follow that up with love." The class got me so inspired I felt like my brain was going to explode with ideas for films and motivation. He dropped too many gems to list but here's a few that I was able to type down on my iPhone notepad:
"My goal is for the audience to become friends with the people on the screen."

"Get close get close!" – a great mantra for documentary filmmaking.

On Salesman: "We focused on the man who was least successful as a salesman but most successful as a human being."

On seeing one of his old films w/ narration: "Narration is only an interference with what's going on in the mind of the viewer."

"Time and time again I've been in the right place at the right time I attribute it to luck and patience." 

"There's something in the nature of documentary, if a director has a poetic eye they can capture the complexity of the scene." 

"Every documentary no matter what it's about is an adventure, a discovery."

On working with subjects – "The gaze is very important, how you look at them in that first moment. Then you follow that up with love."
Rest in peace, Albert Maysles. You will be dearly missed.