Back to selection
Fifteen Projects Selected for Tribeca Film Institute All Access Grants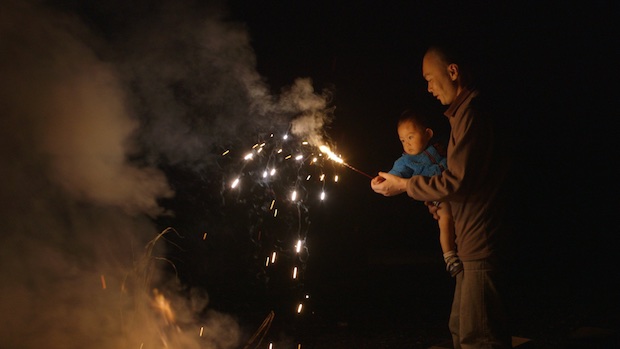 Last Call (Photo: Emily Topper)
Fifteen works — scripted, documentary and interactive — were selected today for the Tribeca Film Institute's All Access program, which offers grant monies and other non-monetary support to projects by creators from statistically underrepresented communities. The projects were chosen from a submission pool of 710 entries. In addition to the 15 projects, two filmmakers from the LGBT community were chosen to take part in TFI Network Market, a one-on-one industry meeting forum, with their feature films. They are Ingrid Jungermann, a 25 New Face appearing with her project Women Who Kill, and Hernando Bansuelo, with Martinez, CA.
The complete list of selected projects, from the press release, is below.
Five grants will be awarded to interactive projects in various stages:

· Declare Home: Produced by Judith Helfand, Daniel Latorre and Fenell Doremus. Inspired by the feature documentary-in-progress, Cooked, about extreme weather and the politics of disaster, Declare Home is a mobile rapid response online civic groupware app for community organizers and resilience workers responding to public health disasters unfolding in slow motion, everyday.

· Roll Red Roll: Produced by Nancy Schwartzman; designed by Tin Geber. A whistle-blowing blogger uncovers disturbing social media evidence documenting the gang rape of a teenage girl. The story of a football town divided, Roll Red Roll combines Live Action Role Playing, theatre of the oppressed, and process drama.

· The Shiprock Experience: Directed and written by Ramona Emerson; produced by Kelly Byars; interactive prototypes designed by Patricia Antelles and Melinda Hess. The Shiprock Experience is a rare immersive view of a unique place and its inhabitants inspired by The Mayor of Shiprock, a feature documentary, about a young group of Navajo men and women transforming their long disenchanted community.

· South Meets North: Produced by Redelia Shaw, Dan Fallshaw and Violeta Ayala. This transmedia project inspired by the film Cocaine Prison, South Meets North is the hub that connects the stories of those caught up in the War on Drugs in both the South and the North of the Americas.

· Traveling While Black: Produced by Roger Ross Williams, Joseph Lovett, Bonnie Nelson Schwartz, Lina Srivastava. Traveling While Black immerses global audiences in the American story of minorities' struggle for freedom of movement, from the pre-civil rights era through to the challenges of minority travelers face today.

Five grants will be awarded to scripted projects in various stages:

· >Be Safe I Love You: Directed by Haifaa Al Mansour. A young female soldier returns home from Iraq traumatized and desperate to get her brother out of their small town destiny and protect him from the dangers and threats of the real world.

· Black Sunshine: Directed and produced by Akosua Adoma Owusu. As a young Albino girl tries to balance her life between her demanding mother and her rejecting environment, a mythical reality is presented to her, but the path it leads to might be darker than she thinks.

· Five Nights in Maine: Directed by Maris Curran; produced by Maris Curran, Matt Parker, David Oyelowo and Carly Hugo. A young African American man, reeling from the tragic loss of his wife, travels to rural Maine to seek answers from his estranged mother-in-law, who is herself confronting guilt and grief over her daughter's death.

· White Sun: Directed and produced by Deepak Rauniyar. A dark comedy about life in a Nepali Mountain village in the wake of the decade-long armed conflict.

· You & Me Both: Directed by Jennifer Cho Suhr; Produced by Carolyn Mao. When two sisters, estranged by one's addiction, find out that they were adopted at their mother's funeral, they go on an epic road trip to find the mother that birthed them.

Five grants will be awarded to documentary projects in various stages:

· Ask The Sexpert: Directed and produced by Vaishali Sinha. A feature documentary centered on a highly popular sex column in a daily newspaper in India. Despite sex being a taboo topic in India, the column's brand of non-moralistic advice and humor is emboldening many to write in with their questions.

· Free From What: Directed by Anonymous; produced by Thomas Benski, Julia Nottingham and Lucas Ochoa. The story of two Iranian émigrés living in Brooklyn.

· Last Call: Directed & produced by Lana Wilson. A Japanese Buddhist priest combats the suicide epidemic, helping desperate men and women re-discover the will to live. But as he pours all his time and energy into saving others, a serious health crisis develops in his own life.

· So Young So Pretty So White: Directed by Chanelle Aponte Pearson and Terence Nance; produced by Yaba Blay and Michelle Serieux. Weaving together the lives of several compelling men and women from across the globe, the film is a window into the world of skin bleaching, unveiling what drives people to lighten their skin and the complex factors that make it difficult to stop.

· The Reagan Years: Directed by Pacho Velez; produced by Sierra Pettengill. The documentary follows the prolific actor's defining role: Leader of the Free World. It uses the Reagan administration's internal documentation to capture the surreal spectacle of American might at its acme.