Back to selection
The Tyranny of Interconnection: Two SXSW Films Tackle the Social Technology Present/Future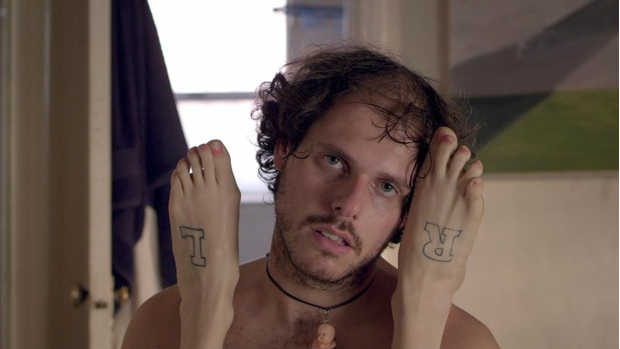 A Wonderful Cloud
In a half empty hotel ballroom in Austin last week, Brian Schuster — a porn entrepreneur giving a lecture on the future of the adult industry — introduced the concept of "the social singularity," the idea that the difference between our networked relationships and our IRL ones will eventually become indistinguishable. With texts, tweets, Skype, and FaceTime, we're already getting pretty close to that futuristic premise, something a lot of films still struggle to incorporate into their storytelling. But two of the best films this year at SXSW, Ben Dickinson's Creative Control and Eugene Kotlyarenko's A Wonderful Cloud, updated familiar social satire of the young creative class for our modern device-ridden reality of interconnection and hyper-documentation.
Dickinson's and Kotylarenko's films have a few things in common. Both directors star in them, playing versions of themselves in variations of their real-life realities. The two films also share an ability to walk a fine line, skewering their social milieus (respectively Brooklyn's young professional creative class and LA's underground arts scene), offering up critique and exposing absurdities but also maintaining a generosity for their characters. And while Dickinson's film is explicitly futuristic, introducing augmented reality glasses as a driving point in the plot, both pretty accurately portray our contemporary mode of communicating with each other.
In Creative Control, Dickinson works at an ad agency which just scooped up a client with a brand-new product, augmented reality glasses that are something like Google glasses with a Warby Parkeresque frame; Vimeo co-founder Jake Lodwick cameos as their inventor. "The world of Creative Control is almost a parallel reality. It's not even really the future," explains Dickinson. "It's a parallel reality where different design decisions were made by people who make devices."
Dickinson plays an overmedicated and underslept creative professional who begins to test these augmented reality glasses at the same time his relationship with his yoga instructor girlfriend begins to falter and he develops an obsession with his fashion photographer best friend's girlfriend. In a very sci-fi affair, he creates an avatar of his new crush in the glasses, which he fucks night after night in a Williamsburg hotel room.
As high tech as the glasses are, the avatar is a bit janky and she speaks in flat platitudes, I want you and fuck me. "Technology never works very well," notes Dickinson. "It's always glitchy." His skepticism for tech is a welcome reprieve from all the festival's futurism, where keynote and panel speakers wax poetic all week long about how the future is just around the corner and technology is going to save us from our biology. Ultimately the avatar's shortcomings serve the film's larger themes of fundamental dissatisfaction, something its gorgeous Italian Neo-Realist influenced cinematography also works to emphasize. It's worth noting the film received a special jury award for visual excellence.
"I thought, wouldn't it be interesting if you made this beautiful black and white movie, with all these windows and glass, modern and airy, with all of this natural light, and it looks like a commercial but then unlike a commercial the people in it are in pain and unhappy and struggling," explains Dickinson, noting the Neo-Realists were an influence both aesthetically and thematically. "I thought if you presented Brooklyn's creative class through that lens you would actually see it more clearly than if you just made a realist film. It's like, 'I'm living in this beautiful advertisement, why am I bummed out?'"
One of the stresses plaguing Dickinson's character is the "tyranny of interconnection." When his text messages ping, they pop-up right on the screen. Texts, video recordings, 3D avatars, and live action footage all are knit together to capture the feed of content Dickinson's character is constantly receiving. Even though part of that is representing the experience of these augmented reality glasses, the pervasiveness of this incoming content feels pretty relatable even for our smartphone-era, in which we're always switching back and forth between multiple conversations that never clearly begin or end and feel impossible to ignore. "It's drunken perspective shifts all day long and I'd never seen it addressed in a movie before and it's so much of my reality," says Dickinson. "It's like if your girlfriend doesn't text you back in an hour, she's dead or she's fucking somebody else. It makes us crazy." Through the augmented reality interface, Dickinson captured this feeling we are already intimate with.
There was a third film at SXSW that incorporated a digital interface even more prominently than Dickinson's Creative Control. The horror film Unfriended tells the story of a group of teens being slowly killed off all through the Skype-like video conference interface they're chatting on. Kotlyarenko's newest film includes texts and Skype conversations too, but while his earlier works are more like Unfriended in how they use these interfaces, his newest feature A Wonderful Cloud incorporates digital media more subtly. His web series Sky Diver was all Skype conversations and his feature debut 0s and 1s' plot revolves around a stolen laptop and heavily features web browsers.
A Wonderful Cloud, in contrast, is up to date in how hyper-documented and interconnected our lives are, but its inclusion of the social singularity is just a reality, not a gimmick or a driving point of the plot. "That stuff just seems very organic to any person who's alive now's lifestyle," explains Kotylarenko. "If you are making a diaristic movie, which I don't think all my movies will be but this one certainly is, you have to put that in, or else you're lying or you're making a weird throwback movie."
Kotlyarenko isn't the only one in the film playing a version of himself. He stars alongside Kate Lyn Sheil, who plays his ex-girlfriend, a rising fashion designer who has some internal conflict over her ambitions and the games and social ladders she has to engage with to achieve a certain level of success. "It's real, I have that conflict in my own profession," notes Kotlyarenko. "I think Kate has a lot of the conflicts that Kate's character has too."
The rest of the cast and crew is made up of a lot of friends that are a part of the same scene that the film makes fun of, an LA underground that Eugene describes as "a sort of squalid, banal, socially engaged but otherwise unengaged lifestyle." Kotlyarenko's girlfriend Joan Howard Lee was the production designer and has a small acting part. His friend Lauren Alice Avery, who's a bit of an online it girl, plays a comically unhinged drama queen not totally unlike her online persona @mochaXgirl. Kotlyarenko believes it's both easier and harder to have people in that world being a part of a film that satirizes it: "It's easier because they don't have to fake being part of this culture that I'm examining and critiquing, but it's harder because they could feel vulnerable. If they are inside of it, you have to be kind of brave and trust me as a filmmaker saying, 'This is a satire but I'm also celebrating you.'"
Kotlyarenko achieves this balance by injecting a lot of absurdity into the film. He also cites Pedro Almodóvar and Paul Thomas Anderson as influences that "love their characters but are also making fun of them." And in spite of the particulars of the social milieu Kotlyarenko is referencing, most of which I found devastatingly relatable, I think his film is entertaining and accessible enough to appeal to a much wider audience. His mix of LOL humor and human characters feels universal enough. In addition to slapstick scenes like a jilted ex pooping in his shoes, he gives his characters a complexity that's rare in the predictable Indiewood-style comedy. "I'm trying to make a movie that is actually engaging with people in a real way. People are complicated. Maybe my character is a bit of a loser, but he's also sensitive to people, and he's an egomaniac, and he's a bit of a misogynist and he's also really in love with someone."
Ultimately, both Dickinson and Kotlyarenko update cinematic storytelling to our interconnected era, but in spite of all the ways to talk and text, their characters are still selfish and bad at communicating and complicated and human. And that's what makes them relatable.