Back to selection
Counter-Brogramming: The 39th Atlanta Film Festival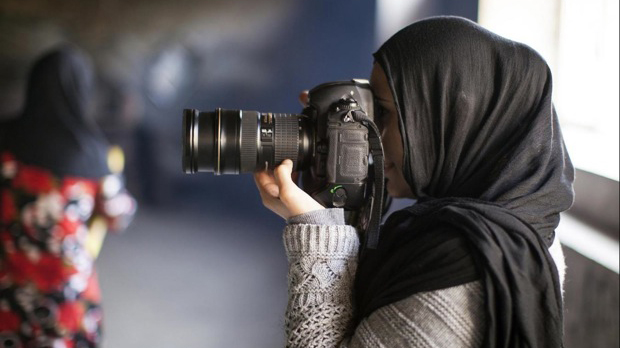 Frame by Frame
Atlanta Film Festival falls right on the heels of SXSW, and its penchant for women directors and strong female leads is refreshing after Austin, where lesser Indiewood bro-coms go to die and where this year even some of my favorite films veered into man-child territory. Kristy Breneman and Christina Humphrey, the two young programmers behind Atlanta's welcome change of pace, have inherited the 39-year-old festival and are crafting an earnestly community-minded identity in the midst of a rapidly changing city. Its growth is in part due to the fact that tax incentives have enticed more productions from Hollywood to Atlanta in recent years, proof of which came in the form of a few familiar faces from the big and small screen hanging around the festival's after parties.
While it's hard to ignore all the condos under construction and mentions of surging rent prices, I was surprised to find out that the festival's principal venue, the Plaza Theatre, was struggling to stay in business only six years ago. At Breneman's previous gig at community arts nonprofit WonderRoot, she started a screening night of local films to help the struggling theater while tapping into the city's filmmaking community. Fast-forward a few years, and Breneman and Humphrey have seen the injection of commercial projects help kickstart the local independent film scene. They're positioning the festival to continue to help grow this community as well as be a bridge between it, film-watching audiences, and larger indie and commercial infrastructures.
In the past few years, the festival has started a couple of initiatives explicitly supporting the work of women filmmakers. The first ten features the festival selects are all directed by women, and there's a block of shorts titled "The New Mavericks" defined by women directors and strong female leads. When Breneman and Humphrey first started the shorts series in 2013, their board of directors had some reservations. "They didn't necessarily want our festival to be known as for female directors only," notes Breneman, the Creative Director and Features Programmer. "That's not what we are trying to do. We are just trying to show our support at an important time in filmmaking for women."
There is indeed a moment right now where a constellation of these sorts of efforts is gaining momentum. Leah Meyerhoff, founder of grassroots collective Film Fatales, won the narrative competition at Atlanta last year with her feature I Believe In Unicorns. "That was right when Leah was starting the Fatales, and it's grown like crazy this past year," notes Breneman. The collective now boasts chapters in nine cities worldwide, and two of its NYC members — Eliza McNitt and Aly Migliori — had shorts play Atlanta this year. While the subject matter in the women-director/women-lead New Mavericks program felt a bit predictable — a majority were dramas about alienated teen girls — throughout the festival, there was much more diversity in subject matter women directors were tackling. (And since I slammed SXSW above for its brogram, I should note that both Unmappable and Frame by Frame, discussed below, premiered in Austin, which does have strong films by women — they just get overwhelmed by a surprising amount of work that wouldn't pass the Bechdel test.)
The short documentary Unmappable is a portrait of Denis Wood, whose poetic mapmaking challenges the distinction between art and cartography. He also had a sexual relationship with a 16-year-old boy — a friend of his son's who began living with the family — for which he spent 26 months in prison. Both the story and tone directors Diane Hodson and Jasmine Luoma employ feel borrowed from a public radio podcast, so it doesn't seem jarring when, partway through, Ira Glass's voice chimes in and we get a snippet of a 1998 This American Life interview with Wood. But while Wood's sexual deviancy was and is public knowledge, Glass's interview, like many others, ignored it and just focused on his mapmaking. Hodson and Luoma, on the other hand, present a well-rounded portrait of a narcissistic man, whose status as an ex-convict and sex offender is not in spite of his posturing as an intellectual; rather, both parts of his life stem from a deep-seeded anarchic bent. Most memorable is the way these meditations on boundaries are illustrated in a recurring trick of Wood's — he scribbles a circle around an ant who struggles to escape from the pen-and-paper illusion of a confine.
In Alexandria Bombach and Mo Scarpelli's Frame by Frame, the story of Afghanistan's fledgling photojournalism industry is told through a handful of compelling characters. The most endearing are husband and wife photojournalists Massoud Hossaini and Farzana Wahidy, whose Honeymooners moments balance the film's conflict-zone violence and suffering with humanity and humor. It was a film that could only have been made by women, as the co-directors were able to gain access to accompany Wahidy on many of her assignments photographing Afghani women due to their gender. They noted in their Q&A that being foreign women afforded them the privilege to traverse both women-only spaces and spaces Afghani women wouldn't be allowed in. On one of these sensitive photo stories the co-directors are able to shadow Wahidy on, we meet a woman whose in-laws doused her in gasoline and set her on fire. After, her husband consented to a divorce but only on the condition that he kept their child. In a film full of photos, the most striking one isn't by a photojournalist — it's a digitally-reconstructed image this mother has commissioned that digitally replaces her child's face as if she were holding her once again. The Photoshop work is notably artificial, and the image becomes as strange as the inhumanity of the woman's story.
Like Frame by Frame, Theo Anthony's short Chop My Money is a welcome reprieve from the typical soft-focus social-issue documentary, but is even more self-conscious in its subversion. It features three tween boys in the Eastern Democratic Republic of Congo, but only one line is devoted to how the leader of their small gang, Patient, lost his mother in the war. Instead its lyrical portrait, complete with slow-mo and droning soundtrack, makes room for their day-to-day existence: playing like the kids they are and splashing on the beach, but also cultivating burgeoning bravado and self-posturing as young gangsters, listening to rap on their Walkmen and smoking cigarettes under a bridge. The film's heavy stylization matches its subjects' own, culminating in a street brawl jarringly cut together with Patient regurgitating a voiceover that feels like it's from a totally other documentary: "I wake up, I brush my teeth, I get ready for school…" The juxtaposition forces us to confront the way stories from this part of the world are often commodified.
Uncertain Terms is not even Nathan Silver's most recent film on the festival circuit, but like Stinking Heaven and almost every other film he's made, it features some sort of non-traditional living arrangement — this time around, a private group home for pregnant teens. A freckled and full-bellied India Menuez becomes the center of a capricious love triangle between her teen baby daddy and the group home mother's middle-aged nephew, who's hiding out from his failing marriage and working there as a handyman. The film glows in moments of offbeat humor and is superbly paced until the end, where scenes with horror film-like suspense segue into a sentimental anticlimactic finish which feels a bit uneven. But it's a solid feature and worth seeing, above all else for a scene with the unwed mothers-to-be celebrating one of their 18th birthdays and dirty dancing in the suburban living room to Khia's "My Neck, My Back (Lick It)."
Alexander Glustrom's Big Charity had maybe the most lingering effect of any film at the festival. The documentary unravels a story of corruption and sabotage at America's oldest hospital, the public Charity Hospital, during and after Katrina, when it was forcibly boarded up after the storm to ensure FEMA would fund a new private hospital. The scrappy production budget probably made first-time director Glustrom less intimidating, allowing him to get an astounding number of interviews, with even some of the bad guys on camera. The film captures the spirit of generosity the hospital legendarily had, and Glustrom's decision to make the story and subjects paramount to any fancy directorial choices feels right. That spirit that Atlanta native Glustrom brings out in his film echoed the same sense of community the whole festival imbued.