Back to selection
Screen Slate Founder Jon Dieringer on the Overhaul of NYC's Repertory Film Listing Service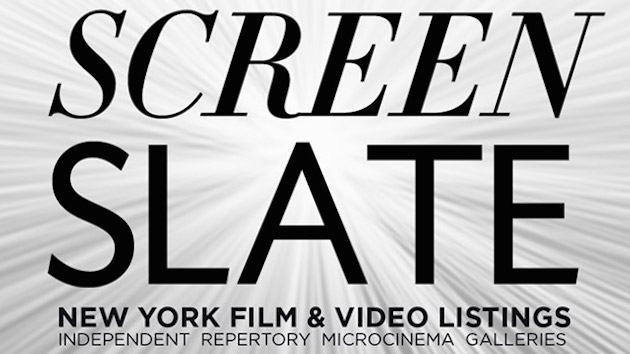 If you're an avid repertory filmgoer in New York City, chances are Screen Slate is your lifeline. A daily collation of the five boroughs' rep, independent, arthouse and gallery screenings dispatched straight to your inbox, Screen Slate has sent over a million emails since its inception in mid-2010. Founder Jon Dieringer is now looking to take things to the next level with a Kickstarter campaign that would allow for several site advancements, including customized alerts; sorting by filmmaker, venue, format and series; calendar functions and much more. Filmmaker spoke with Dieringer about his own curatorial process and plans for the site's relaunch. Be sure to check out the Kickstarter, whose prizes include hand picked screenings at Anthology with Richard Hell, a gaggle of memberships to New York rep houses, and other cinephilic paraphernalia.
Filmmaker: On the Screen Slate site, you already have listings designed for four days in advance. With the new version, do you plan to have a calendar function? How far in advance will you be tracking series?
Jon Dieringer: On the new site, screening information will be posted as soon as it is available. This is going to make it way easier for people to plan their schedules in advance. Basically, if it's online somewhere, it will be on Screen Slate.
Filmmaker: In addition to featured write-ups, you've begun to include interviews (with Agnès Varda no less) in the newsletters. Do you have a desire to fold more journalism/criticism into the site?
Dieringer: There are some great writers getting involved in Screen Slate, and I think there is a fantastic opportunity to advance locally focused and series- or exhibition-oriented writing here. When I first started the site, it kind of felt natural to provide a quick editorial rundown of interesting stuff—ultimately more in the spirit of "this looks great, here's why," but not necessarily based on, like, having actually seen the movies. (Why spoil the theatrical experience?) But as I became busier and focused more on completing the listings, other people have stepped in, and the voice has shifted to much more informed commentary—not quite "reviews," but critical summaries that might be colored by the series or exhibition context. So this writing deserves a better spotlight than a quick daily e-mail, although I do find something sincerely compelling about the immediacy and ephemerality of that. Basically, the writing will have a home where it's more likely to be searched, shared, and revisited.
And I'd love for Screen Slate to offer more considered essays on overall series arcs and exhibition trends or interviews with programmers, projectionists, gallery owners, and artists. So Screen Slate should remain first and foremost a listings resource, but expanded editorial coverage is absolutely in the cards. There's hardly an absence of informed criticism, but it still feels drowned out by promotional things, like unveiling the Vine preview of the teaser of an upcoming blockbuster.
Speaking of, I never would have thought Agnès Varda would do an interview with Screen Slate, but Vanessa McDonnell did such a fantastic job that I heard Agnès singing her praises!
Filmmaker: In the new version, you will open up events listings to a public submissions process. Will there be a curatorial element, or will you draw the line at people submitting pop-up screenings in their homes?
Dieringer: Prior to starting the site, I fretted a lot about how to shape a policy about what to include. So I figured I'd just start doing it intuitively and see whether a selection process developed naturally. This ended up being a good idea: I'm almost never faced with requests to list things that seem questionable on the basis of legitimacy. If anything, I like to err on the side of being inclusive to things that wouldn't be publicized elsewhere, and I occasionally list pop-up stuff or things someone might be organized in artist studios.
Unexpectedly, what happens more often is I'm unsure whether to list something that has more mainstream visibility. Listing first-run things might tread into territory that's already covered pretty well elsewhere. So I generally don't list something like first-run indie movies at IFC Center. But there are no hard-and-fast rules there. I want to champion an independent ethos, and IFC totally shows stuff like Manakamana or I Used to Be Darker that I want to include. The premiere runs at The Film Society of Lincoln Center's new theater and Film Forum often fall into this category, and I'd like to be more inclusive of that as the ease of updating on the new site allows.
The public submissions element is sorely needed, because a lot of times I'll get an e-mail about something while I'm riding the train or out in the evening and flag it to add later and lose sight of it—which always makes me feel bad because this is really where my heart's at and I worry people feel ignored. This is especially true when things are announced last-minute, and I know from personal experience how difficult it is to get stuff together for DIY shows and get the info out. So with the public submissions, instead of e-mailing me people can just submit it there, and there will be an easy review process, kind of like moderating comments on a discussion thread.
Filmmaker: As of now, do you have a process for collating all the screening info or is it just painstakingly done by hand?
Dieringer: Everything is totally, 100%, hunt-and-peck, copy-paste, manually entered. The current format is literally just a blog post with structured formatting that is also done manually. There was a life-changing moment where Anthology Film Archives offered to have their interns assist with formatting their listings, and that led to a workflow where I could open it up to other people. So now there's a system where myself and the people who contribute a lot elsewhere tackle different daily theaters, and I aggregate them together while also catching stuff that's weekly or intermittent, like microcinemas, galleries, and cultural institutions. So now it's only figuratively rather than literally taking up all my time. I've started jogging, for instance.
Filmmaker: Just for fun, what have been some of your favorite series you've covered since Screen Slate's inception?
Dieringer: Over the last four years I've been programming prolifically at Spectacle in Brooklyn, but when I started I was just doing these intermittent shows as "Screen Slate Presents," which is where those first interviews came from. I had been curious about all these movies the kruatrock band CAN had scored that were never released in the US, so I tracked some of those down and figured I'd try to get in touch with Irmin Schmidt, who was incredibly generous with his time and did a fantastic interview covering a lot of things that I don't believe have ever been discussed elsewhere.
But in general, my favorite thing to do is to constantly strive to look outside of the canon and emphasize, to the extent possible when we're talking about repertory film and the art world, things that are outside of the purview of culture created by straight white men (which it nevertheless does quite a bit). I'm proud of all the work Screen Slate has done to focus on overlooked, marginalized, or non-mainstream films and artists as well as the venues and programmers that advance that kind of work. So if anyone comes to check John Wayne show times and ends up at a Dirty Looks show, I'd say its purpose has been served.