Back to selection
A Festival is its City: Buenos Aires International Independent Film Festival 2015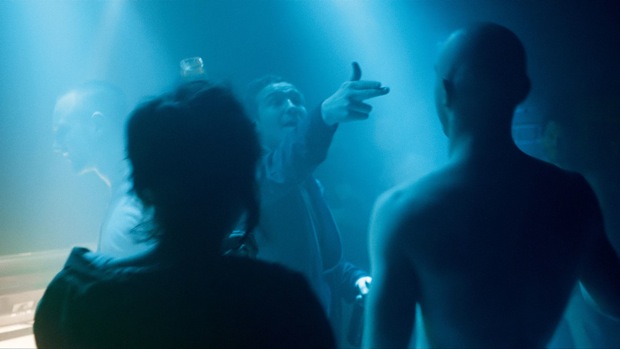 Victoria
Buenos Aires, Argentina's capital, is a big city, at least for me: I live in another capital, Santiago de Chile, but can't compare how big the two are. That's especially true when one starts to ask around what's actually part of Buenos Aires: if the "Conurbano" (poor suburbs surrounding the capital) is included, if here or there is or isn't part of this "autonomous city." It's the same when one starts asking about the importance of the BAFICI (the Spanish acronym for the festival, "Buenos Aires Festival Internacional de Cine Independiente") or how it has changed with time: you get many responses, and no one's clear on whether it's getting better or worse, but pretty much everyone agrees that it's among the biggest festivals in the Southern Hemisphere.
As the plane landed in the main airport, I could see a strange city, one that doesn't register as disorganized but whose mixture of different architectures and ways of disposing streets and houses is completely alien to me. (In Chile cities are usually planned in grids in which every intersection is usually the same size.) There's not that many skyscrapers, with architecture from the 19th century kept alive pretty much everywhere you go. These facts are analogous to how I feel about the BAFICI: it's sprawling, mixes everything together and doesn't hold anything truly big (unlike Cannes, where every movie seems to be a skyscraper waiting to be either baptized or demolished), but you can find the beauty in it once you start walking the twisted pathways it offers.
Asked by the magazine Directores (distributed by the Association of Directors of Argentina) about the BAFICI, Diego Battle — one of Argentina's most well-established film critics — said that it has "a double function: […] presenting the newest and most experimental stuff of Argentinian cinema, and also, showing all the international cinema that, sadly, doesn't get a commercial release." Horacio Bernades, another critic for the same magazine, said that a "certain mystique has evaporated, also possibly interest as well," but later conceded that "the festival still is […] a showcase of the most interesting [films] going around." Certainly the festival has its critics, and the organizers have a general disdain towards critics that they either don't know or who work for the Internet, but that's something that will eventually change.
Look for no further evidence of the festival's eclectic nature than its opening night. Two films were playing at the same time: Isao Takahata's The Tale of Princess Kaguya and Hugo Santiago's El cielo del centauro. The first was a free outdoor presentation at the amphitheater at Parque Centenario, where families crowded to see what I consider one of the greatest animated works of all time. Meanwhile, the "official," opening film was invitation-only. Legendary Argentinian director Santiago is famous for working with Bresson before filming his first work, 1968's Invasión, co-written by Jorge Luis Borges and Adolfo Bioy Cáceres. I didn't have the chance to see this movie, but it's creator speaks to probable differences with the Studio Ghibli film.
The festival holds two main competitions: International and Argentinian. In the international competition there's a clear effort from the programmers to play films that are either the filmmaker's first or second film, thus bringing new blood to the system and avoiding a "pageant" that would make for a starrier lineup. For example this year's winner of best film in this category, Chaintanya's Tamhane Court, is a debut feature following a court case and all those involved in it: the victim, the lawyers and even the judge, focusing on their words and what they do when not working as pieces in the obviously corrupt system of justice operating in India. The film goes beyond the courtroom genre to speak about ongoing class differences and racial tensions.
Certainly an "important" film, but I would've preferred an accolade for Soon-mi Yoo's Songs from the North, an assembly of films and propaganda from North Korea alongside footage shot by the director herself during three visits to the country. The juxtaposition of old movies and newsreels with present-day footage of people walking and visiting statues of Kim Jong Il and other past leaders of their revolution reveals a fascinating thesis: the life of North Koreans is mostly a fiction, a creation ostensibly for their own safety. It's as if living in North Korea is like being in a real-world Matrix, where lies are even believed by the officials and thus become the truth. All their acts and lives have the artificial quality of a highly produced play or opera, where melodrama is maxed out and the "truth" told by well trained actors is convincing due to their tears. I don't doubt that people in North Korea totally believe that they are one of the best countries in the world, at least in terms of economy and culture.
The Argentinian competition also plays first films but is primarily for showcasing the best of new Argentinian cinema. This year's competition winner, Matias Piñeiro's The Princess of France, continues his experiments with Shakespeare (the text being riffed on this time is Love's Labour's Lost). Sometimes it's reminiscent of ballet, especially in its first scene, where a highly choreographed soccer match announces what the film is going to be about: treason, disdain and how we could unknowingly be undeservingly bullying one of our friends as we take sides in a fight that might not even be our own. In Viola, Piñeiro demonstrated knowledge of how people in certain Buenos Aires circles interact and fall in love, and with this film he continues that path, quietly building a portrait of obsession.
The winner of the prize for best director in this competition was José Celestino Campusano for his sixth film Placer y martirio. Campusano has adopted a style that he's named "Cine Bruto" (Brute Cinema), which disregards the canon and formal proficiency in favor of social truth and emotion before anything else. Given the acting skills on display and the way that the film is edited, it could be easily misinterpreted as bad filmmaking, but in the end it arrives at the truth of the characters (most of them non-actors) and the stories told. In this movie Campusano moves beyond the stories of the conurbano, tackling high society as a place of violence and vice. A soon-to-be mature female protagonist is used by a rich entrepreneur for his amusement, slowly turning her into a sexually vicious woman who tries to take her revenge by adapting and turning herself into a vampire-like creature. It's an interesting movie about how you can destroy your life because of obsession and the thought that maybe you can have a deeper relationship with someone you find attractive.
Since 2013, the festival has held a new competition named "Vanguardia y Género" ("Avant Garde and Genre") for boundary-pushing films, from Latin American horror features to the most recent 16mm short work by one of the great American experimental filmmakers. Anything not normally found in official competitions all over the world is here: shorts and features compete as equals, with everything from sci-fi to documentaries and the experimental competing for the top prize. It is a chance for many first-time filmmakers that usually don't play the festival game to have their work put together with other films more connected to the circuit.
I had a brief chat with Roberto Collío, a Chilean filmmaker whose short was programmed in this competition alongside the latest from one of the filmmakers that inspired him to start working: Don Hertzfeldt and his genius World of Tomorrow. With Muerte Blanca (White Death), Collío found a reason to go back to Buenos Aires, where he studied filmmaking, thus demonstrating to himself and others that he had managed to do something good, even great. Shot in 16mm, his short shows us the landscape of Antuco, one of Chile's coldest places, where, 12 years ago, 45 Chilean soldiers froze to death because of bad weather and wrong decisions made by the chain of command. Landscape shots are married with rotoscope animation of how the soldiers would've died when confronted with heavy winds and snow. The soundtrack doesn't try to achieve any realism or account for "what really happened," but to give a sense of how it feels to die alone in the cold.
Collío said that the importance he gives to being shown in the festival is that "teachers and friends could see what I could do much later, in a festival that has a lot of importance for this country." While his appearance in BAFICI comes in the middle of the short's festival life, he appreciates being included alongside who he considers one of his inspirations. About being slotted in the avant-garde, he says the short was made to "explore new ways […] I can't possibly do something that is determined or proven in terms of technique or narrative, mainly because movies take much time and energy, and you have to keep yourself interested." Asked about what he thinks of the festival itself he says: "I don't know if it's the festival that takes the biggest risks, but it does take some, and you can notice."
In the same competition I had the pleasure to see Sebastian Schipper's Victoria, the much talked-about film shot in one take that lasts two hours and a half. One can't help but fall for the pleasures of the preparation and the scope of a film like this, which follows Victoria, a young Spanish woman who finds herself hanging out from 4 to 6 am with the wrong crowd of German youngsters in Berlin. She works there after being kicked out of the conservatory where she studied piano — facts we learn in one of the most heartfelt sequences of the year, where she opens up and we find why she is where she is. The film then continues with its genre exercise, with the gang needing her to complete a bank heist so one of them can pay off the debt he went into when he received protection in jail. From the point of view of "how could they possibly pull off this," it's completely fascinating, and for young directors it's certainly inspiring, especially when it comes off as a "young" film for those that just came out of university or had to drop out because of debt. It's a movie about how what you plan isn't always what you get, or, less commonly, about the unexpected returns of everything going to shit.
While the main performances from Elisabeth Moss and Katherine Waterston in Alex Ross Perry's Queen of Earth are maybe the best I'll see all year, the film itself didn't leave much of an impression. A well-meaning film about the slow deterioration of Moss' mind, it never attempts to give any clues as to, why beyond a breakup and the death of her father. That renders the character as way too simplistically fragile, and there's a distinct lack of humor in this picture. The over-serious tone Ross Perry puts forward (as some sort of homage to the '70s American films he references throughout) fails to expand the world and the characters; constant hints regarding the origins of Moss's personality don't redeem or explain her actions.
On the other hand, Daigo Matsui's Wonderful World End is a little Japanese nugget of otaku self-deprecation, simultaneously offering ridiculousness and poignancy without losing either quality. A young model "video-tweets" her life, creating a persona that attracts many fans, including an underage girl seemingly in love with her who begins following her. This plotline is surrounded by the kitsch aesthetics that are part of current Japanese youth culture: goth Lolitas, anime, video games, bright colors and sexually repressed energy. Moments of ridiculousness lead to ones where characters are faced with reality and must learn to grow up (or to escape forever) while the world they've constructed around them slowly starts to end. Much like Perry's film, it's a movie about two strong female characters fully justified in their problems and ideals.
The best thing I saw in the festival was a tie between Patricio Guzmán's latest, Berlinale-awarded film The Pearl Button and my first viewing of the restoration of Sergei Paradjanov's Sayat Nova. The Chilean director's film examines connections between the Kaweskar (an indigenous tribe that lives in the Chilean Patagonia) and victims of the Pinochet dictatorship who were wrapped in bags and thrown off helicopters into the ocean; the surprising relation between the strands and the surprising origin of the film's title makes it one of the most profound and entertaining documentaries in Guzmán's filmography. On the other hand, Sayat Nova is surely the most beautiful film I've seen in my life; after days of no more than three or four hours of sleep, its imagery still maintained my fascination. If it wasn't for the festival, I would've probably never have the chance to see this on a big screen, and after all, that's why we go: to be surprised and fall in love with the images once again.