Back to selection
2016 Tribeca Film Festival Unveils New Storytellers Program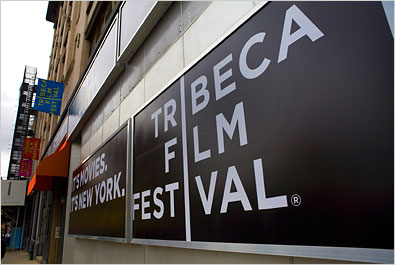 The Tribeca Film Festival (TFF) doesn't take place until April 13-24, 2016, but the festival is already planning ahead. Today TFF announced that it will launch a new platform, Tribeca Talks: Storytellers, a series of in-depth conversations with leading creators, during next year's festival. Tina Fey and Tom Hanks are the first two creators announced.
The panel series will take place at the Tribeca Festival Hub, which will return to Spring Studios this year and will host a series of virtual reality and immersive storytelling experiences, panel discussions and musical experiences.
On April 19, Imagination Day, powered by the Hatchery, will take place at the Hub. The all-day summit will focus on the question: "What happens when our wildest dreams become reality and what will that reality be in our not-so-distant future?" The first round of participants includes entrepreneur Sir Richard Branson, founder and chairman of the Virgin Group, and business leader and product innovator Regina Dugan, of Google ATAP.  Joining them are VR creatives and tech entrepreneurs: Second Life and High Fidelity founder Philip Rosedale, VR directors Félix Lajeunesse and Paul Raphaël of Felix & Paul Studios, and STRIVR founder and CEO Derek Belch.
Part of the Hub's immersive programming for the 15th Festival will be the world festival premiere of Invasion!, the first VR, interactive, animated film from Baobab Studios, co-founded by Maureen Fan (former VP of Games for Zynga) and Eric Darnell (director Antz and the Madagascar series).
Felix & Paul Studios will be the Tribeca Festival Hub "Featured Creator" for 2016. At the forefront of cinematic virtual reality, Félix and Paul combine artistic and technological innovation using Felix & Paul Studios' proprietary VR technology platform to create original live-action virtual reality content. The VR filmmakers will appear as part of Imagination Day on April 19 and a selection of their work, including Inside Impact: East Africa with President Bill Clinton, Cirque du Soleil's Inside the Box of Kurios, and Nomads: Maasai will be featured throughout the space.
The Hub will also showcase Storyscapes, a juried section that showcases groundbreaking exhibits in technology and interactive storytelling. The fifth annual TFI Interactive, an all-day forum devoted to the worlds of media, gaming and technology, will once again feature an "interactive playground."
"When we started the Festival 15 years ago, we did so with the belief that film and culture had the power to unite a community," said Jane Rosenthal, co-founder, TFF. "That has continued to drive our mission, but as Tribeca has grown, so has our definition of storytelling. We are looking forward to hosting some of the most exciting creative minds in the world at our Hub this year and helping bring their experiences and views to life for our audiences."
Festival Hub Passes are available now to the general public and provide an all-access experience to TFF's creative center, including talks, special screenings, interactive installations, live music, open bars, and an invitation to a Tribeca Film Festival Filmmaker party. Passes are on sale now with special early discount pricing for $399.00 (regular price: $550.00) through December 31st and are available at www.tribecafilm.com.