Back to selection
"A Filmmaker Lives in a Suitcase": Guillermo del "Toronto" Speaks During TIFF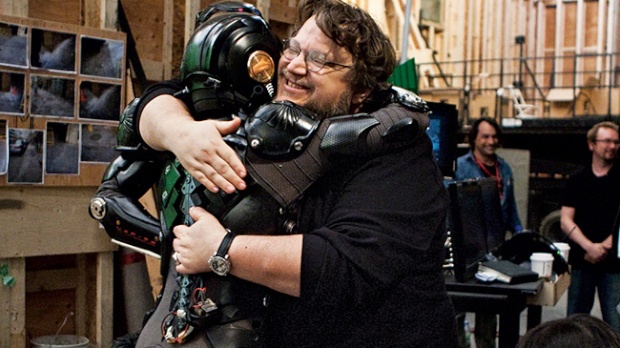 At the end of a one-hour chat held on the first full day of TIFF, an audience member suggested that the Mexican director of Pan's Labyrinth be renamed Guillermo del Toronto.
The sentiment behind this fanciful idea lay in the fact that del Toro keeps returning to Toronto to film here, most recently the $250-million mega-actioner, Pacific Rim, and is now prepping the horror flick, Crimson Peak, before cameras roll next spring.  "I've lived in L.A., Madrid, Budapest," del Toro recalled before an invited audience at the Trump Hotel. "[A filmmaker] lives in a suitcase."
The Canuck version of the AMPAS, the Academy of Canadian Cinema & Television invited del Toro and his producer, Callum Greene, to chat. The talk wasn't officially part of the Toronto International Film Festival, but like an increasing number of events, piggybacked on TIFF's opening weekend, which kicked off the night before, Sept.5. with The Fifth Estate.
Ever diplomatic, del Toro commended the local production crews to warm applause before considering weightier matters like whether budgets mean anything to him when choosing his next project. "Well, I go back and forth," he answered. "For example,  The Strain, which is the TV pilot for the series that we're doing in a few weeks, is a tenth of the budget of Pacific Rim or less. The thing is we do what we need to do." He explained that he and his friend Alfonso Cuaron (whose Gravity is dazzling TIFF audiences) agree on one thing: don't make a movie because of your career. "You think, If I don't do this movie my way, will there be anyone else to direct it and will the movie be the same? If the answer is yes, then you shouldn't do it."
Del Toro describes Pacific Rim as "an absolute poem to my 11-year-old self." Despite occupying nine stages at Toronto's Pinewood Studios and hiring a large crew and several hundred extras, del Toro followed a guiding principle to "keep it simple" and prevent "the 48-year-old getting in the way of the 11-year-old of enjoying the movie. It's a very personal movie, but it's another part of my personality."
After Crimson, he hopes to return to smaller movies in any language, whether it be Russian or French, as long as he can maintain the film's integrity. For example, "I never would have attempted to make Pacific Rim as an independent film in Mexico, or made Pan's Labyrinth in the studio system."
A hyphenate, Del Toro answered as many questions about producing as directing. He stated that studios look backward while filmmakers look forward. "The studios look back to see what everybody did and how much they made," he explained. "They need to know who went there first. Why is it safe to go there? How long does it take? How many barrels of fish they consumed on the ship?"  Essentially, filmmakers are explorers while studio owners are battleship owners. Indirectly explaining his own success, del Toro advised that a director must be fiscally responsible, yet bold enough to take creative chances. "If that osmosis occurs, you have a successful partnership. The studio becomes invested in you, and you become invested in them making money."
Balancing business and art may have started over 20 years ago in Mexico when he started doing make-up effects for his own movies. His talent led him to gigs on other films doing that as well as  storyboarding and designing special effects. "I started living off of that," he recalled, "and I was selling real estate in the morning." Everyday until 2 pm, he would show homes to prospective buyers, then switch to make-up, effects or writing his early breakthrough, Cronos, which screened at TIFF 20 years ago.
After Crimson Peak, will Mr. del Toronto return to this fair city? He answered: "You go anywhere to where you can do the best production of your movie."