Back to selection
2015: Camera and Monitor Gear in Review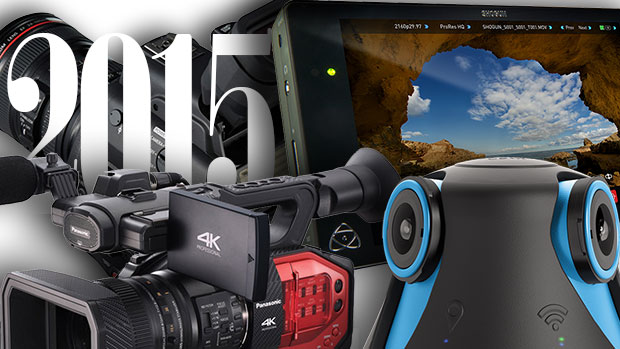 Looking back on 2015, while there were few real stand-out innovations, the advances in the world of cameras and gear continued to march relentlessly forward.
Cameras
This was the year that Panasonic finally shipped their 4K Varicam 35, but for the indie filmmaker it was probably the announcement of the $4,000 Panasonic AG-DVX200 4K camera — which features a Four-Thirds sensor — that was more interesting. Ideal for run-and-gun documentary work, you might think of it as the GH4 with better audio and a good fixed zoom lens.
For the narrative filmmaker, or those that want/need a bigger sensor, the release of the Sony PXW-FS5 brought most of the features found in the FS7, but in a smaller size and at a lower price ($5,599) You'll still need to add lenses to that, so the FS5 remains a more expensive option than the DVX200, though a more sophisticated one.
If you want 4K internal recording in a very small body, with a large sensor and incredible low-light sensitivity, Sony continued their relentless development of the a7 line, releasing both the a7R II ($3,198) and the a7S II ($2,998). Both offer internal 4K recording; the previous models supported 4K recording but required an external recorder to actually do the recording. In theory, the a7S II, with its lower pixel count sensor should produce a better (less aliased) video image, though it seems that the actual differences in image quality, dynamic range and rolling shutter are very small. It's only in low light performance where the difference is clearly in the a7S II's favor.
Canon also started shipping the 4K Canon C300 Mark II. At $16,000 this camera is significantly more expensive, but it can't be ignored — the original C300 turned out to be one of the most popular HD cameras, especially in the rental market. But the C300 didn't have to compete with the FS7/FS5, which seem like a much bigger jump over Sony's previous offerings in this price range than the C300 Mark II is over the C300.
If you already use the C300, jumping to the Mark II would be a pretty simple and obvious upgrade.
360 Degree Cameras
While regular video cameras are jumping from HD to 4K, another video format also saw significant advances this year, with several companies coming up with rigs, software and even custom cameras for shooting 360 degree video. Both Facebook and YouTube now support 360 video, and people are experimenting using these cameras for sports, concerts, and even narrative work. Even Nokia has shown an — extremely expensive — camera.
There's lots of options, but it's still very early days for this technology, and it remains to be seen if this will be the next big thing, or the next 3D video camera.
Action Cameras
In the world of Action Cameras, GoPro remains on top, with no one really offering anything that is a compelling alternative. GoPro's biggest problem may be that they have saturated the mass market; with projected sales and interest down their stock price has fallen significantly from last year.
Interestingly, GoPro seems interested in the world of drones. They were reportedly in talks with DJI but ended up pulling out of that and have now teased footage from their own drone that they will release this coming year.
Drones
While on the subject of drones, the FAA is still dragging their feet on rules for commercial drone usage, but they were able to very quickly pull together a new mandatory drone registration program that practically all drone owners — even the small DJI Phantom's — must participate in. Note that this doesn't provide any approval for commercial uses. There's a $5 fee, but if you register by January 20th the $5 fee will be refunded. https://www.faa.gov/uas/registration/
External Recorders
Budget solid-state external recorders expanded in capability and came down in price this year. The Atomos Shogun monitor/recorder, though announced in 2014, really only started shipping in 2015 and has seen a number of upgrades already, including Avid DNxHR support and updates to support many of the new cameras.
While it's not for run-and-gun situations, or maybe even many location shoots, AJA has released an update of the original Ki Pro, the Ki Pro Ultra 4K monitor/recorder. This unit adds 4K recording and a 4.8" monitor screen.
And if you're looking for an HD monitor/recorder on a budget, Blackmagic came out with the $495 Blackmagic Design Video Assist. It's only a 5" monitor, but it records 10-bit 4:2:2 1080p60 video up to U1 SDHC/XC memory cards using Apple ProRes.
Home Entertainment
In the world of home entertainment this year has seen 4K content streaming options expand, making it more compelling for end-users to buy 4K sets. While it's arguable whether a 4K screen is needed in many home settings (how close do you sit to the screen?!) the rapidly falling prices of home TVs means that 4K screens are now approaching the price of the high-end HD sets, while HD TVs are priced in the basement.
At the same time, many high-end features are being stripped out of the HD sets. Features like local dimming — which improve the contrast of the image — are being removed from the HD TVs. To get the best picture — independent of resolution — you may soon have to buy a 4K set.
Meanwhile, the first 4K Blu-ray players are expected sometime in 2016. They're unlikely to have much impact.