Back to selection
A Showcase for Pacific Islands Filmmakers: The Hawaii International Film Festival at 35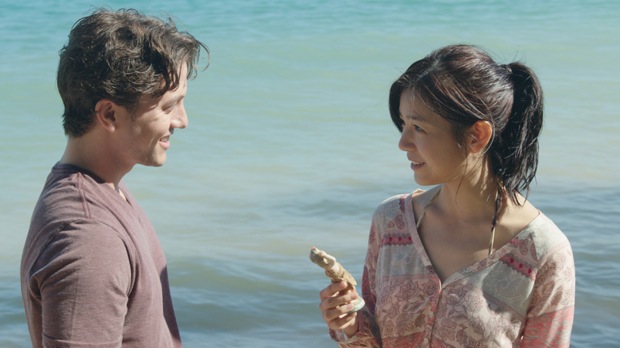 Pali Road
How does one measure a film festival's success? Through the number of world premieres, red-carpet events, and sold-out screenings? Or possibly it's something that occurs beyond the screen, in terms of how a festival supports its community and helps nurture its local film culture. Turning a respectable 35 this past November, the Hawaii International Film Festival attempted to do both. It kept its usual youthful swagger with a strong lineup of world and international premieres and some glamorous events featuring the likes of Japanese star Tadanobu Asano and Hong Kong director Mabel Cheung, yet made sure to spotlight key new works from across Hawaii and the Pacific Islands. More importantly, in its creation of a new Pan-Pacific co-production summit and the Roger Ebert Young Film Critics Program, the festival launched triggered two new initiatives designed to connect filmmakers in Hawaii with global partners, and to empower and nurture a better understanding of film culture and discourse.
HIFF has always straddled the line between being an "international" and a "regional" festival, capable of capturing a surprisingly large number of world and US premieres (over 60 this year), while still remaining true to a "regional" festival's dictum to spotlight local filmmakers and talent. Its international reputation rises from its impressively diverse program of Asian cinema, which goes far beyond most festivals' more anemic sampling of already-proven directors and genres to instead highlight emerging names and, most intriguingly, trends in the region. This year one could still catch big, festival-proven draws like Hou Hsiao-hsien's The Assassin and Hong Sang-soo's Right Now, Wrong Then, of course, or dive into more recognizable genre fare such as Ryoo Seung-wan's Korean detective thriller Veteran and Soi Cheang's bone-crunching martial arts hit SPL2 – A Time for Consequences. However, one could also wander through genres seen less often outside of their home countries, like the dying-maternal-figures-and-their-recipes melodrama, seen here in Naomi Kawase's An and Tomoaki Akune's Hana's Miso Soup, or the nationalistic war epic, sampled in either Jerrold Tarog's Philippine-American war drama Heneral Luna and Masato Harada's look at Japan's last day of World War II, The Emperor in August.
Harada, best known in the U.S. for his Koji Yakusho-led neo-noir Kamikaze Taxi and the cult hit Bounce Ko Gals, also topped HIFF's enviable roster of international guests, with his background as a film critic and all-around loquaciousness turning each of his Q-&-A sessions into lengthy, fascinating discourses on Japanese (and Hollywood) film history and technique. His second film at the festival, the genial ensemble comedy drama Kakekomi, provided a similarly welcome break from typical genre fare; set in the old Edo era, it ignored the usual samurai clatterings of most period films and instead focused on a temple community of outcast women, all hoping to escape terrible marriages and frequently worse men. A comedic crowd-pleaser partly inspired by Yuzo Kawashima's 1954 classic Sun-Tribe Myth from the Bakamatsu Era, it benefited from Harada's typically assured, fast-moving direction, and an excellent ensemble cast led by veteran 73-year-old actress Kiki Kirin. Kirin also starred in Kawase's afore-mentioned An (Red Bean Paste), as an elderly recluse who befriends a gruff red-bean-paste pastry vendor and shares with him her secret recipes, until other secrets — and tragedies — begin to emerge. What sounds like a daytime movie-of-the-week plot becomes something far more nuanced through Kawase's eye for the natural world around the storyline; here, the way that spring leaves move in the breeze, and how light streams through a window, is as important as any spoken words.
With their emphasis on tradition, maternal bonds, and family, HIFF titles like An and Hana's Miso Soup (about a woman diagnosed with terminal cancer who vows to teach her young daughter various recipes before she passes) were the cinematic equivalent of the comfort food that so many of the films revolved around, especially to the primarily elderly and middle-aged Japanese-Hawaiian community members who make up a surprisingly large portion of the festival's attendees. Chatting away excitedly afterwards or marking their catalogs up with a weeks' plan, this highly knowledgeable (and chatty) audience group seemed as engaged with the festival scene as any group of mainland hipsters or big-city cineastes, and spoke of their enjoyment of the festival as a place not only to experience film, but the pleasures of community. "Hawaii is a word-of-mouth community with passionate audiences," marveled director Pamela Tom, whose inspiring documentary on the Chinese American artist Tyrus Wong, Tyrus, won the festival's Audience Award. "If your film is good, and you're prepared to put some elbow grease into getting the word out, your film will find its audience." Tyrus, which chronicles the life of the now-105-year-old (!), surprisingly spry painter who immigrated to the U.S. at age nine and became one of the most successful Asian American artists of our era — and a main illustrator for the Disney classic Bambi — was a prime example of HIFF audiences embracing a film that had little international "buzz" or red-carpet pizzazz, and turning it into an award-winner.
The youth brigade is still well-served at HIFF, though, as large audiences for such titles as Dodo Dayao's strong debut Vibrator and Nobuhiro Yamashita's droll slacker comedy La La La at Rock Bottom proved. A delightful return to form for the king chronicler of drop-out life in Japan, La La La combines the musical flair of Yamashita's cult hit Linda! Linda! Linda! with the deadpan approach of his earlier Ramblers and No One's Ark, as it follows a former gangster-turned-amnesiac (J-pop star Subaru Shibutani) who's "adopted" into a peculiar troupe of touring, vaguely talented musicians specializing in old-fashioned, '70s-style cabaret entertainment. Yamashita's brand of slacker comedy has seemingly fallen out of favor in most of world cinema, so it's even more refreshing to see a film whose heroes have little on their mind except hanging out, learning a song, and drinking. ("It's important in life to learn how to play an instrument," says one character by way of the film's only life lesson.) The eerie thriller Vibrator chronicles a long, hallucinatory night in a storm-drenched Manila, with Dayao borrowing liberally from the slow takes and dread-filled silences of early Kiyoshi Kurosawa to create a memorably grim, hallucinatory world.
Audiences reminded of early Kiyoshi Kurosawa could also fortunately sample the brand-new Kiyoshi Kurosawa, Journey to the Shore, accompanied by its star, Tadanobu Asano, who received the HIFF "Maverick Award" for his acting career. Asano delivers a fittingly becalmed performance as the ghost of a drowned man who appears one day in his wife's apartment and invites her on a tour across Japan to see the places, and the people, that he met before (or after) dying. Remarkably for a ghost film, there's nothing eerie about Journey; indeed, here ghosts, death, and misfortune are presented as part and parcel of this world, and rather than be railed or clashed against, they instead merely fade into the fabric of our lives.
The presence of Asano, Harada, and other international figures like Japanese actress Ryoko Hirosue (Hana's Miso Soup), Korean star Ha Jung-woo (The Assassin), Hong Kong director Mabel Cheung (A Tale of Three Cities), and Korean director Lee Joon-ik (The Throne), certainly helped maintain HIFF's worldwide appeal and red-carpet glamor, but the festival's bread and butter remained on supporting local and regional filmmakers and communities. Of course, the definition of "local" is slightly more far-flung in HIFF's case; based in the most isolated island chain in the world (Hawaii), it's arguably the largest film and media venue in the Pacific Islands, and as such supports such "neighboring" island filmmaking communities in places like the Marshall Islands (about 2200 miles away, or the distance from San Francisco to Chicago) and Guam (3800 miles away, or roughly San Francisco to Bogota, Colombia).
Here, representing Pacific Island identity isn't just a choice, but a cultural imperative; if HIFF doesn't assist local work, who will? "People don't know much about Polynesians," notes a character in In Football We Trust, Tony Vainuku and Erika Cohn's well-crafted documentary on Polynesian football hopefuls — and the struggles of their community — in Utah. "People think we're just big Mexicans." Partly funded by the non-profit group Pacific Islanders in Communications, In Football served as one of the festival highlights, drawing in a lively crowd of multi-generational families happy to finally see lives like their own reflected onscreen. (The lively audience chatter around me was led by a former Marine from the island of Yap, three offensive-linemen-sized brothers from Honolulu-by-way-of-American-Samoa, and a older Chinese-Hawaiian"uncle" from Waimanalo, to give an idea of the film's appeal).
A more urgent expression of island identity could be found in Suzanne Chutaro and Jack Niedenthal's Marshallese feature, Jilel – The Calling of the Shell. Filmed with an amateur cast and crew drawn from its Marshall Islands setting, Jilel works more as a documentary look at life in the Marshall Islands than a work of fiction, with its zero-artifice, home-movie-level aesthetic strangely lending it even more immediacy. As a work of "cinema" Jilel barely passes muster, but as an authentic expression of life it's far more memorable than many films. It also offered one of the festival's most moving opening images, of ocean waves lapping against unprotected graves, as a cemetery slowly gives way to the sea's rising waters. "Scientists project that within this century the Marshall Islands, like many low-lying island nations, will be completely consumed by the rising seas," a credit at the end reads. "Along with the land, the sea will also consume our traditional island culture." Jilel serves as a testament of life against such annihilation, and an excellent example of the value of film (and HIFF), of using art to both document and support regional identity. "Tell them it is from the Marshall Islands," cries a poet at the very end. "Show them on a map."
"HIFF is a fantastic venue for Hawaii and other Pacific Islander filmmakers to showcase their films," notes director Matt Yamashita, whose moving documentary about life on the isolated island of Molokai, Sons of Halawa, was another festival favorite. "Some of us come from pretty remote places, so showing a film on the big screen in Honolulu is something to really look forward to. Because the Pacific Islander filmmaking community is pretty small, it's nice to have the festival as a showcase for our work as well as a gathering place where we can meet and network with others." Following an elder in Molokai and the three "sons" he chooses to pass on his knowledge and expertise, Sons is straight-forward in technique yet powerful in effect, and benefits from a hugely likable, well-spoken presence in its matinee-idol-handsome "lead," Pilipo Solatorio. Like the Audience-Award winning documentary that it was paired with, John Antonelli's The Roots of 'Ulu (which Yamashita assisted on), it approaches cinema as a tool to showcase a life, and to thereby honor — and memorialize — an entire way of life. On an island as isolated as Molokai (population: 7,345; movie theaters: none), that's no small effort. "We had an amazing turnout with a sold-out theater," Yamashita recalls of the film's HIFF debut. "It was a very powerful and uplifting moment…that left me feeling like the effort to produce the documentary, even with incredibly limited resources, was totally worth every second."
Representing the festival's home turf of Honolulu was another documentary, Rex Moribe's impassioned look at homelessness in paradise, Dear Thalia. Following one homeless family living in a massive Honolulu "tent city" of the displaced, the film gives a welcome human face to an issue that most would prefer to ignore, and like Sons of Halawa benefits from its charismatic lead subject, who's also a spokesman for homeless rights. Its youthful vigor is both a blessing and curse, with a lack of rigor (like the few too many music-video montages spent following the family's cute toddler around) leaving some of the more politicized audience members exasperated, yet its overall good-heartedness and commitment to the cause was enough for most. Several interspersed clips from a 1981 documentary on another Hawaii squatter community, Victoria Keith and Jerry Rochford's The Sand Island Story, give the film further historical background, and underline that the fight for human dignity will always go on.
"Three rejected films and a lot of learning later, I got Dear Thalia in," Moribe recalls of his trials as a local filmmaker to break into HIFF. "What surprised me though that it was not the actual film that brought me to tears, it was the sound. I was brought to tears on the second showing, while I stood in the back of the theater hallway where I could hear the film but not see it." As a Honolulu-based filmmaker, Moribe offered further insight into HIFF's balancing act between the international and the regional. "It's definitely driven for Asian-based filmmakers," he noted, "and the local filmmakers get to ride that ride if picked to show their film. [There are] a lot of disappointed local filmmakers that did not make the festival for whatever reason. The expectation for film in HIFF is reaching a higher and higher standard with so many films coming out. I will say this, though, once you get accepted, it is sooo sweet."
HIFF's "higher and higher" standard may be further improved by two new festival initiatives, designed to empower not only local film production, but its entire film culture. This year HIFF co-presented its first "Asia Pacific Entertainment Finance Forum," a three-day combination of presentations, panel discussions, and workshops on film investment and financing strategies, with a special focus on the Chinese market and location shooting in Hawaii. Allowing local filmmakers and production companies to meet and exchange ideas with representatives from "Hollywood, Silicon Valley, and China" (as the press copy read), the forum will hopefully trigger a further wave of investment in the Hawaiian film industry, and more works like another HIFF world premiere, Jonathan Lim's Hawaii/China co-production, Pali Road. Featuring Taiwanese star Michelle Chen and Hollywood actor Jackson Rathbone (Twilight), with support from The Fast and the Furious' Sung Kang and Hawaii-based Henry Ian Cusick (Lost), this metaphysical romance/ghost tale follows a young married woman whose visions of another life — and another lover — seem all too real. Reminiscent of the gas-lighting, woman-in-peril melodramas of the '30s and '40s, the film lags from one of the pitfalls of co-productions — a lack of chemistry between its stars — but at least shines in its gorgeous location shots of Hawaii.
While the money was flowing at the financing conference, another conference took place down the street, the NETPAC (Network for the Promotion of Asian Cinema) 25th anniversary symposium, which HIFF also hosted. Drawing in filmmakers, academics, and film critics from across Asia and the West, it offered welcome antidotes to the "money cures all" talk of the financing forum, with panels on "Culture, Capitalism, and Cinema" and queries on how local communities can stay true to their culture in the face of global capital. The world premiere of a new dance short, Salesi, co-directed by the renowned Indonesian filmmaker Garin Nugroho (Opera Jawa) and local academic/filmmaker Vilsoni Hereniko (and filmed with dancers drawn from the University of Hawaii), gave further credence to NETPAC's efforts to draw communities together.
Though hosting the NETPAC symposium may have done little for HIFF's bottom line, it underlined the festival's desire to create not just a culture of film production, but of film understanding. These hopes were further stressed by HIFF's second initiative, the Roger Ebert Young Film Critics Program. Named after the great critic, who was a beloved guest and champion of the festival for many years, and led by critic Kevin B. Lee, the mentoring program gave several local students the opportunity to attend the festival, participate in workshops with visiting critics and professionals, and have their own writings published on the festival website. "We're looking at the next generation of HIFF audiences," noted HIFF programmer Anderson Le in an interview with Alexandra Lam, one of the young critics. "We need to educate our youth in how to read films. In addition to creating film literacy, I wanted to aggressively broadcast the fact that there is a film culture in Hawaii to make it a year round presence. Then, we could organize a stronger representation of film culture in Hawaii, and get more films to showcase at HIFF."
Whether international or regional, film festivals are successful based not only on the films that they show, but their connections to the community. HIFF's initiatives to empower not only their local film production, but their local film culture, are to be respected, and hopefully followed by other festivals. "The islands are beginning to speak their own language," memorably stated Filipino academic/critic Nick Deocampo at the NETPAC symposium; here's hoping that HIFF, and other organizations like it, can amplify those voices.