Back to selection
Nonfiction Filmmakers Invited to Oregon Doc Camp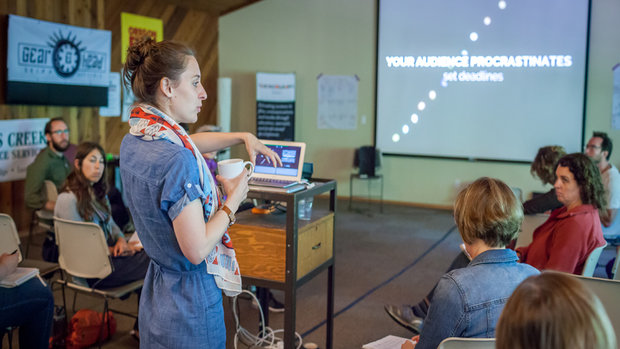 Now in its third year, Oregon Doc Camp, presented by Women in Film Portland, invites experienced documentary filmmakers to gather in an intimate, informal setting and work on career development.
The event will run from May 12-15, 2016 at Silver Falls Lodge and Conference center in Sublimity, Oregon.
This year's programming will be centered around the themes of narrative storytelling and independent distribution, with a three-day program consisting of workshops, lectures, case studies, screenings and a master class, as well as the opportunity to screen works-in-progress.
Director Jennifer Grausman, who most recently directed and produced the feature documentary Art & Craft and previously directed and produced the Emmy-nominated feature documentary Pressure Cooker, will be this year's keynote speaker.
In addition to Grausman, presenters include Marcie Hume & Christoph Baaden (co-directors of Hood To Coast and The Magicians), Julie Whang (Women Make Movies/ Tugg), Andy Schocken (director, Songs of Lahore), Caitlin Boyle (Film Sprout), Greg Snider (award-winning editor), Beth Harrington (director, The Winding Stream), as well as Portland-based boutique music licensing agency Marmoset, and storytelling agency Stillmotion.
Find out more about Oregon Doc Camp and register here.