Back to selection
IFP Film Week Moves to Brooklyn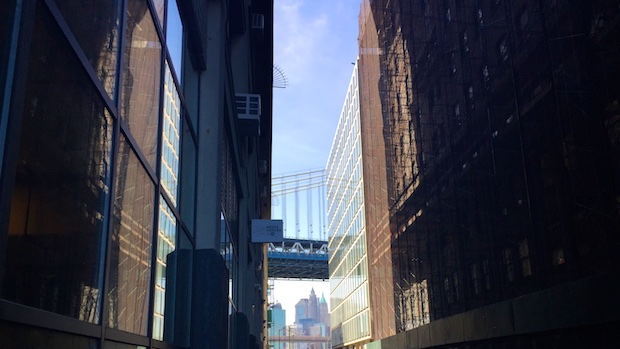 IFP Film Week, the Independent Filmmaker Project's signature event, is moving to from the Upper West Side of Manhattan to Brooklyn for its 2016 edition. The event, which has morphed and shifted emphasis over its 37 years, is now, says the IFP, "the only international co-production market for film – and now television, web-based, and VR projects – in the United States, with over 150 projects from over 22 countries curated and presented as scripts and works-in-progress each year.
" The event runs from September 17 – 22, 2016.
IFP Film Week joins the IFP itself, which moved to the DUMBO neighborhood of Brooklyn in 2009 and then, in 2013, launched the Made in NY Media Center in partnership with MOME and EDC. The Media Center will be the anchor for the new, expanded Film Week, which will include more public offerings as well as web-based, interactive and serialized works.
Commented IFP Executive Director Joana Vicente in a statement, "The film industry has changed. Serialized stories are on the rise, and film and television are taking cues from one another. New platforms for storytelling are bursting into the media landscape every year. IFP Film Week is a bold guide in this new frontier, harnessing the energy and ideas of an ever-evolving community that has grown beyond the simple concept of filmmaking."
From the press release, about IFP Film Week's expanded programs, which will include:
* An expanded offering of projects selected in the IFP Project Forum, the premiere meetings driven forum connecting artists to industry. Featuring new work from both emerging and established artists in narrative and documentary feature films, the No Borders (narrative) and Spotlight on Documentary (non-fiction) programs will continue to do so but also accept serialized content for television, web and app-based platforms.

* Screen Forward Conference, a four-day program of how great projects can connect with audiences and stand out in a crowded marketplace.

* Public presentations of sneak previews of upcoming feature films, documentaries, web-based and television series for both industry and general audiences

* Both at the Made in NY Media Center and throughout DUMBO will be daily showcases of episodic and VR/AR content

* Expansion of the annual IFP Lab Showcases with the mission of introducing audiences to new discoveries in narrative and documentary feature film, as well as web series, television pilots, VR and app based series.

"IFP Film Week is the place where filmmakers, artists, and storytellers cross paths with people who help move their projects forward." Says IFP Head of Programming Amy Dotson. "Creators get funding, advice, and opportunities. Industry insiders get to discover new talent. The public gets to screen cutting-edge work first. And Brooklyn is where it's at."
IFP is also the publisher of Filmmaker Magazine.