Back to selection
Ana Piterbarg on Everybody Has a Plan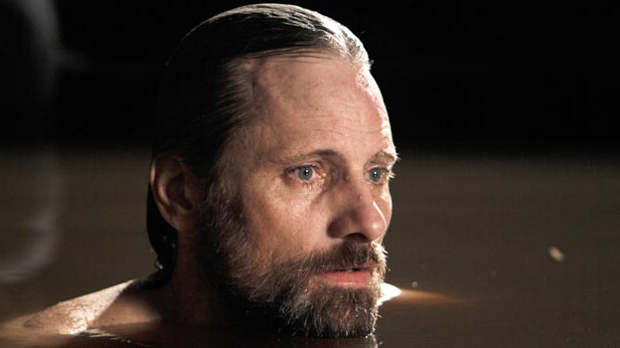 A self-assured feature debut from Argentine writer/director Ana Piterbarg, the moody identity-swap thriller Everyone Has a Plan features a remarkable turn by Viggo Mortensen, working in Spanish, as both Agustín, a preternaturally depressed Buenos Aires physician, and Agustín's identical twin Pedro, a rural beekeeper who suddenly shows up at Agustín's, dying of cancer and suggesting euthanasia. Seeking a way out of his staid, bourgeoise existence, defined by his unwillingness to adopt a child with his seemingly long-suffering wife, Agustín chooses to  take his brother's place, relocating to the Tigre delta, an evocative and historically rich backwater where Pedro lived. After assuming the dead man's persona and his dangerous combination of pursuits (kidnapping and beekeeping), Agustín is forced into a series of increasingly difficult and potentially deadly moral quandaries.
Though often quite violent, and stylishly so, including a fratricidal scene of such intensity it will bring unease to more than just the squeamish, Plan is a thoughtful, slow-burn thriller in the tradition of The Passenger, another tale of existential redemption earned through a peculiar martyrdom found within an assumed identity narrative. Also recalling Dead Ringers by David Cronenberg, whose various collaborations with Mortensen was clearly an influence on Piterbarg's, the film nonetheless has a feel all its own and should certainly go a long way toward establishing the 41-year-old Piterbarg, a veteran director of Argentine TV dramas making her debut here as a writer-director, as one of the more promising new voices to emerge in South America of late.
The film, which debuted at last year's Toronto International Film Festival, opens via Fox International this Friday.
Filmmaker: What were the most important things in this story that led you to want to tell it with your first feature?
Piterbarg: The first thing I wanted to deal with was how difficult it is to change, especially for Agustín, he doesn't know what is going to happen and he can't think of any alternative to his life so when something different presents itself, namely in the life of his brother, he chooses to do something wild, something he might otherwise never do, out of desperation. He doesn't know what to do and when this different path presents itself he can only hope that this will take him someplace better, if not too much better. But it really presents a series of choices and characters, especially Rosa, who provide an opportunity for him to change.
At the same time, I really like the genre of film noir as a place where I could possibly deal with the violence and some of the issues in the Argentinian society with violence. In this character you have a tremendous opportunity to deal with some of that given the transformation of setting and class he undergoes. When I was writing I went to Le Tigre quite a bit in order to get the atmosphere of the place down. I had gone there as a child and so I was well versed in what it was like and I knew I wanted a similar atmosphere for my film.
Filmmaker: Certainly the Tigre delta is such a rich and troubled place, it's a character in and of itself.
Piterbarg: It was important to capture that atmosphere, it gives the characters something inside. It is one of the most important aspect of the film.
Filmmaker: From working with a major star to the visual and technical aspects of the film, it's rather ambitious for a first-time director — was that something you were conscious of?
Piterbarg: At the beginning I didn't think of it as being especially ambitious, but it continued to grow like this. It's funny, when I first went to look for financing this was seen as a problem, but something changed after I met Viggo. In some moments I realized that the project was ambitious for a first film, but I didn't want to change it, in fact it only pushed me forward harder.
Filmmaker: How did Viggo come to be involved?
Piterbarg: You know, it's a funny story, I met him randomly in Buenos Aires. I was picking up my son from a swimming class and Viggo had just been nearby getting some supplies. I met him and talked to him about the project. I sent the screenplay to him and a few months later he wrote me. I had told him that I thought that maybe he could do it and that it would interest him because of Le Tigre, which he knew from his childhood, and he was.
Filmmaker: Was it at all difficult for him to work in Spanish again?
Piterbarg: He speaks only in Spanish with me and he has an Argentinian accent as opposed to one from Spain. This wasn't difficult for him and when he was with the crew here for a few months his accent got even better; for the most part it was very easy for him. It wasn't nearly as much of a challenge as you'd expect. It may have been a challenge to work completely with a Spanish-speaking crew and actors in a language he doesn't always work, but I still think it wasn't particularly difficult.
Filmmaker: Did you have any particular framework or visual references from other films you were drawn to when designing the film with your collaborators?
Piterbarg: There are many directors I've studied who are important to me, from David Cronenberg and David Lynch to Roman Polanski, even someone like Tarkovsky or various directors working here in Argentina for whom atmosphere is just as important as characters in there film. I find that the place, the setting is just as important for me.
Filmmaker: Are there things that you learned which you wish you had known in the beginning? What were the most important growing pains that you encountered of making a first film?
Piterbarg:  A lot. [laughs] So much. I don't know where to start. I think the most difficult is to know the objective, the first imperative of the film, and to support that throughout the entire process of working with others. This is very difficult. I like to work with the actors a lot, before the shooting and I think that I didn't get to do that as much. To not be a slave to the screenplay, to have the flexibility to make changes after working with the actors, while at the same time maintaining your precision. To be flexible, not just in working with the actors, in where they're going to move, etc., but to be flexible with what to say with the film, what I wanted to film to mean. This remains a question that is always yet to be answered until the film is truly done.
It was such an important step in my life. I was working on this for many years and I work with a group of people who are terribly honest with me. I felt it was important to invest each of them with what I wanted to do with the film, and it's more difficult in this format than in television, where I've worked before. This was so important, it being a first film, because you only get to make one of them and first impressions are hard to shake! And yet I had a freedom, despite how heavy a burden it was.
Filmmaker: Will you keep working in this vein, making somewhat augmented genre films, or did the experience leave you wanting to do something different?
Piterbarg: I'm not sure. Some of the topics of this film will be repeated in my next film, I think, should I be able to make it, but  despite the places where there is repetition, I don't think it will be a thriller. I like talking about various things using genre, but I guess at this time I should go write something else and see what comes out, no?