Back to selection
Tribeca Critic's Notebook #1: National Bird, Equals, The Fixer and The Family Fang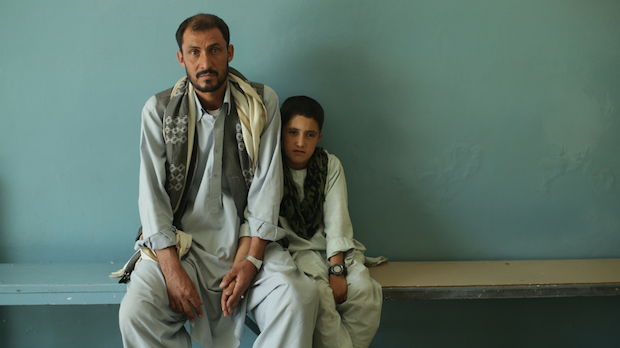 National Bird
What to make of the ever-sprawling Tribeca Film Festival, whose early publicity was dominated this year by a film that it didn't screen? A festival with a household name and an ad budget to make most political campaigns jealous, the Tribeca Film Festival now enters its fifteenth year and began on a bizarre sour note with Vaxxed, an anti-vaccination documentary from a discredited physician. When the program guide came out, both the documentary and scientific communities raised hell, leading Tribeca founder Robert De Niro to accept responsibility for the programming and then, a day later, withdraw the film's invitation.
Thankfully, with Vaxxed out of the mix, Tribeca remains a strong venue for documentary cinema. This week, the festival held the U.S. premiere of National Bird, Sonia Kennebeck's doc on the soldiers and victims of drone warfare. A film of remarkable access and emotional sensitivity, it explores the ethics and efficacy of drone strikes through the lives of three guilt-stricken drone operators. We meet Heather, a former drone imagery analyst with PTSD; Daniel, a private contractor at risk of being charged with the Espionage Act; and Lisa, a surveillance technician who travels to Afghanistan to see the communities she once helped bomb. All three subjects had top-secret clearance and offer unabashed, informed critiques of the program.
National Bird unfolds less as a straightforward advocacy doc and more as a vivid portrait of grief and the personal impacts of war. Heather in particular writhes with anguish; her body seems to viscerally reject the role it played in the deaths of others. Kennebeck also speaks with the survivors of a disastrous 2010 drone strike that killed 23 civilians (and no insurgents). These people have lost limbs and loved ones; their presence on screen turns the abstract pixels of a drone camera into flesh and blood. Kennebeck is the first Western filmmaker or journalist to capture their story.
National Bird has found benefactors in Wim Wenders and Errol Morris, who executive produced the film, and FilmRise, which just picked up North American distribution rights. It stands as an unqualified highlight of the festival thus far.
Along with a strong documentary lineup, Tribeca is home to a bounty of small and mid-sized American indies. Among those to play this year is the Venice premiere, Equals, a dystopian sci-fi romance from director Drake Doremus (Like Crazy). Part 1984, part Eternal Sunshine, part teen angst opus, Equals plays with a number of sci-fi tropes to deliver a statement on the life-stifling effects of medication.
Doremus builds a futuristic world in which mankind has rid itself of all emotions. The humans of Equals are productive and predictable. They don't love or get dumped or get hammered on weeknights. They're the prototypical dystopian mass: conformist and controlled. Silas (Nicholas Hoult) is one cog in this lifeless world. He lives alone and works in an office, like everyone else. In time, he begins to have romantic feelings for his coworker Nia (Kristen Stewart), an illustrator who, like him, has desires she can't suppress. In the universe of Equals, where all human emotion is tantamount to severe mental illness, Nia and Silas become outlaws. To underscore the monotony, Doremus and DP John Guleserian shoot the film on a monochrome palette of steely blues and whites, which they disrupt with bursts of color as the sparks fly between their two leads.
To those well-versed in cinematic sci-fi, Equals will likely seem familiar both in visual design and narrative approach. Doremus and screenwriter Nathan Parker play with many of the recurring preoccupations of the genre. Where Equals forges its own path, though, is in its depiction of mental illness and medication. The film uses the mechanics of dystopian sci-fi to conjure a society in which medication cures all — to a fault. Doremus's stark vision of mankind presents two choices: a volatile world ruled by emotion or a serene one without affect. Anyone who's ever taken medication for mental illness will recognize this binary.
The Fixer, an indie drama from documentary director Ian Olds made its world premiere at Tribeca on Saturday. The film opens with a stunner of a scene: Osman (Dominic Rains), a recent exile from Afghanistan, watches an avant-garde performance art piece alongside Gloria (Melissa Leo), his host. An on-stage performer (Rachel Brosnahan) screams at the audience in unsubtitled Polish. Gloria, a native of the film's setting — rural California — rolls her eyes. But Osman sits transfixed, a smile sneaking onto his face. He doesn't understand the piece, but he's drawn to its brash, confrontational strangeness.
For stretches of The Fixer, we feel much the same way — sucked into a riddle we feel compelled to solve. Osman roams around rural California with the help of a local hillbilly (James Franco) in search of stories to uncover. He wants to work as a writer, but on a deeper level he just wants to understand his strange new home. Scoring a low-paying job writing for the town newspaper's police blotter, Osman becomes by most definitions a snoop. He shows up at houses unannounced, invites himself when Gloria leaves the house, and tests the patience of just about every character in the film. Soon, a dark undercurrent emerges. Franco's character disappears, another character is found dead, and Osman realizes there may be some things about these people he just can't understand.
The Fixer is an inversion of Olds's 2009 documentary Fixer: The Taking of Ajmal Naqshbandi. In that film, we followed a "fixer" in Afghanistan who helped Western journalists navigate their surroundings. Here, Olds transplants the fixer to America, where he has been granted political asylum but, in his new land, struggles with the very task he facilitated in Afghanistan: cultural translation.
Downplaying its neo-noir narrative elements in favor of atmosphere and character study, The Fixer trails its lead as he delves into a town with its own unique set of rules and social norms. Osman follows clues as the locals reiterate the film's central theme: that Osman, despite his strained efforts, will never learn what makes the people of this town tick. He remains an outsider; their behavior remains, to him, as incomprehensible as unsubtitled Polish. Olds's slow-burn drama places us in the perspective of an exile as he tries to find his footing in a foreign land — false-starts and all.
Ten years after Little Miss Sunshine, the dysfunctional family dramedy lives on as an evergreen genre for indie filmmakers. We have our latest entry in The Family Fang, an adaptation of Kevin Wilson's bestselling novel from 2011. Jason Bateman, who also directed, and Nicole Kidman star as siblings forced to return to their parents' home (one has an alcohol problem, the other got shot in the head with a potato). As children, their characters performed public art pieces under the guidance of their parents (Christopher Walken and Maryann Plunkett). They sang punk songs about killing them both and staged fake bank robberies. Their aim: To provoke an unsuspecting public in hopes to "wake them up." As we catch in flashback, the Fang family has divided critics in the art world. Were they subversives who jolted people awake when they least expected it, or were they mere juvenile pranksters?
As adults, the Fang children don't have much patience for or interest in their parents' work. But then their parents go missing amid blood and broken windows. The police are called, and they're left wondering: Is this real life or just another "art piece"?
This question drives much of The Family Fang. Bateman and screenwriter David Lindsay-Abaire milk this ambiguity until, like it or not, we watch if for no other reason than to see this mystery resolved. The performances here also help distinguish the film from other family comedy-dramas. Kidman and Bateman serve as agreeable foils for one another — the neurotic who moves the plot and the straight-man amid the storm, respectively — while Walken flexes his muscles as a menacing patriarch.
The Family Fang walks an ambitious line with tone. His second feature as director, Bateman seems drawn to slippery comedy. Where his debut Bad Words landed more on the dark side of the comedy spectrum, The Family Fang slides between farce and family drama. The film doesn't quite shine at either end of the dramedy portmanteau, but Bateman does balance the script's warring impulses in a way that feels organic. In other words, you likely won't laugh much or cry, but if you're like me you'll admire the way Bateman handles a story that could have easily veered too absurd or weepy. Bateman's penchant for hybrid reaches the level of form, too; the film blends modern-day footage with flashbacks shot on Super 16mm, a fake documentary, fake documentary raw footage, and other formats still.
Four films in and Tribeca 2016 has proved worth one's time by at least one key measure: I've already forgotten about Vaxxed.