Back to selection
LGBTQ in NC: Covering the Full Frame Documentary Film Festival and the RiverRun International Film Festival During the HB2 Boycott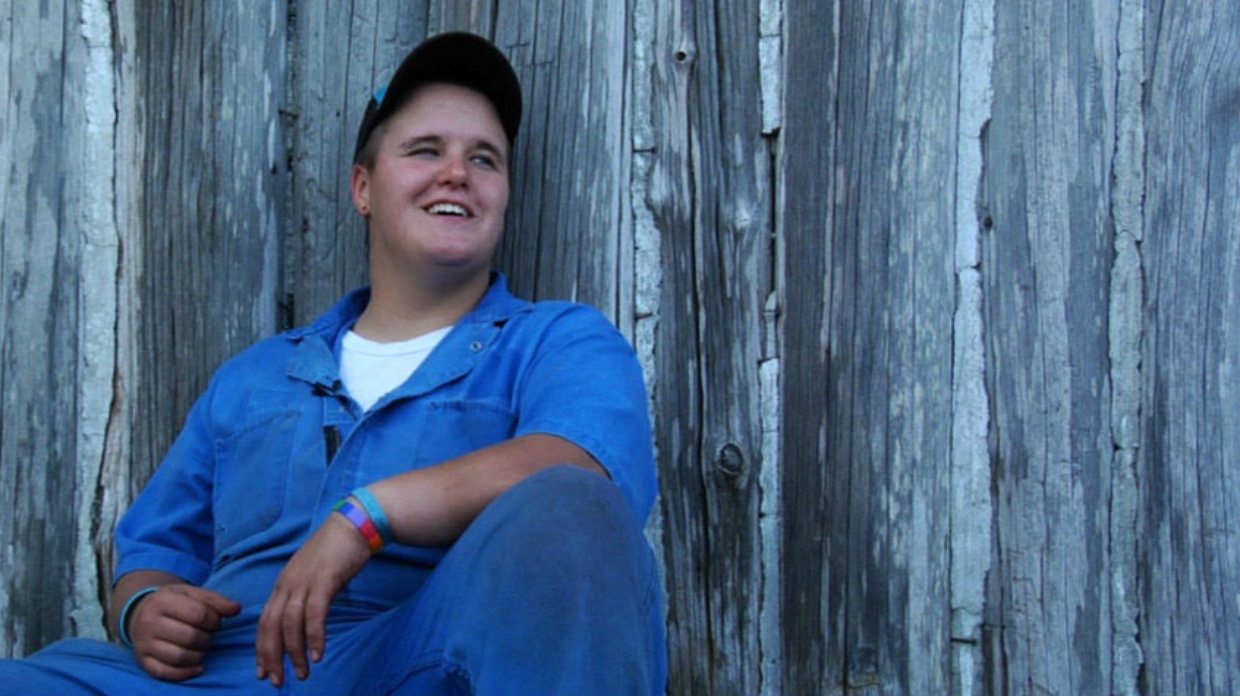 Deep Run
Before North Carolina passed its HB2 legislation, officially known as "An act to provide for single-sex multiple occupancy bathroom and changing facilities in schools and public agencies and to create statewide consistency in regulation of employment and public accommodations" (or, for me, the simpler and more accurate "WTF?"), I'd been looking forward to covering two film festivals back-to-back on my very first visit to the southern state. Yet as the nationwide call for boycott gathered speed, and the opening night of Durham's Full Frame Documentary Film Festival approached, I found myself in a queasy quandary. So I did what any moral film journalist would do: I began scanning both the Full Frame and Winston-Salem's RiverRun International Film Festival programs for all the LGBTQ flicks I could find.
First stop on what I made my queer-film film trip was the unwaveringly impressive Full Frame, where I checked in at the charming 21c Museum Hotel, a combined hotel and whimsically-curated contemporary art gallery. (Though the child-sized, twin, pink penguin sculptures in the red interior elevator that met me when the doors opened one afternoon were a bit too Shining-esque for me. I had to take the next car.)
Walking to the Durham Convention Center fest headquarters and the Carolina Theater (where the majority of events and screenings took place), as well as to the Power Plant venue in the American Tobacco District, I strolled by numerous local stores with signs in windows declaring, "We don't support HB2." (I even spotted a rainbow flag in front of an Episcopal church, and the festival itself released a letter of opposition.) It suddenly struck me that the liberal-minded, college city of Durham was perfectly (infra)structured to host this nearly 20-year-old event, which felt simultaneously massive and cozy and was as efficient and well-attended as any Euro doc fest. Even with a press pass I had to be in line at least a half-hour before every screening in order to guarantee seating for the often sold-out shows. (And for good reason. The vast list of filmmakers in town to present their latest included everyone from elder doc statesmen Joe Berlinger and Sam Pollard to nonfiction rule-breakers Penny Lane and Robert Greene, to name just a few.)
Of the topnotch LGBTQ films that I caught at Full Frame, three in particular stood out. As I noted in my interview with directors S. Leo Chiang and Johnny Symons, Out Run is equal parts riveting and familiar as it follows the members of the Philippines' Ladlad Party, the world's only LGBT political party, in their quest to make history by deploying typical campaign strategies and fighting oddball opponents (such as a competing gay organization that goes by the acronym AIDS). Or, as one Party member put it, performing a "delicate dance between living up to our ideals and getting down and dirty."
We watch as the leaders (including a trans woman – though there's no word for transgender in the Filipino language) bravely champion a broad spectrum of universal issues throughout the country, including building a "golden gays" home (although not same-sex marriage). Anti-discrimination and a Gender Recognition Law are deemed their first priorities. Now if only the Ladlad Party had a branch in North Carolina as well.
Sweeping the awards at last year's Krakow Film Festival, and winning the Charles E. Guggenheim Emerging Artist Award at Full Frame, Call Me Marianna is Karolina Bielawska's beautifully crafted character-study that incorporates rehearsals for a play about the titular trans woman subject, home movies from Marianna's fatherhood days, and earlier footage of her daily life right before sex reassignment surgery. Bielawska's unpredictable filmmaking frustratingly keeps us guessing – but also watching. (Why Marianna delivers theatrical directions from a wheelchair while appearing completely mobile in the cinema vérité scenes is left unexplained until nearly an hour in.) And because Marianna is no "saint," but dominant and self-involved at times, even alienating friends and family while struggling to bring them closer, we're treated to a complicated portrait of trans life. Which is a rare thing these airbrushed, Caitlyn Jenner days.
Finally, of all the films in Full Frame's LGBTQ lineup, Kiki was probably the most buzzed-about, having come to the fest after premiering at Sundance and going on to win the Teddy Award at the Berlinale. (It also nabbed the Award for Human Rights at Full Frame.) But Sara Jordenö and Twiggy Pucci Garçon's Paris is Burning for the millennial set lives up to its hype and then some. An artistic and thought-provoking portrait of the "Kiki" scene (as NYC's youth ball culture is called), the film is a standout for its careful balance between the thrill of vogue and the struggles of its urban characters of color. Like with Out Run the LGBTQ faces we see onscreen are, refreshingly, not the ones with the luxury of worrying about things like marriage equality (which one black trans teen describes as a "gay white male initiative"). Instead, these brave, gender-nonconforming artists are tackling HIV, police brutality, homelessness, joblessness – or as another subject bluntly states, "There is so much left." The West Side piers may be part of Chelsea but they are also a world away.
Not so far away from Durham is Winston-Salem, where I was shuttled to the RiverRun International Film Festival along with Bob Hercules and Rita Coburn Whack, co-directors of Maya Angelou and Still I Rise, the day after the conclusion of Full Frame. The duo were at the end of their recent festival run (while I was only in the middle, as I still had the Florida Film Festival to cover in two days) and seemed to be running on the sheer enthusiasm of their packed (left-leaning) North Carolina crowds.
And historic Winston-Salem, much like Durham, proved to be in collective shock over HB2. I queried every resident I met at the quaint (two 80-seat theaters) a/perture cinema and also at the larger Hanesbrands Theatre (which housed the Milton Rhodes Art Center, where the fest's afternoon get-togethers were held) about how such atrocious legislation had managed to pass. Appearing dumbfounded, no one could give me a clear answer. So for further insight I instead turned my attention to the one queer made-in-NC film screening during my southern trip.
Executive produced by Susan Sarandon, Hillevi Loven's Deep Run (which premiered at DOC NYC last November) features an extraordinary subject: a teen who begins his search for identity as a lesbian who goes by Spazz with a love interest named Leslie, and who ends up as trans man Cole with girlfriend Ashley by his side. All the while he remains equally steadfast in his evangelical religious faith and in his commitment to making a life in his sleepy, rural, blue-collar hometown of Deep Run, NC. As Loven's camera gives us glimpses into Cole's everyday acts of bravery (the out-and-proud teen even started a Gay-Straight Alliance at his high school), and happy-go-lucky spirit (he works as a furry mascot for the local sports team), in the face of undisguised hostility, and even violence, we soon realize that his positive attitude also serves as his strongest weapon. (Which I saw in person, having run into Cole at the hotel's breakfast buffet the morning after I caught Deep Run, where I told him how truly inspiring an individual he is. A humble gentleman with gracious southern manners, he thanked me with "Ma'am.")
Torn between home and family, and being accepted as who he is, Cole's search for a welcoming church in his community is also what makes this LGBTQ story stand out from the queer cinema crowd. Leaving for friendlier urban climes is simply not an option. (Other than struggling with poverty, Cole has about as much in common with the big city youth of Kiki as those gay and trans dancers do with the wealthy Chelsea crowd.) And Deep Run's artistic cinematography, capturing North Carolina's lush greenery and lovely sunsets, makes a case for why he – and every other LGBTQ youth of rural America – shouldn't have to. Perhaps HB2 is what happens when more and more southern LGBTQs demand their fair share of those sunsets.