Back to selection
Alan Vega, 1938 – 2016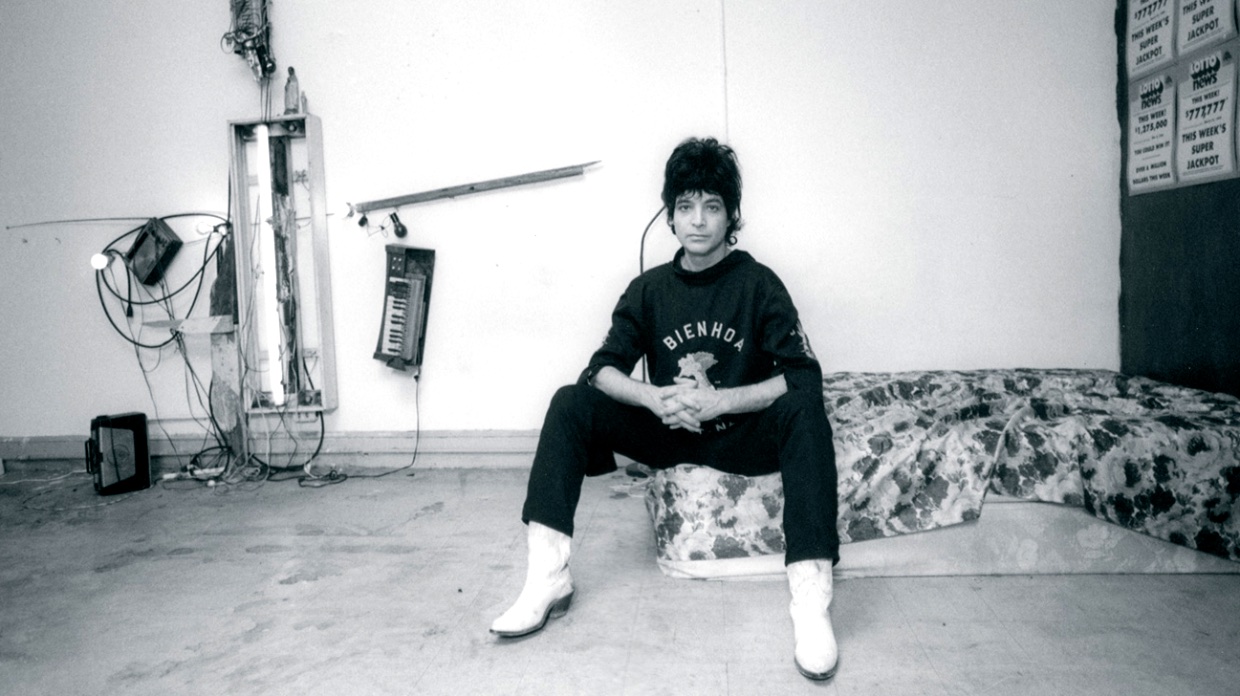 Alan Vega
Alan Vega, half of the epochal punk electronic music duo Suicide, died yesterday. He was one of the greats. With Suicide partner Martin Rev, Vega laid the groundwork for industrial electronic music, and much more, as he mixed noise with melody, free-form floating song structures with the terse songwriting economies of doo-wop. The band — starting with its title — was a provocation, but also a salve (or, as Bryan McPeck and Matt McAuley from ARE Weapons wrote in their interview with Vega, "optimistic, life-affirming shit"). Songs dealt with psychotic killers and social unrest and love and optimism. "Dream, baby, dream," Vega sang.
Suicide were legendarily enraging to rockist punks. Here, Vega tells Jon Wilde about one memorable show:
"That would be the show in Glasgow in 1978 when someone threw an axe at my head," says Alan Vega with admirable matter-of-factness. "We were supporting the Clash and I guess we were too punk even for the punk crowd. They hated us. I taunted them with, 'You fuckers have to live through us to get to the main band.' That's when the axe came towards my head, missing me by a whisker. It was surreal, man. I felt like I was in a 3-D John Wayne movie. But that was nothing unusual. Every Suicide show felt like world war three in those days. Every night I thought I was going to get killed. The longer it went on, the more I'd be thinking, 'Odds are it's going to be tonight.'"
I first discovered Suicide not from performance but from video. It was my freshman year in college, and I went to The Kitchen, where I'd later work, for the first time. The evening was videos from Public Image, Ltd., directed by Don Letts. But there was an opening short by a band I didn't know. That was what blew my mind, and Suicide's first album, with "Frankie Teardrop" along with "Ghost Rider," "Dream, Baby, Dream" and "Keep Your Dreams," went on life's playlist.
Here's that short, "Frankie Teardrop," Suicide's song set to images from Paul Dougherty.
There are a number of tributes to Vega across the web today, and Ben Graham at The Quietus has written one of the best. An excerpt:
Alan Vega, who has died at the age of 78 after five decades of astonishing work as a visual artist, a writer and as one half of the seminal art-punk music duo Suicide, was a king among men who just wanted to wake up the world. Though his performances were always rooted in the pure energy and specifically American romance of early rock & roll, Vega was never an entertainer. He was an artist who was prepared to go against his audiences' preconceptions and to confound their expectations of what a gig or a record or a piece of art should be; not merely for shock value but because he felt it was his duty as an artist to challenge, to show reality and to drag listeners out of their comfort zones, crying and bleeding if necessary….

As well as being a visionary conceptual artist, Vega was a beautiful man with an incredible sense of style who could pull off cartoon machismo or space-age gender-fluid beauty with equal confidence. With Suicide, Vega straddled the Warhol-dominated art world and the glam rock scene of early seventies New York, and was largely misunderstood by both. Vega roamed the stage like a feral Elvis, muttering and howling over Rev's Farfisa organ, effects boxes and primitive drum machine. Though they began with a guitar player he was soon jettisoned, and their sound became a bottomless, unearthly take on the organ-led garage punk of ? And The Mysterians or The Seeds, via The Stooges' no-holds barred art attack and a heavy dose of street-level, trash culture pop art. Famously, Suicide were the first band to actively describe their music as 'punk,' and were equally famously reviled by fans of the later punk bands they opened for, such as The Clash and Siouxsie & The Banshees.
Vega was one of 12 artists interviewed as part of Tony Oursler's Synesthesia project.
Bryan Waterman's Twitter is sending out good and rare links today.
The news of Vega's death was first reported by Henry Rollins on his website. Last fall, Rollins engaged in an on-stage conversation with Vega and Rev, and today Rollins hosts a special program on KCRW devoted to his work.
RIP Alan Vega.