Back to selection
Deformed Creatures for Everyone: The 20th Fantasia International Film Festival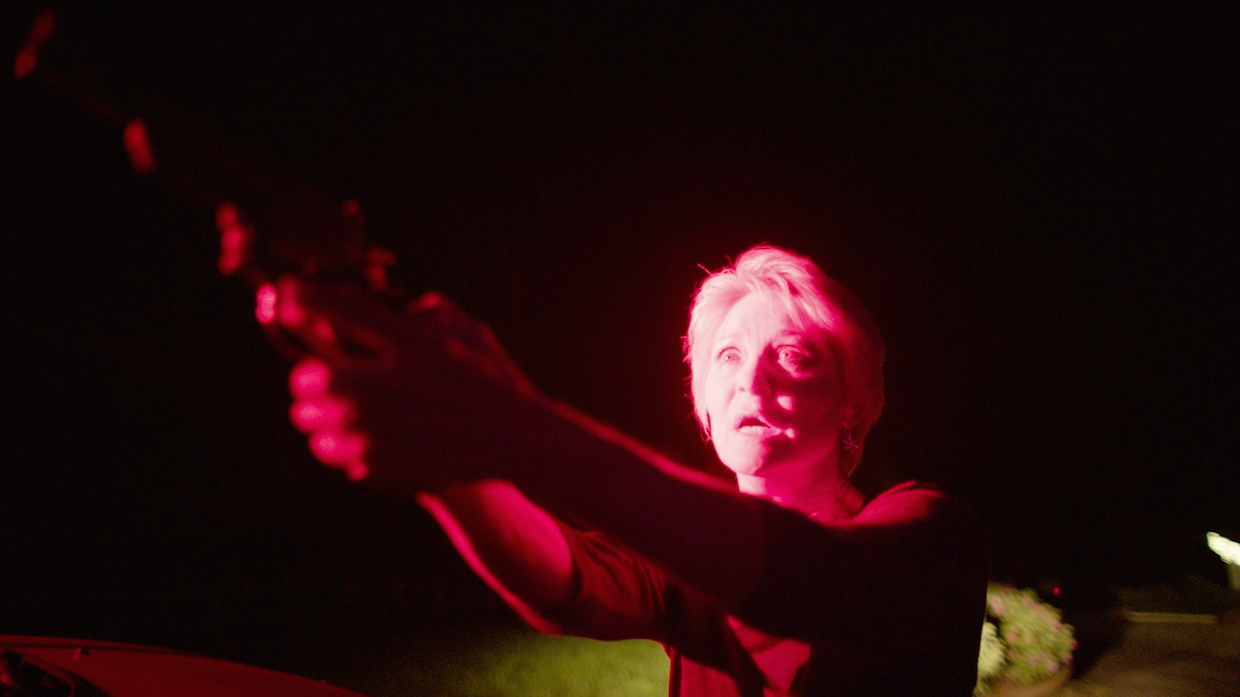 Dee Wallace in Red Christmas
Independent of the intent of hardworking programmers and staff, a film festival can occur at an unexpectedly opportune time. That I attended the 20th edition of the Montreal-based Fantasia International Film Festival as many New York colleagues spent their evenings watching the genre-defying, quasi-patriotic spectacle known as the Republican National Convention only made my politically-removed self more grateful. Creating and celebrating horror within the confines of narrative and nonfiction cinema proved to be a more peaceful environment than gawking at the horrific notions of those in power.
At the festival's midway point, the Frontières International Co-Production Market — a four-day event where 20 projects in development come to find producing partners, funders, sales agents, and distributors through a series of pitch sessions and one-on-one meetings — returned for its eighth edition. Composed of a dedicated and determined team lead by market director Lindsay Peters (the previous edition of Frontières went forward at the Brussels International Fantastic Film Festival just days after the tragic airport bombing), the projects this year represented an international overview of independent horror and sci-fi features and — for the first time — episodic series. Though this was my fifth year at the festival, this was the first in which I attended on behalf of IFP (Filmmaker's parent organization) to meet with several of these projects.
The market's icebreaker came in the form of the Frontières Projects Pitch Session, an intense series of presentations at which attendance is mandatory for all visiting producers and sales agents. As each filmmaking team (typically a director and two producers) took to the stage of Concordia University's SGWU Hall Theatre to discuss budgeting and production needs while showcasing conceptual art, teaser trailers, and sizzle reels, you'd understand if they were a little nervous. By its very nature, a pitch session for a large audience should be both performative and endearing. The toughest part of any pitch — asking a group of strangers for financial assistance —  is much less awkward after the realization that your fellow filmmakers are in the same boat. With the initial pitches over and done with by early afternoon, subsequent individual meetings allowed for diving deeper into forming creative partnerships. The more people that filled up the large auditorium on Thursday morning, the easier it was to form an instantaneously organic bond comprised of more than self-effacing charm.
One of the more unique projects I met with was Untold Horror, an upcoming series focusing on the most exciting horror films that never came to fruition due to development hell. Hosted by Rue Morgue's Dave Alexander, Untold Horror focuses on genre auteurs of the '70s and '80s (Joe Dante, George Romero, David Cronenberg and John Landis, to name a few) and the battles they faced attempting to bring their dream projects to the silver screen. More than a solemn cinematic eulogy, Untold Horror hopes to resurrect interest in these long-forgotten projects with the hope that their final fate may not have yet been written. Many participating filmmakers return to Frontières each summer with new projects or, in the case of The Devil on Wheels, with a work-in-progress cut of the project they presented the year prior. I first met Enric Folch and his Devil on Wheels team the previous summer, when their documentary — about Steven Spielberg's early classic Duel — was still in development. This year, Frontières' Work-in-Porgress Presentation invited the team to screen a twenty-five minute sample of recently shot material for attending industry. Although the media was advised not to discuss what was shown, the response was enthusiastic. "We love Frontières for the opportunity it offers to put people together and how easily that happens," Folch told me. "At Frontières, the industry people are not beings that inhabit a parallel dimension and they are not there as immaterial spirits that see through you. You can talk to them and they will respond! And they may even like your project and get involved. It happens, seriously. Most are no-nonsense people, and so you get to the point and things move forward. It works."
Anchored by the incredibly enthusiastic Fantasia programmer Mitch Davis, the festival proper had some eye-opening selections as well. Making its world premiere, Writer/director Geoff Redknap's The Unseen is a Canadian production (made with support from Telefilm Canada) that's a respectfully told slow burn. Years after being estranged from his daughter, a gruff Canadian millworker comes back to town, but a life-threatening illness threatens to shorten their reunion. That the illness is hereditary only helps to strengthen the bond between father and daughter, and that it involves their bodies dissolving into invisibility only enables Redknap — a makeup artist whose work could most recently been seen in Star Trek: Beyond, Warcraft, and Deadpool — to showcase some humorously impressive visuals. A family story in which the genre elements only become apparent in the film's second act, The Unseen takes great care in building emotional connections between its characters, and there's something pleasantly literal about an absentee father actually disappearing before his daughter's eyes.
Father-child relationships took on many forms in Fantasia's main slate. While the term "aberrant" may not begin to describe Jim Hosking's Sundance and SXSW gross-out Dada entry The Greasy Strangler, it's a good enough warning to prepare the weak at heart. With a line of anxious ticket holders stretching around the block, the midnight movie was packed with a typically lively, vocal Fantasia crowd whom obviously knew what they were getting into (Calvin Lee Reeder's film, The Procedure, was a good short to open). The story of a middle-aged, overweight, childlike oaf who lives and works with his perverted and usually nude father (I could tell you why the father enjoys being in the buff, but that wouldn't necessarily explain it) while a psychotic serial killer terrorizes the neighborhood, The Greasy Strangler presents an accelerated idiot logic that proves quite effective. The stilted performances, playfully repetitive dialogue, dated costumes, cartoon-like violence and a musical score from Andrew Hung that sounds lifted from a warped Atari video game make the film a more entertaining experience than I had initially anticipated. Hosking is less interested in topping himself in each successive scene than he is starting high and remaining there for as long as possible. As the father with a heart of steel, Michael St. Michaels' ingeniously grotesque performance is more than up for the challenge.
Written when director Richard Bates Jr. was suffering from severe depression, Trash Fire features a pessimistic leading man (played by Entourage's Adrian Grenier) who, after impregnating his increasingly fed up girlfriend (Angela Trimbur), comes to terms with his Christian family's dark past. Visiting his grandmother and estranged sister, the young man's spiteful view of his family grows justified as the narrative digs deep into long buried tragedies and those responsible for them. Bates loves close-ups of his actors' faces, so there's a compelling power when he intentionally chooses to obscure them, the facially scarred sister (played by AnnaLynne McCord) being the most prevalent example. Also impressive are Bates' tracking shots surveying the various rooms of the grandmother's house at night and the way he playfully teases out tension: there's something remarkably reliable about showing a snake being placed in a toilet and just waiting for an inevitable poor sap to unknowingly sit down on the throne. "I like the female characters more in 99% of everything," Bates remarked in the post-screening Q&A; by the film's end, he even leaves a few left standing.
Another critical evaluation of Christian values, this time from down under, was Craig Anderson's Red Christmas, an Aussie update to the holiday slasher subgenre. Starring horror favorite Dee Wallace (Cujo, E.T., Rob Zombie's Halloween) as the matriarch presiding over a family gathering on December 25th, the film provides the standard but necessary caricature killer with a wild backstory: fearing her child will be born with Down Syndrome, an expectant mother attempts to go through with an abortion while pro-lifers simultaneously blow up a section of the hospital in an act of terrorism. Through a series of head scratching events, the baby is rescued (unbeknownst to his mother) and grows up a deformed freak, hiding his face in bandages and a black-hooded robe while seeking family acceptance — and vengeance — on Christ's birthday. Filmed over 15 days in a very contemporary and personality-lacking two-story home, Anderson shoots from low angles in tight spaces (lit in shades of ghastly Christmas lights) to provide a sense of claustrophobia as the family gets hacked to bits. Citing documentaries Lake of Fire and After Tiller as suggested further viewing material in the end credits, Anderson's political hypertext bites off more than it can chew, but he's witty enough to note in the film's tagline that "if you have survived your own abortion, this movie may not be suitable [for you]." With three weeks of solid, wall-to-wall genre programming, rest assured that there's something suitable for everyone attending the Fantasia International Film Festival, deformed creatures and all.