Back to selection
TIFF Critic's Notebook 0: The Salesman, Aquarius, Things to Come, Elle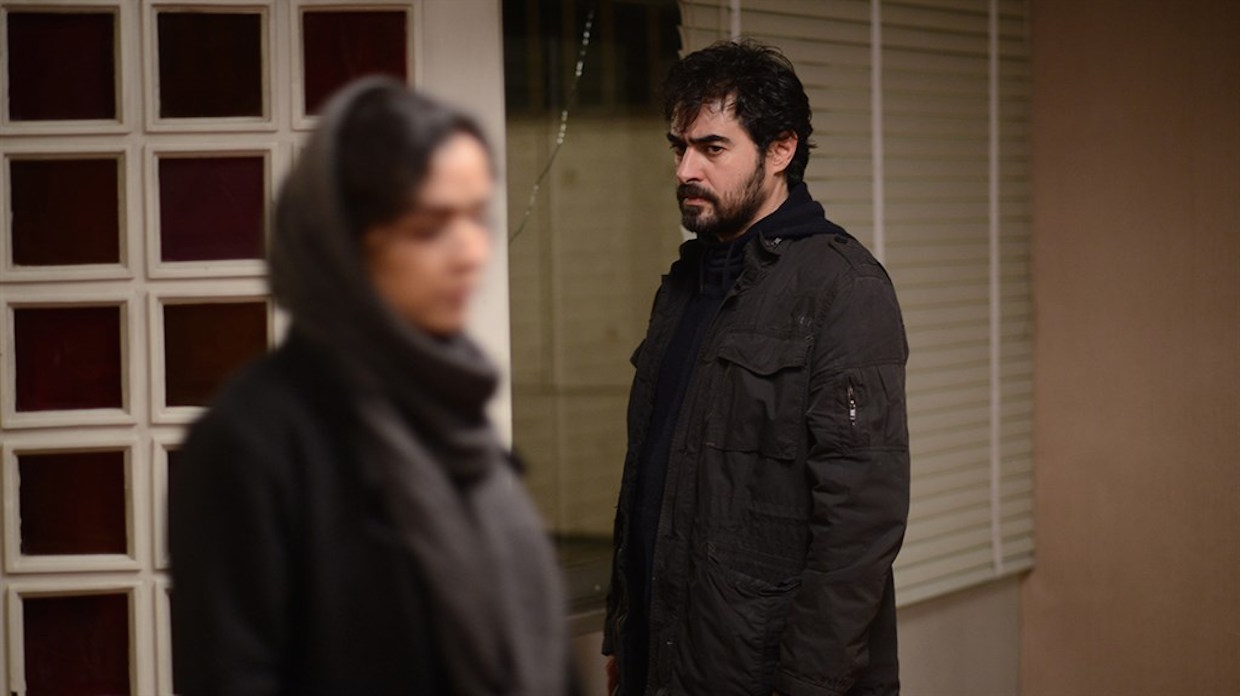 The Salesman
This first dispatch cheats a bit, as will the next few: there was an embarrassment of riches this year in NYC as far as pre-TIFF/long-lead screenings go, so I started writing up the festival before actually getting there to give myself a head start — today's dispatch, hitting before the festival technically kicks off, digs into some of the Cannes/Berlin titles that are crammed into marathon competitive P&I slots on day one proper. This is my first year attending TIFF, and as excited as I am to finally be attending, it's inevitable that doing daily coverage will take its toll. Local color perhaps to come as reviews will get (mercifully) shorter, possibly dwindling into nothingness as we hit the home stretch. Let's go!
Asghar Farhadi's a writer/director of unabashed symbolism and heavy narrative parallels, with variable results: international breakthrough A Separation moved near the speed and urgency of peak Jafar Panahi, follow-up The Past was as lugubrious as its title. The signature repeated shot was of unceasing rain coming down on a windshield and being repeatedly swept away by the wipers. Either this was a symbolic stand-in for how the past just keeps pouring on down on us even though we try to brush it away or it's just an especially ponderous image; neither option is great. While The Salesman is five minutes shorter and generally less grandiose, it ominously takes its title from an appropriately heavy reference point, Arthur Miller's Death of a Salesman.
A literature teacher and amateur player in a small theater company, Emad (Shahad Hosseini) tackles Willy Loman in rehearsals after work hours alongside wife/co-star Rana (Taraneh Alidoosti). After the first night's performance, Emad sticks around to help convince the censor not to cut out three passages from the play, so tired Rana goes home by herself. When the buzzer rings she assumes it's her husband and automatically opens the door; Emad gets home and learns his wife's been assaulted and is in the hospital. The exact nature of the crime, and whether it included sexual violence, is left necessarily ambiguous (that censor's still watching), but Emad is determined to find his wife's attacker. That Rana's possible sexual assault can be hinted at but not articulated is realistic, both from her shellshocked perspective and the production realities of what the film can get away with. In noting the censorship applying to as comparatively innocuous (from a Western POV, anyway) and old a property as Death of a Salesman, Farhadi's movie foregrounds awareness of the far more potentially censorable narrative it has to carefully thread through Iran's rules for public cultural expression.
The Salesman's most interesting element is also the cause of its biggest weakness. Disturbingly/plausibly, this is about a man whose response to his wife's assault is to appropriate it as, first and finally, an attack against him; he pursues a retributive vendetta to extremes that distress his wife greatly and worsen her recovery. But there's a box-checking, bloodless conscientiousness in the extended scenes of Rana, post-assault, catatonically freaked-out and unresponsive — familiar renderings of traumatic fall-out done without any particular empathy or insight, a fallow signifier of lofty narrative sobriety whose empathy is strictly superficial. If Farhadi — who's clearly more interested in the husband than wife — had trusted viewers to not confuse Emad's POV with the film's own, he could have made a film whose psychological portrait was made more, not less distressing, by dispensing with token empathy. As is, Farhadi largely rejects suspense as seemingly beneath his lofty aims, which is a shame; the uncharacteristic scene in which the shoe finally drops as Emad figures out who assaults his wife delivers a jolt while bringing back a script plant that screenwriting professors could point to as an ideal use of the device.
There's a general literal-mindedness to Farhadi that's wince-inducing. In the classroom, Emad teaches Ghalam Hossein-Saedi's The Cow, in which a man grows to believe he is a bovine. "How does a man become a cow?" a student asks. "Gradually," says Emad, and it's just a funny line until we realize Farhadi's given us a ready-made, quite unnecessary metaphor for understanding his own movie: How Does A Man Become A Beast? The film benefits from an aggressively digital look that seems to put everything on edge; Farhadi is expanding his visual language. But it's ridiculously on-brand and unfortunately indicative of him to include, in the background, a poster for Ingmar Bergman's Shame because a) that is the theme of the movie b) Ingmar Bergman is heavy.
Like his justifiably well-received feature debut, 2012's Neighboring Sounds, Kleber Mendonça Filho's follow-up Aquarius is set in Recife, where the director lives; two features in, Filho seems capable of making the city his the same way that the Dardennes have made Seraing an unexpectedly famous city for cinephiles. In both films, Filho analyzes neighborhoods as sites where broader societal faultlines emerge: between the well-off and dispossessed, those who hire servants and those who serve, tenants struggling to hang on to old buildings vs. those looking to knock them down to make way for the new. The subjects are tense, but the films are expansive and digressive. At 144 minutes, Aquarius is a sprawl, even more so than the leisurely Neighboring Sounds, but the good kind, putting in the time to plausibly render the textures of different areas of a macrocosmic city.
There are two brief prologues: one a montage of photos of Recife back in the black-and-white mid-century day, then a scene-setter in 1980, where we meet a younger young Clara and some friends hanging out on the beach at night. (Here, as in Neighboring Sounds, it doesn't take long to spot a sign warning to beware of sharks; in Filho's films, casual access to the ocean is a Cali-esque given.) Sitting in a car, Clara wants to play her friends a favorite new song — "but loud," she warns. Aquarius opens with Taiguara's excellent "Hoje" and is a pretty keen mixtape overall, but in contrast to the rest of the film's almost exclusively Portuguese-language cuts Clara blasts Queen's "Another One Bites the Dust." Filho makes the old song new again by capturing what this staple would sound like booming from cassette with the bass cranked up inside this particular space; throughout, his attention to sonic particulars and how they're mediated by different environments is immaculate.
Filho dissolves from the '80s apartment to the present day, with the disappearance of partygoers and appearance of a flatscreen TV establishing the shift. Clara (Sonia Braga) is now a widow and semi-venerable music critic and writer, and also the last holdout resident of the Aquarius building. She refuses to sell to a new developer whose increasingly odious tactics for pushing her out are the film's throughline and increasingly dominant subject. But Aquarius has a lot of time to play with, so Filho has plenty of narrative room to digress: into Clara's sex life (the movie's sporadically and unapologetically randy as any teen), relationship with her nephew and his new girlfriend, and observations of the literal line between her and her longtime housekeeper — a boundary marked by a sewage pipe. The narrative is as capacious as the widescreen frame: when Dona Clara goes to a dance night for the slightly more elderly, the film settles in for girls' night out without attempting to rush away from extensive gossip and ribaldry, much from characters that won't be seen again.
Filho has a taste for aggressive zooms and pans, and Aquarius is routinely aesthetically forceful. Because Filho and Braga took to the red carpet at Cannes with signs protesting the recent coup in Brazil, Aquarius has become a political target, attracting to IMDB comment boards the Brazilian equivalent of Breitbart readers who fulminate at great length about how the film is a waste of public funds and propaganda for the dishonest left. This doesn't make the movie necessarily any better or worse, but as Aquarius comes to its polemical conclusion honestly.
Mia Hansen-Løve's Things to Come represents a major return to the form of her terrific first two films (All is Forgiven, The Father of My Children) and away from the increasingly baggy Goodbye, First Love and Eden, which magnified episodes from, respectively, her life and her brother's without finding anything particularly illuminating in the blow-up; at 138 minutes, Eden was a particular slog. Things to Come's English-language title, with its ominous shades of H.G. Wells predictions curdled into dystopias, isn't literal — L'avenir means "the future" — but it aptly sets the tone for Isabelle Huppert and the Terrible, Horrible, No Good, Very Bad Year.
No spoilers here, as all major obstacles kick in within the first 20 minutes. From the start, philosophy professor Nathalie (Isabelle Huppert) is already lacking in equilibrium, since dealing regularly and unexpectedly with her ill mother Yvette (Edith Scob!) sucks away her energy. Very quickly into the film, her very longtime partner Heinz (André Marcon) leaves her for another woman; shortly thereafter, Yvette takes a turn for the substantially worse and has to be put in an assisted care facility. The campus where Nathalie teaches is the site of regular disruptions via student protest, so it's not like work is a chance to catch her breath: her life is all forward-motion problem-solving and adjustments all the time. And Nathalie just keeps persevering: if Kore-eda Hirokazu hadn't already claimed the title, Hansen-Løve could easily have called this Still Walking.
The opening sequence is a family day by the seaside, a few years before the shit starts spiraling up towards the fan, connecting Things to the father-and-family outdoor stroll near the beginning of The Father of my Children. Where that film (for, I suppose, still spoiler-y reasons) shifted POVs from the dad in its first half to mother and daughter in the second, Things to Come is comparatively, but not completely, locked into Nathalie's perspective. In a cutaway shot or two, Hansen-Løve can deftly branch off to another person's POV, e.g.: at the nursing home, during the first walk-through, the camera briefly detours from Nathalie to follow son Johann (Solal Forte) as he wanders off, his slowing-down gait and furtive looks to the side conveying how hard such a demoralizing environment can hit someone at their first exposure.
Hansen-Løve remains incredibly adept at capturing scenes in efficiently/beautifully blocked ways. Watch Nathalie in the classroom, circling the desks while lecturing: the camera does a full 360 from the center aisle that establishes the entire space and captures all students, then dollies in to Huppert solo, standing by the window while she thinks and students write. There is, unusually, a tiny amount of handheld camera utilized at moments of especial chaos, but the general visual mode is clarity and control — both Hansen-Løve's usual working method and a perfect fit for a character whose emotional bedrock of philosophy helps alleviate chaos, at least a little. Per usual, somewhat weird form, Hansen-Løve tips her emotional hand a few times with British folk-ish song cues: deploying Donovan's "Deep Peace" (a cut from 1996 — going deep!) at a moment of emotional healing isn't subtle, but by that point it's deeply felt rather than risible.
There's a political dimension to the film that will earn it a withering denunciation (if one hasn't been penned already under my radar) from Jacobin or some such fellow traveler, condemning Things to Come as reactionary, bourgeois and anti-political filmmaking. The opening scenes display traces of impatience with student demonstrators ("Your talk of '68 is pathetic!," one snaps at another), and her philosophical references are on the heavier and older side. The film's major sub-plot is her ongoing, not un-frictionless relationship with ace former student Fabien (Roman Kolinka), who's literally moved far past his graduate dissertation on Adorno: to an enjoyably dilapidated commune-type rural setup shared with a motley crew of agitated anarchists. It's predictable enough that post-dinner discussion focuses on recondite, not terribly new arguments about whether publishing collectively under one name to draw attention away from the individual authors is indeed effective or just rhetorical grandstanding (given the politics and group discussion mode on display, I suspect Hansen-Løve has The Invisible Committee on her mind). Nor is it surprising that their shared library includes both Slavoj Zizek and The Unabomber Manifesto: in the name of left political progress, all radical viewpoints must be considered. Nathalie, though, is appalled and finally declares "I think I'm too old for radicality." She has the confidence to examine and own who she is, and that seems totally laudable.
Even by her high standards, Huppert is having a very good year, though I have much less to say about her other big part this year. Paul Verhoeven's Elle was tagged prior to its premiere as a rape-revenge movie, which isn't quite accurate. It begins with the rape of Michèle (Huppert) in her own home: the first time heard but not seen (the first shot is of her cat, who averts his gaze and walks away), then replayed twice later with more upsetting details. A few screentime minutes past her attack, Michèle — having cleaned up the broken glass, taken a bath, washed away the blood and generally regaining her composure — gets into the swing of her life, to which there are many moving parts: like Aquarius, this is anything but a one-track movie. At the video game company she co-founded, a big project heavy on tentacle-rape (shades of demonlover) is underrealized and behind schedule. Also on her plate: managing an affair, dealing with her terminally difficult mother and the eternal specter of her very bad father, and looking after her son Vincent (Jonas Bloquet), engaged to a very demanding girl Michèle routinely and (per the narrative POV) not inaccurately labels a crazy, dangerous person.
This much can be said: there is nothing exploitative or unserious about the film's psychological sketch of rape's fallout, which involves complex variables of childhood trauma, how that can play out sexually as a desire to relive same, and a lot of other stuff I'm not qualified to talk about. (The film's thesis, if it has a clear one, is closer to Mysterious Skin's complex examination of sexual trauma than, say, Basic Instinct.) Huppert is perfect in an enormously complex part, and the film is overstuffed with other threads that, while fascinating on their own, make the generally energizing whole feel a bit bloated. Verhoeven's skepticism-verging-on-hostility towards organized religion generally and the Catholic Church specifically is not exactly news — that the films builds, in part, towards yet another attack on sexual hypocrisy unsuccessfully sublimated into piety is a trifle underwhelming. It is, nonetheless, very nice to hear from Verhoeven again, and while it'd be wrong to say the film is a comedy — it's fundamentally a very serious proposition — it's often a very funny movie, in ways that get upsetting when several scenes with endless punchlines jut right against rape flashbacks, suggesting the way traumatic memories attack right when the world seems to be sliding back someplace close to normal.