Back to selection
After Tiller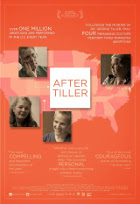 While making After Tiller, Lana Wilson and Martha Shane struggled to get support from granting agencies cautious about supporting a film about such a hot-button topic as third-trimester abortion. In response to the pair's bid for support, one major film grant organization said, "We're waiting to see where this movie comes down." Or, in other words, "We can't support the film unless we support the way you depict this contentious issue."
The genius of After Tiller is that it doesn't "come down" anywhere. It doesn't make a case or take sides. At a time when documentaries about major political and social issues, with very few exceptions, unabashedly and openly push one agenda or another, Wilson and Shane's film stands out by taking an utterly humanist, rather than polemical, approach to depicting its chosen topic.
The pair first began thinking about late-term abortions when, in 2009, Dr. George Tiller, attending his local church in Wichita, Kan., was shot through the eye and killed by anti-abortion activist Scott Roeder. Tiller had been one of the very few doctors in the U.S. who carried out legal late-term abortions, and for the duration of his career as an abortion provider he had been the target of violence, having survived the firebombing of his clinic in 1986 and being shot multiple times in 1993.
What was originally conceived as a look at Tiller's life and the debate surrounding late-term abortion in the U.S. evolved into a portrait of the four doctors — two women, Dr. Shelley Sella and Dr. Susan Robinson, and two men, Dr. LeRoy Carhart and Dr. Warren Hern — who continue Tiller's work after his murder. After Tiller assumes no bias in its viewers on the subject and makes no attempt to do anything but straightforwardly show the doctors and their interactions with patients, women facing situations so extreme that they are forced to consider a termination at the most unthinkable of times.
Even for the most toughened filmgoer, the prospect of watching a film about abortion seems daunting. However, After Tiller is not a grueling experience. It is, rather, the most compelling and important documentary of the year, a profoundly moving and  genuinely inspiring piece of cinema that is a crucial contribution to the conversation on abortion rights. Cinematographers Hillary Spera and Emily Topper shoot the action simply, capturing the heartbreaking doctor-patient counseling sessions with graceful restraint, shooting only the hands of the patients as they explain the events that have lead them to this point. The editing, too, is elegant, as Wilson and Shane trust the inherent power of the material they have captured, not just the pregnant women's tales but also the lives of the doctors, who approach their difficult work with incredible compassion, and in some cases, have sacrificed a great deal personally, too, because of their professional lives. (Nick Dawson)