Artemis Shaw and Prashanth Kamalakanthan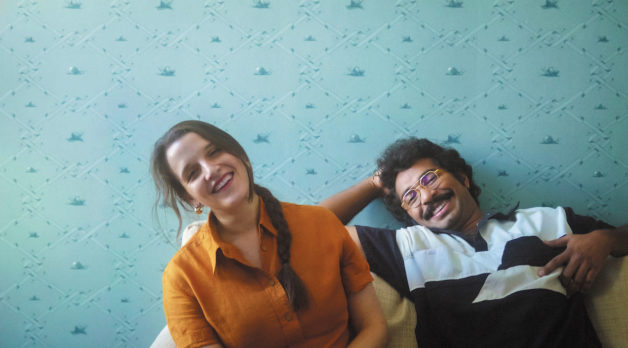 Artemis Shaw and Prashanth Kamalakanthan

Like many couples quarantined together during the early days of COVID, spouses and occasional cinematic collaborators Artemis Shaw and Prashanth Kamalakanthan found themselves saddled with "creative cabin fever" and an excess of time on their hands. Just weeks prior to the pandemic's arrival in the United States, Shaw was working on a surreal play based on the Diamond Princess cruise ship, which was quarantined off the coast of Japan for two weeks in February 2020 when 712 passengers were stricken ill with COVID. Before long, though, the circumstances that intrigued Shaw from afar became a permanent presence in her and Kamalakanthan's everyday reality. 
On Shaw's birthday later that year, the two were rummaging through their Manhattan apartment when they stumbled upon something wonderful tucked away in the back corner of one of their closets: Shaw's video camera from childhood. Though she initially thought it was busted, Kamalakanthan happened to have the necessary cable to bring it back to life. Images and recordings of a 13-year-old Shaw suddenly became accessible to her for the first time in many years. "I started making films pretty young," recalled Shaw. "I put all of my energy into that. I made spoof movies, fake makeover shows, fake teen sitcoms. I was also the youngest child, so I was left alone a lot." Though she was initially embarrassed by the content, stumbling upon the footage ended up being the catalyst for the couple's much-needed pandemic project. 
The end result is New Strains, a narrative feature shot, edited, produced, written and directed by Shaw and Kamalakanthan. Naturally, they also star as Kallia (Shaw) and Ram (Kamalakanthan), a couple who take an impromptu trip to New York City despite the early onset of a mysterious pandemic. They stay at the sun-drenched apartment of Kallia's out-of-town uncle, but this so-called "vacation" almost instantly begins to sour. Shortly after they arrive, the government announces a total travel ban, indefinitely extending their stay in the city. As a result, the couple begin to regress and lash out emotionally, descending into a toxic pattern of spite, jealousy and miserable co-dependence. Wryly funny and cuttingly satirical, New Strains has the rare distinction of being a pandemic film that actually feels authentic to the moment in which it was made. "It was all about going back to the basics and fundamentals," said Kamalakanthan of the film's palpable relatability. "All that we had was flexibility. We didn't have unlimited resources—we didn't even have a camera operator." 
Of course, the pair had the benefit of having collaborated in the past. While both Shaw and Kamalakanthan have been involved in various projects individually across narrative and documentary mediums, they have been infrequent collaborators since they met as MFA students while attending NYU in 2015. Last year, Kamalakanthan released his debut feature as a writer-director—his NYU graduate thesis film, Have a Nice Life, which Shaw produced. Back in 2018, Kamalakanthan edited Shaw's doc short Safari Film. Because of this established creative rapport, the two were able to remain disciplined and motivated during the shoot. "It felt reminiscent of making work as a teenager," said Shaw. "The difference was that we had a production schedule and took it very seriously." In the end, they had a "very low-key" process, finishing the film in the span of roughly two years. 
The duo also acknowledges how their multifaceted backgrounds as film educators helped inform the shoot. "These 16-year-olds can make work better than what you see in the mainstream," reflected Shaw, who has taught at the Tribeca Film Institute, Museum of the Moving Image and Thaden School. "They are capable of anything, because they'll work for 50 hours on a two-minute animation." Kamalakanthan, who has lectured at NYU, Brown and Virginia Commonwealth University, emphasized that "New Strains is all about returning to a childlike state of wonder." 
Currently, Shaw and Kamalakanthan are pursuing film projects both separately and as a team. Shaw is in the midst of crafting an archival documentary about "the horror of being a teenage girl." Additionally, the two are developing their next collaborative feature, I Am Become Banana, which Kamalakanthan describes as a "first-generation South Asian Uncut Gems meets The Big Lebowski." (They pitched the feature, along with New Strains, at this year's Tribeca Creators Market.) While they cherish the ultra-low-budget success of New Strains, they're eager to move onto a project that's much bigger in scope. "We've talked a lot about being indie filmmakers and film educators," said Kamalakanthan. "But what we're really interested in is making bigger stories with what we've learned."—NK/self-portrait