E.G. Bailey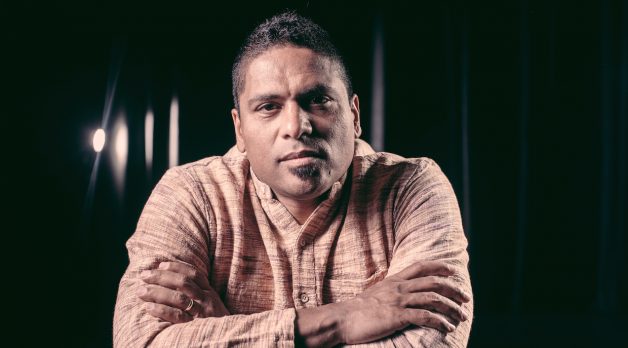 E.G. Bailey

E.G. Bailey traces his love of cinema to growing up in Liberia, where, in his village, Indian films would be projected outdoors on a sheet. "As kids, we didn't understand the language or, really, what was going on, but I instantly fell in love," he says. "Eventually, a movie theater was built in our village. We'd try to sneak in through holes we'd dig in the side of the theater. The proprietor caught on and would spray us with pepper water, but that didn't stop us."
A path to filmmaking has taken a little while, though. Bailey moved to Chicago when he was 10 and ended up in Minneapolis, where he has been based since 1993. For two years he worked for Prince, starting in the stock room and ending up as manager of operations for Paisley Park retail. It was a good gig, but Bailey realized he needed to be making his own work, so he resigned. For the last couple of decades he has been working primarily in performance, cofounding the Minneapolis Spoken Word Association with his wife, the poet and actress Sha Cage. He has also released spoken word CDs and produced and directed theater, at venues ranging from the Illusion Theater to the Guthrie. He and Cage also recently worked with the City of Minneapolis and Intermedia Arts on a project designed to identify and map underrecognized assets within local areas with concentrations of poverty and people of color.
Amidst all his live work, Bailey has taken filmmaking classes at a local community college, learned editing at New York's The Edit Center and was mentored by Susan Robeson. After making a couple of spoken-word shorts, he completed his first narrative, New Neighbors, which boasts a terrifically nuanced performance by Cage. It's a deftly realized work that should read as darkly comic but feels instead sadly realistic. A black mother (Cage) goes door to door in her new, predominantly white neighborhood, handing out flyers and introducing residents to her two teenage sons. Her not-so-subtle message — these young men live here, don't shoot them — is received with varying degrees of confusion and hostility. "Each neighbor represents a different way white people relate to black struggle," says Bailey.
As influences, Bailey cites Cassavetes and the Dardenne brothers — "I wanted the audience to feel as if they're walking with this family, and there are no wide shots until the end because I want viewers to feel fearful about what's outside the frame." He's also deeply influenced in all his work by Haile Gerima, the L.A. Rebellion filmmakers and Gordon Parks, whose segregation photos from the 1950s are a reference for New Neighbors' color palette.
After premiering at Sundance, New Neighbors has gone on to play more than 60 festivals in countries including Mongolia, Finland, Italy, Brazil, Mexico and Nigeria. Next up, Bailey is working on a longer short dealing with a police shooting of a black photographer. Influenced by Parks and Haile Gerima's Bush Mama, "It's about images and how we see the world," says Bailey.  — SM
Contact: egbcontact@gmail.com, egbailey.com
Image: Uche Iroegbu