#2 "Maria Full of Grace"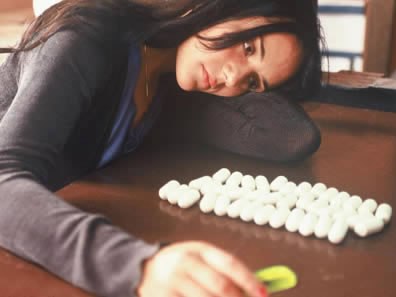 #2"Maria Full of Grace"
Long-stemmed roses must come from somewhere, but I never gave the matter much thought until I saw "Maria Full of Grace," which opens with Maria working an assembly line in Colombia, preparing the roses for shipment overseas. I guess I thought the florist picked them early every morning, while mockingbirds trilled. Maria is young and pretty and filled with fire, and when she finds she's pregnant, she isn't much impressed by the attitude of Juan, her loser boyfriend. She dumps her job and gets a ride to Bogota with a man who tells her she could make some nice money as a mule — a courier flying to New York with dozens of little Baggies of cocaine in her stomach.
Maria (Catalina Sandino Moreno) is being exploited by the drug business, but she sees it as an opportunity. Her best friend Blanca (Yenny Paola Vega) comes along, and they get tips from Lucy (Giulied Lopez), who has been a mule before; it's a way to visit her sister in New York.
"Maria Full of Grace" is an extraordinary experience for many reasons, including, oddly, its willingness to be ordinary. We see everyday life here, plausible motives, convincing decisions, and characters who live at ground level. The movie's suspense is heightened by being generated entirely at the speed of life, by emerging out of what we feel probably would really happen. Consider the way the two drug middlemen are seen as depraved and cruel, but also as completely banal, as bored by their job as Maria was with the roses. Most drug movies are about glamorous stars surrounded by special effects. Meanwhile, in a world almost below the radar, the Marias and Lucys hopefully board their flights with stomachs full of death.
Followups
The Forgiveness of Blood (2011)
The eye-for-an-eye price of settling such disputes, and the hope of a new generation to escape the sins of their fathers, drives cowriter-director Joshua Marston's fitful new film.
Media

Official Trailer- Maria Full of Grace

Official Trailer- The forgiveness of Blood
Joshua Marston talks about his work and creating relationships with filmmakers and audiences.
Did You Know
*About a year into the process, I realized that aside from making the film about a girl who lived very far away, I was making a film about a girl who was doing something universal in trying to figure out the meaning of her life. [on 'Maria Full of Grace.']
*Went to the same High School as Angelina Jolie, Michael Klesic, Nicolas Cage, Corben Bernsen, Lenny Kravitz, David Schwimmer, Jonathan Silverman, and Richard Dreyfuss.
*Did photography in school.
*Once studied political science at a grad school but did not like it and left.
*Speaks Spanish.
*Studied film and graduated from NYU's prestigious Tisch School of the Arts.