Sean Porter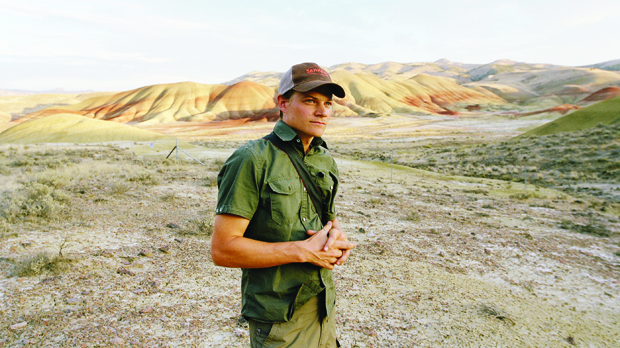 Sean Porter

"Shooting Kumiko, the Treasure Hunter in Minnesota, it was 15 below," remembers cinematographer Sean Porter. "Afterward I thought, I never want to be that cold again! So my wife and I just went for it." Porter is referring to his recent move from New York to Ukiah, Calif., eight hours from Los Angeles, where the couple and their young son plan to "own some acreage somewhere, do some gardening and live a simpler life."
Most up-and-coming cinematographers might pause before committing to a home away from the production centers of New York and L.A. "It's a little scary," Porter admits. But coming off a very good year, he shouldn't worry. This past spring, Eliza Hittman's It Felt Like Love, an evocative take on a teenage girl's awkward sexuality, earned him praise for sensitive, formally assured lensing beautifully belying the picture's microbudget. And due for release later this year is the Zellner Brothers' Kumiko, a vivid cross-cultural imagination based on the true story of a Japanese salarywoman and her mad journey to the U.S. to recover the stolen money buried at the end of the movie Fargo. Despite its loopy premise, the film — and Porter's cinematography — has a solemn, poetic grandeur.
"Kumiko has more roots in fairy tale than any other genre," Porter says. "We needed to treat the story with a level of respect, with a sincerity." Suffused with gorgeous wide shots,our treasure seeker's battered red parka popping from the Minnesota snowscapes, Kumiko is one of the best-looking independent films out there. Shooting on the ALEXA in 2:35:1 aspect ratio, Porter used spherical lenses during the Japan sequences, switching to anamorphic when she arrives in the New World of America to create a "softer, slightly warped look."
Porter grew up outside Seattle, where there was "no such thing as film school." He made short films on VHS with his three siblings to "escape boredom," and then, at the University of Washington, convinced teachers to let him make films instead of write essays. One, Dubbed, about Volkswagen collectors and mechanics, became a feature in 2005. "I worked at a VW shop and owned a couple of cars," he explains. "All those skills found a way into filmmaking; changing a magazine without looking at it is like working on an engine in a car."
Porter credits working on Guy Maddin's Seattle-shot Brand Upon the Brain and its d.p., Ben Kasulke, with his interest in pursuing a career in cinematography. After a series of short films he lensed 2010's Bass Ackwards, by fellow 25 New Face Linas Phillips, and Megan Griffiths' 2012 Eden. He's now considering what's next. "I've been really lucky working with filmmakers who have strong visions," Porter says. "There's a low-budget trap — a couple of white guys stuck in an apartment for 18 days and $20,000. Those movies are being done all the time, and I've stayed outside that circle. My impulses are to be more contained and controlled, but I like to merge that with a doc sensibility of knowing when to turn the camera on and just finding something that inspires you." — S.M.
Photo by Christian Sorensen Hansen