The Daniels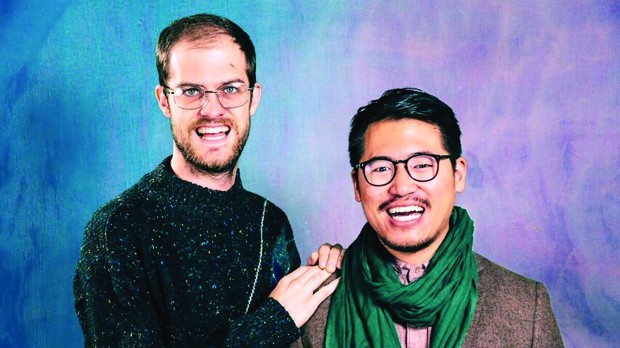 The Daniels

The prodigious and hyper-productive The Daniels — the directing team of Daniel Kwan and Daniel Scheinert — have been on our radar for a while. How could they not be? Grammy-nominated and MTV Music Award-winning music video artists, they are as expansive and boundary-busting when it comes to their careers as their aesthetic. While hyper-kinetic music videos like "Turn Down for What" for DJ Snake and Lil Jon have garnered both critical praise and hundreds of millions of views, they've just as notably created winningly bizarre work for cable networks (Adult Swim), gaming platforms (Xbox Live) and even Instagram ("Dress Normal," a branded content series for The Gap starring Jenny Slate and Paul Dano).
But the past 12 months have seen The Daniels reach a compelling new level of creative out there-ness. In the fall there was perhaps their most bizarre work, the short film Interesting Ball, which premiered online on Dazed Digital. A woozy, varispeed-ed cross between The Red Balloon and Magnolia, the confounding narrative uses a mysterious bouncing ball to trigger personal and social apocalypse across a disparate group of Angelenos. And now there's Swiss Army Man, The Daniels's first feature. As Scheinert explains, the film, which stars Daniel Radcliffe and Paul Dano, is "about a man stranded in the wilderness who discovers a dead body and uses it as a multipurpose tool. He becomes a best friend, and they go on a journey to get home." Don't view it as a career change, though. Says Kwan, "We never intended to be music video directors, but we made one, people liked it, and suddenly that was our career. It was the path of least resistance, and it gave us the opportunity to experiment."
The Alabama-born Scheinert met Massachusetts-native Kwan at school in New England. "We didn't really like each other at first," Kwan says. "He came from improv comedy, and I was a design and animation guy. But we both had a certain kind of rebellious attitude." "We made the most perverse projects," Scheinert adds. Interestingly, given the VFX proficiency of their work, The Daniels say they learned in school not to rely on technique. "At school, a lot of folks spent a lot of time learning the mechanics of making movies," Scheinert says, "but then their movies sucked. To a fault, we didn't care how to make movies; we just wanted them to be good."
Swiss Army Man has been in development for three years. Says Kwan, "The first draft was all over the place; it would have been exhausting to watch." A stint at the Sundance Labs tightened it up. "At the Labs," Kwan says, "75 percent of the advisors were very much trying to find a structure [for it] that was more conventional. The other 25 percent were like, 'Fuck it, go crazy.' I think we found a middle ground."
Swiss Army Man should have wrapped by the time you read this. Then, The Daniels will be in post and back to their collaborative day jobs. The two recently moved near each other in East Los Angeles. "We live three blocks apart," Kwan says. "It's a short commute — I can't say enough about it. It's improved our work dynamic immensely." — S.M./Photo by Joyce Kim
Read all of Filmmaker's Daniels-related content here.
Links