Zeek Earl + Chris Caldwell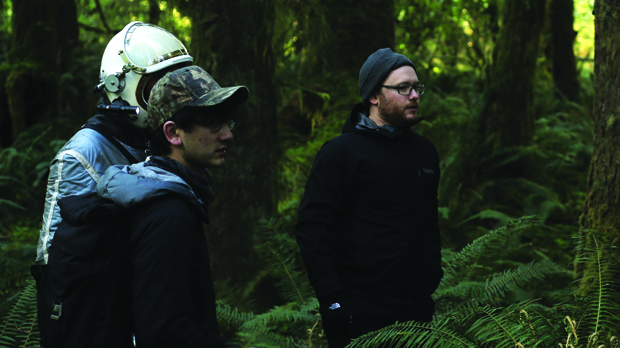 Zeek Earl + Chris Caldwell

The cool lines, polished surfaces, and antiseptic environments found in much futuristic science fiction — these are nowhere to be found in the defiantly tactile, speculative work of Seattle-based filmmakers Zeek Earl and Chris Caldwell. In just two short films they've established a hauntingly eerie, character-based sensibility in which fantastic fiction is grounded first and foremost in the natural world. "We live in the Pacific Northwest," Caldwell says, "and we love to be outside. The environment here is a big inspiration to us, and that carries through into the work."
Meeting when they both studied writing at Seattle Pacific University, Earl and Caldwell quickly worked out a collaborative dynamic. Says Earl, "I'm more visual, Chris is more verbal, and we overlap on pretty much everything." "It's an ever-evolving partnership," Caldwell adds. "We're in each other's shit all the time." Their first collaboration, however, was not a film but a commercial production company, Shep Films. "Our goal from the get-go was to create an apparatus by which we could do our own projects," Earl explains. "When we have an idea, the barriers are much less. We have cameras and connections and can play around. We don't have to wait for approval."
Earl and Caldwell's debut short, 2012's Into the Pines, is a gorgeous journey into exterior and interior landscapes. A young woman, convinced she is being called by extraterrestrials, leaves a goodbye message to her mother and travels deep into the Olympic Mountains. Music, macro nature cinematography and a poetic, exalted voiceover combine to create a thrilling emotional narrative. Shot for just $3,000, the film premiered at SXSW and went on to a long festival run before appearing online — a process that taught the filmmakers a lesson. Wanting to develop their next short, 2014's Prospect, into a feature, they decided they needed the online exposure as early as possible. So right after its SXSW premiere, they posted the film on Vimeo, targeting journalists who had written positively about In the Pines and then heading out to L.A. for meetings with a book of concept art under their arms.
Discussing Prospect — the short and the feature — Earl and Caldwell reference not only '70s and '80s sci-fi ("Star Wars and Blade Runner but on a gritty scale," quips Earl), but also the work of Paul Thomas Anderson and the Coen Bros., particularly True Grit and No Country for Old Men. "It's very Western-informed," Caldwell says. "We have a young girl and her father on a toxic alien planet searching for valuable material. Something happens to the father, and the girl has to come into her own to survive."
"It's not a movie about magic technology," Earl says "Tech doesn't save you." Appropriately, then, the filmmakers say they don't want to over-rely on CGI. "We want to preserve our retro-futuristic sensibility with a very analog way of doing things," Caldwell says. "Even our digital effects will have a commitment to texture." — S.M.
Photo by Nate Rogers