Back to selection
I Made a Film. I'm Exhausted. Now What?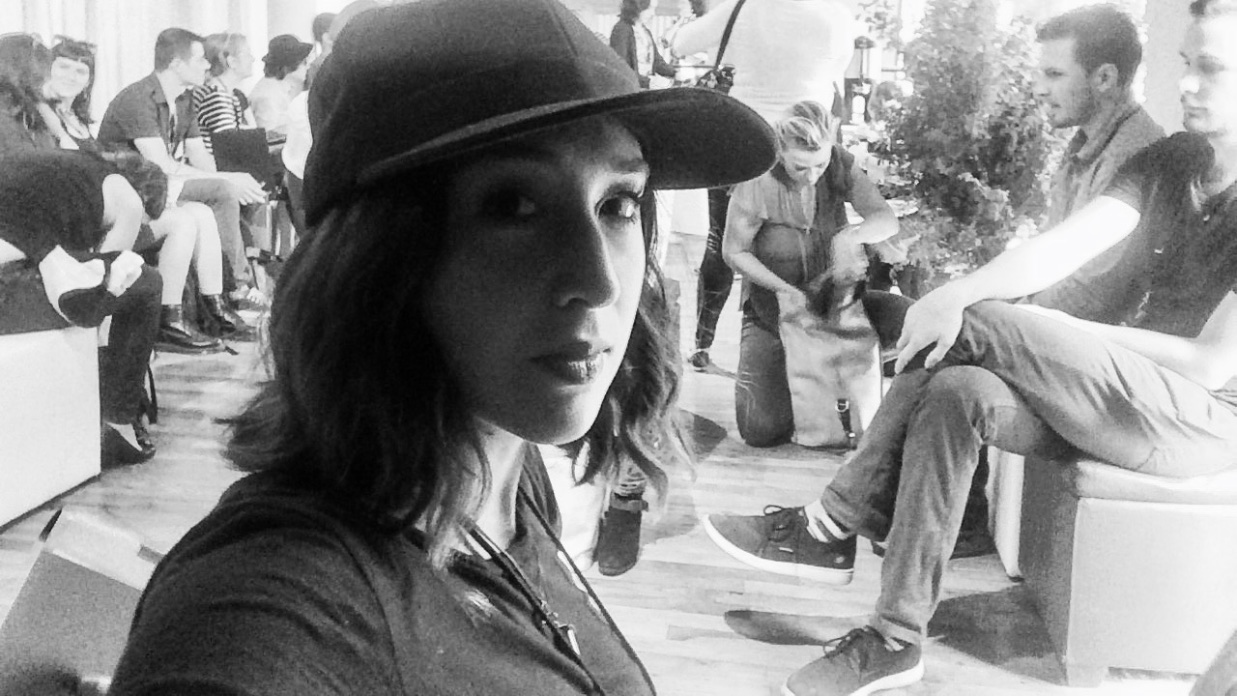 Meredith Alloway at IFP Film Week
For me, IFP Film Week fell at a serendipitous time. It was the week leading up to the final Sundance short film submission deadline — the looming September 23rd — that also happened to be my birthday. I told myself that if I could finish this damn movie I'd have the best birthday I've ever had in my life. I was one audio mix and one color session away from sending this butt naked baby off into the frigid forest that is the larger industry. How cute, how hopeful my film is!
Yes, it is time to actually do something with this piece of work, no matter the fear. And that means, of course, submitting to festivals. But what about distribution? I have plenty of friends who have found success with their films. They've gone to acclaimed festivals, been distributed by acclaimed distributors, but if I've learned anything from watching this process it's that there's no process but your own.
While at IFP Film Week, I decided to go to some of the "Meet the Decision Maker" roundtables and then write about it. It was a chance to sign up for 20-minute sessions with everyone from programmers to producers to agents. Why not ask all my looming questions directly to the people with answers? Questions like, how do you feel about an unfinished submission? Do programmers connect shorts filmmakers with industry people, really? Will you watch the entire film?! I will also preface this by saying that I'm removing politics from the equation – or trying to. Everyone told me to get an executive producer onboard my short to help me navigate the festival circuit. They're probably right. But hey, I was too busy juggling a full-time job and making a movie to "network" for the past six months. So here I was, movie in hand, exhausted, looking to IFP for my last Hail Mary.
Here are the people I met with and the advice I got from each. I will say, finding a way to meet programmers is so important. It's not easy and I was thankful IFP brought such incredible ones to Film Week.
Loren Hammonds (Tribeca Film Festival)
Tribeca employs pre-screeners for cold submissions. This is a crucial thing to note. If you don't have a connection with a programmer, you're at the mercy of the pre-screeners and their rating system. When I asked Loren Hammonds, associate programmer at the Tribeca Film Festival about what type of shorts Tribeca likes to showcase, he was open; submissions dictate the programming, he said. He did, though,note that if there were two doc shorts about a cultural hot topic, they'd only take one. I reflected on my short: Saint that has visions from God re-imagined as a horny teenager. I probably don't have much competition. Hammonds doesn't program shorts, though, so for me he won't be the person to hound. But he still had good advice. He said that adding personality to your submission is key. Maybe he wouldn't watch Interior Teresa himself, but if I personalized my email to him he might send along to his shorts programming team. What surprised me most in our discussion was Hammonds clarifying that the end of a film can change his mind in a selection process. We all have this feeling in our gut that no programmer, with all the movies they watch, can possibly finish them all. I hope that he's right. I choose to live in that hope!
Charlie Reff (Sundance Film Festival)
I was stoked to meet Sundance programmer Charlie Reff. Are you kidding?! I've heard nothing but great things and just the chance to chat with him directly was a definite treat. Sundance gets over 4,000 submissions and selects 120 feature films. They get something around 8,040 short films sent in and accept 70. Those numbers are staggering. I try to remind myself that the majority of these films could be shot on an iPhone and be total shit. At least, that's what I tell myself Reff is adamant about distinguishing taste from bias. "I learned my bias," he said. He's not excited about social issue, conventional docs. He trusts his team to focus on that area. He explains, "I want to make it weirder." He's mainly looking for a story that compels him. I ask him about my unfinished short. Should I explain that on the submission? Is that tacky? He tells me that 90% of films are rough when they receive them. Most of them just have a locked edit. Wow. I was relieved. He said to make a title card explaining where the film is at and to put it before the film even begins. I went home that night and made a "This film has not yet been color-corrected" card before the opening sequence. People always say it's okay to send along an unfinished film, but this was finally a specific how-to. I also asked him about bringing on an executive producer to give my film a leg up. He shook his head, "No," and let us all at the table know just how many celebrities and alumni they turn down. It's about quality, not big names. This is both depressing and exhilarating. It's, well then unknown me — I have a shot! Or, if people with deep pockets and big names don't have a shot how do I? Let's go with the glass half full on this one, eh?
Claudette Godfrey (SXSW)
I met shorts programmer Claudette Godfrey at a party the night before the roundtable — another great thing about IFP Film Week, getting to just hang with everyone outside of the conference. I will also always have a place in my heart for SXSW. I'm from Dallas and that festival will always represent what I love about Texas. This last year at the festival, I found myself on a porch one late evening with a small group of fellow film fanatics discussing the future of SXSW and how it can keep its personable, welcoming, wonderful vibe and still get industry to make the trek down to the fest. It's tricky. I wanted to ask Claudette about this. If a film is programmed there, can it be sure to have the same success or exposure as at other festivals? She was passionate about her response, explaining that she sets up shorts filmmakers with industry contacts before the festival even starts. Take the meetings during the fest, not after. She was adamant that if anyone would buy your film, it would get on their radar even if they don't physically send their whole team down to Austin. When I ask her about successful shorts in the past – she brings up Trey Shults' Krisha. It went on to be made into a feature that was picked up by A24. And it's amazing.
Sarah Moosvi (Tara Digital Collective)
It's not just about playing film festivals. If IFP Film Week and the current entertainment climate are teaching us anything, it's that there are infinite ways to showcase your voice online. I've been working in branding since I've been in New York and have continually tried to integrate this mindset into my filmmaking. My brother and I designed a logo for Interior Teresa so I could put it on stickers and then on the back of bathroom stalls when I launched my Kickstarter at Sundance. I wondered what Sarah Moosvi had to say about branding and marketing your film — especially when you don't have a marketing budget gifted from the Weinstein Gods.
Moosvi has worked as a digital media strategist in film and created media campaigns for a number of Academy Award-nominated films. She had three steps for marketing your film:
* Park all your domains. Any website you want to own, GoDaddy.com it. Any Instagram, Snapchat name or email you want monopoly over, lock it down.

* Identify which channel is worth your time. Who is your audience and where do they go? Is Twitter the best place to talk about your film? Is Instagram? I found that, for me, Facebook was the best. When I launched my Kickstarter, I was trying to connect with a number of the people I grew up with in Texas. I was Facebook friends with them, so it felt like an easier way to connect than Twitter or Snapchat. Also, all my elementary school teachers… and my mom… were on Facebook. It was a way to verbally and visually keep everyone up to date about the film.

* What is your Facebook and Instagram demo? On sites like Facebook, you can see the age and demographic of the people viewing your film's page. If you can start to understand who is following you, you can then understand what distribution strategy would be best. Who is going to watch your film and if they're watching films, where are they doing that? Even with a short film, where we're not talking about screening in the Angelika for a month long run, it's important to know where your film can, ultimately, be viewed.
Matt Harvey (Sony Pictures Classics)
I felt a little silly sitting in on this one. I was nowhere near at the place to talk to Sony about my short film. I was curious, though, about just how open Matt Harvey, Executive Director of Acquisitions at Sony Pictures Classics, would be to new filmmakers and when exactly they start tracking them. Damien Chazelle, director of Whiplash, was on my mind. Harvey explained that Sony Pictures Classics releases about 15 films a year. They go with collaborators that have a good track record and, when involved with the production, they don't have their executives on set — it's faith. When I ask about when Chazelle got on their map, considering they went on to distribute Whiplash, Harvey said that after they saw his first feature, Guy and Madeline on a Park Bench, they became fans. They asked to read the Whiplash script and even stayed in town to meet Chazelle during Christmas time when most of the entertainment industry is somewhere drinking coladas on a beach. I asked him what a shorts filmmaker could do to start forming relationships with people like Sony early on. He said that agents and programmers usually point out shorts to them – people to keep an eye out for. I don't have an agent and I haven't been programmed yet. I slid him my Interior Teresa sticker anyways.
I found this day of chatting with these amazing minds as exhausting as it was invigorating. I made a movie. And now the work really begins. I felt slightly under qualified to be passing some of these people my sticker/business card. But, hey, the takeaway from IFP Film Week that runs through every panel and every party is that it's never to early to connect with someone you want to work with in the future. You, and your project, are never too small, unknown, nay, undiscovered.