Back to selection
Alamo Drafthouse Downtown Brooklyn Opens Feature-Rich New York Theater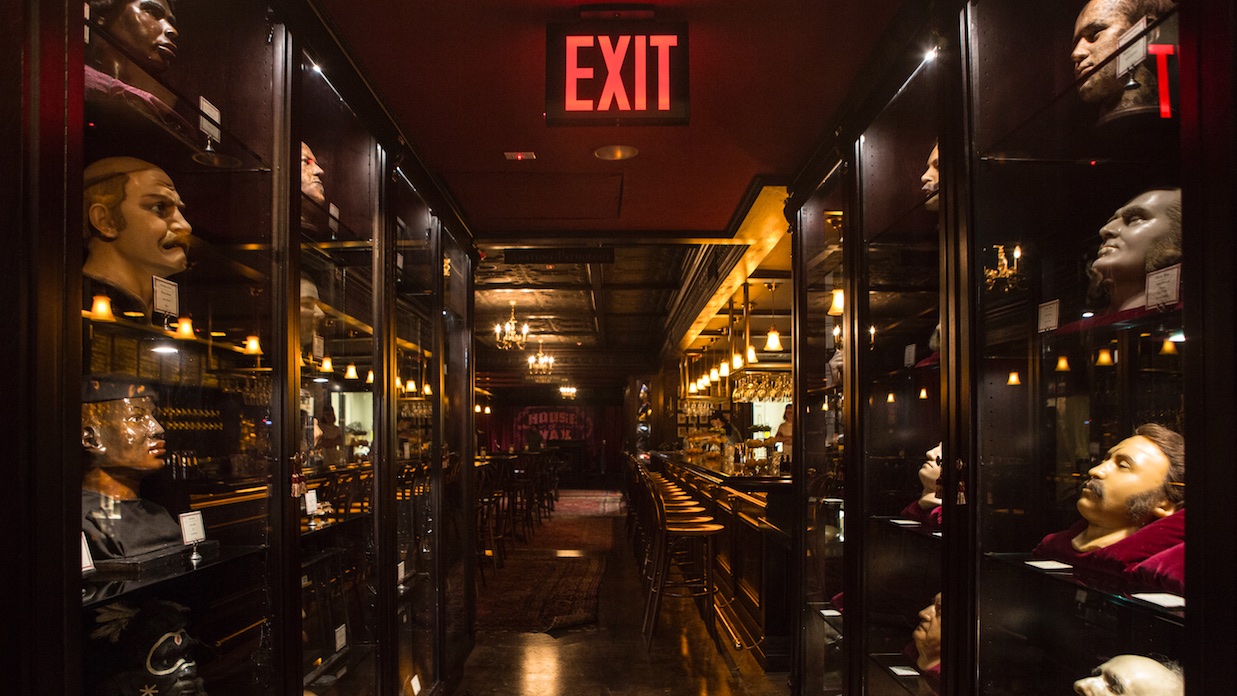 The House of Wax (photo: Victoria Stevens)
After a week-long soft open, Alamo Drafthouse opens today its first theater in the New York area, the Alamo Drafthouse Downtown Brooklyn. Snuggled away on the top floor of a brand new shopping mall, and following an escalator trip that takes you past a Target and a Century 21, the new seven-screen Drafthouse is feature-packed in more ways that one, offering state-of-the-art projection (including, in one theater, 35mm), Dolby 7.1, programming mixing mainstream arthouse with local, repertory and genre events, and, of course, food and drink. The latter is served up in the theaters as well as in the House of Wax, pictured above — a surprisingly gory space adorned with 19th century wax figures that toured as part of a European "panoptica" touring show. Curated by Ryan Matthew Cohn, star of TV's Oddities, it's undoubtedly the only place in town you can sip a $13 Butcher of Hanover cocktail (containing "an aggressive Italian Fernet Branca") while gazing at a replica of a not-very-hygenic looking Caesarean-section. Complete with a small stage, the House of Wax will feature music and vaudeville acts as it gets up and running.
As for the theaters, the 35mm screen seats 90, and the largest screen almost 200, and all seven screens pack in almost 1,000. Anyone whose attended other Alamos, or gone to SXSW, will be familiar with the food and beverage aspect of the experience; you fill out little order cards and the servers quietly whiz back and forth during the screenings. (During the press tour I attended, Alamo CEO Tim League said Brooklyn staff were flown to Austin to absorb Alamo culture and learn how to serve quietly.)
"I butcher the meat myself," said chef Fernando Marulanda, when we were lead into the theater's large kitchen. "I was doing the skirt steak the other day." Marulanda, who previously was the executive chef at Victor's Cafe and worked at Tavern on the Green, said his varied menu is designed to cater to all of the different communities that surround the multiplex, offering everything from kosher hot dogs to a jerk chicken sandwich you'd find at the West Indian Day Parade. The biggest challenge he's facing at Drafthouse: "That window," he says. "You have to ensure [food delivery] within a window to satisfy the guest experience, but you don't want to sacrifice quality." Marulanda notes that 95% of his food is locally sourced.
Cristina Cacioppo — ex of the 92nd Street Y, Ocularis and a former Killer Films intern — is the theater's programmer and Creative Manager, and, during our tour she was scrambling to see if she could lock in Moonlight for opening weekend. (She was successful.) Cacioppo promises plenty of "Brooklyn flavor" to the programming, citing, for example, "Shouting at the Screen," a blaxploitation series curated by neighbor Wyatt Cenac and Donwill that will "recreate the magic of the Magic Johnson theaters." Also upcoming: Night Flight Plus, based on the cult '80s music video show.
For League, this weekend's opening is the culmination of a several-year journey. "We are a testament to the fact that it's hard to open a theater in New York City," he said. "But for the size of the market, it's underscreened." Alamo previously announced plans to open an Upper West Side theater. "Is anything ever dead," League quips when I ask him if that theater will ever happen even as he goes on to give me the answer: "We announced it and then we had a long period to evaluate the project, and we got actual construction numbers back. It was only 380 seats, and we would have had to do an extensive amount of structural and foundation work. We were going to have to spend so much money that we'd never make back, so we had to pull the plug." He continues, "We are certainly looking for projects, but we don't have anything else in the [New York] pipeline. I wanted to get this open and get this right and show that we can work in this market."
There's so much more that could be written about the new Alamo, from the Turkish movie posters lining the walls and The Shining carpeting to the unisex bathrooms, but the place is open, so, if you're in New York, check it out.