Back to selection
The Poignant, Romantic and Bleak Snowden: Jim Hemphill's Home Video Recommendation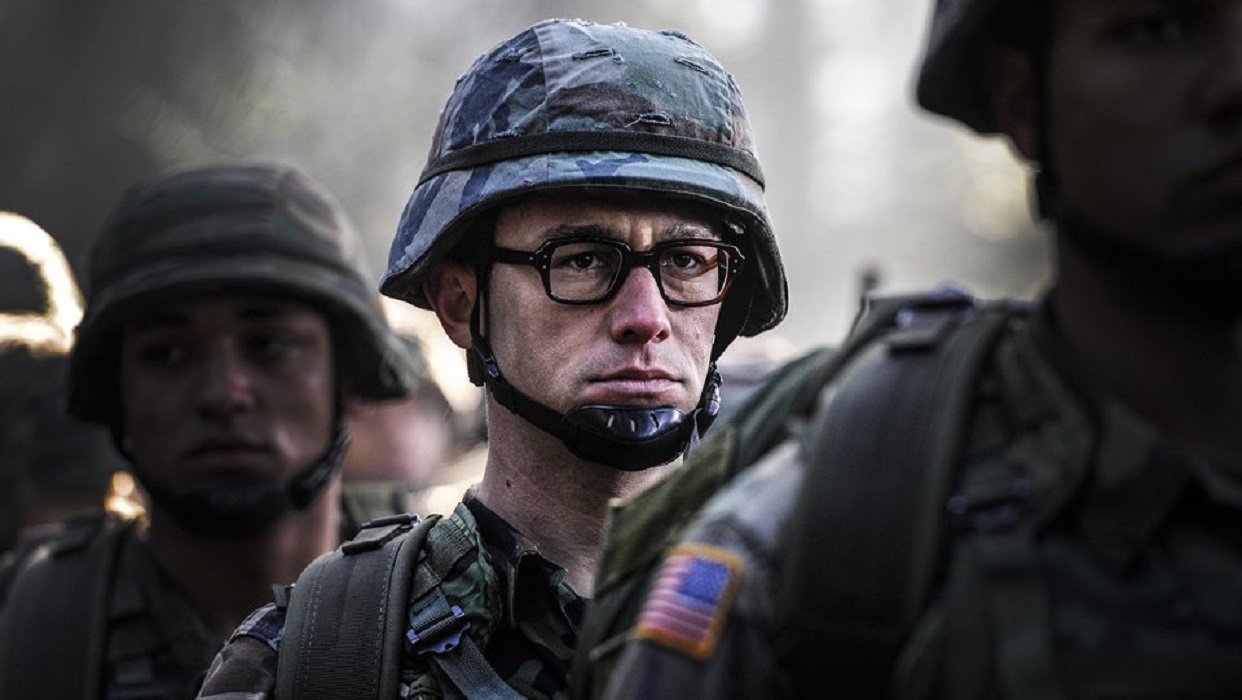 Snowden
One of the best films of 2016 begins streaming this week, as Oliver Stone's Snowden drops on iTunes and Amazon. Stone has long been one of our most versatile directors, having made horror flicks (Seizure, The Hand), a Vietnam trilogy (Platoon, Born on the Fourth of July, Heaven & Earth), a musical (The Doors), historical epics (Alexander, Nixon), a sports film (Any Given Sunday), a love story (World Trade Center), business movies (the two Wall Street movies), and three audacious and darkly funny crime pictures (Natural Born Killers, U-Turn, Savages). With Snowden, Stone synthesizes all of his strengths in one ruthlessly efficient 134-minute package, offering up several different movies (all of them terrific) for the price of one: it's a thriller, a love story, a political provocation, and a classical ensemble drama in which none of the elements detract from the others; a master of screenwriting structure, Stone and his co-scenarist Kieran Fitzgerald keep a stunning number of ideas and subplots in perfect complementary balance.
Many of Stone's best films (Nixon, Salvador, The Doors) examine profoundly flawed men who are nevertheless capable of greatness, in the process exploring how heroes and icons either transcend or fall short of our – and their – expectations. He's a director keenly aware of the power of myths who's equally aware of the need to deconstruct or answer them. (He referred to his 1991 masterpiece JFK as a "counter-myth.") In Snowden, there's no need to mythologize – Stone's dealing with recent history that has already been distorted and put at the service of a multitude of agendas many times over. Instead, he adopts a more realistic (and relatively straightforward) approach, following in the tradition of other excellent films about recent historical events like All the President's Men and The Social Network. Yet his is a less linear narrative than those films, and a more visually expressionistic one – while Snowden might seem traditional compared to more confrontational and formally ambitious works like Natural Born Killers and U-Turn, it still displays Stone's constant probing for new modes of cinematic storytelling. In telling the story of Edward Snowden's journey from idealistic soldier and government employee to fugitive NSA whistleblower, Stone adopts a technique that is both objective and subjective, alternating between clear, concise journalistic detail and stylized imagery that places the viewer in Snowden's consciousness. There are constant shifts in perspective not only between outside and inside Snowden, but between the points of view of a variety of supporting characters – Stone's mastery of his art is so complete that he's able to pull off a movie that weds itself to a strong, singular protagonist without shortchanging the ensemble.
That said, at the end of the day this is Joseph Gordon-Levitt's movie, and he nails the real Edward Snowden's physical and vocal attributes with impressive technical skill – I don't think I've ever seen a movie where I forgot I was watching a celebrity play a real person so quickly. But the performance goes beyond mimicry to present a character in a constant state of moral anguish – something that might not seem so unusual, aside from the fact that Gordon-Levitt is playing a guy who can't talk to anyone about what he's going through. The movie isn't just about the U.S. government's secrets but about the secrets Snowden himself is forced to keep from everyone around him, for their safety as well as his own. Without the benefit of explicit dialogue, Gordon-Levitt conveys, with total force and clarity, exactly what he's going through at every stage of his disillusionment, and Stone's careful attention to composition and editing showcase the actor's work with grace and emotional purity. After 40 years of directing movies, Stone has distilled his style to provide the maximum impact using minimal means – it's how he manages to deliver the richness and layers of a great novel in a film that runs just over two hours.
Gordon-Levitt's performance is key to Snowden's place in Stone's oeuvre as another exceptional take on the nature of heroism. The movie is every bit as complicated and ambiguous as Stone's previous films on the subject, but the complexity is all internal – from Stone and the audience's point of view, there's no real questioning the fact that Snowden is a patriot and a hero. The questioning comes from within, as Snowden becomes less a film about heroism than about the physical and psychic costs of heroism – and whether or not they're worth it. Stone and his actors mine this material so thoroughly that when Snowden does allow itself moments of triumph they're completely earned – this may be Stone's most genuinely inspiring film since Born on the Fourth of July and his most poignant and romantic next to World Trade Center. Yet it's also, at times, his bleakest work, a chilling horror film about the surveillance state under which we all live, with unsettling moments and images that are impossible to shake. That both of these tones – and a wide array in between – can exist coherently in the same film is indicative of Snowden's greatness.
Jim Hemphill is the writer and director of the award-winning film The Trouble with the Truth, which is currently available on DVD, iTunes, and Amazon Prime. His website is www.jimhemphillfilms.com.