Back to selection
Under the Radar: The 31st Mar del Plata Film Festival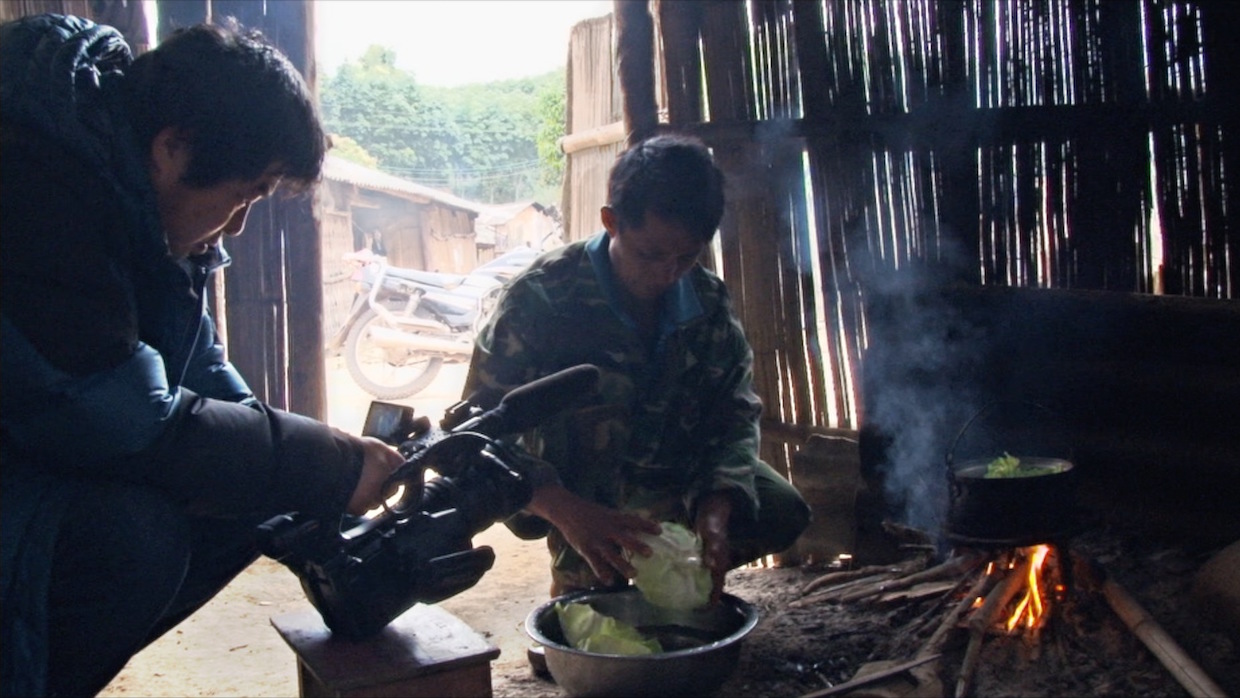 Night and Fog in Zona
Situated at the windy seaside of the Argentinian port city and resort destination, the Mar del Plata Film Festival is rare in its aversion to trends and commercially driven programming. Selection is motivated not by industry concerns but rather genuine cinephilia, impressively supported by a devout and adventurous local audience. Programmers give generous, enthusiastic introductions, and there's a vibe of sincerity guiding the proceedings. Taking place in November — springtime in the country — the fest has the luxury of assembling the best films of the year, but it's hardly an automated "festival of festivals," featuring plenty of bold, unusual films alongside expected favourites from Berlin, Cannes, Venice, and TIFF.
But let's start with the old. If film festivals should in part be marked by their reverence for cinema's past, Mar del Plata gets a high grade for its varied retrospective screenings. Two silent films played, stunningly, with a live orchestra in the festival's oldest and most charming venue, the Teatro Colón: John Ford's mythic The Iron Horse and Show People, King Vidor's marvelous Hollywood parody starring Marion Davies as a common girl turned star. Although it lacked English subtitles due to the rarity of the prints, there was a considerable selection of films by Masao Adachi, an underground Japanese filmmaker with infamously extreme political beliefs, who disappeared from filmmaking for years when he joined the Japanese United Army. The curiously titled "VHS" section played such oddities as the 1976 Charles Manson TV movie Helter Skelter, the Linda Blair-led musical Roller Boogie, and the bizarre Italian fantasy film She, alongside Apocalypse Now (Redux) — just to give an idea of the gamut-running going on in the program.
The recently unearthed early silent shorts of Jacques Rivette played along a 4-minute François Truffaut film, Los 4 Golpes (The 4 Strokes), that was actually shot in the Hermitage Hotel in Mar del Plata where many of us stayed. It's a silly and playful diversion he shot on 16mm in 1962 with no discernible plot. The Rivette shorts are purely of historical interest, hardly demonstrating the command of the medium the director would come to be known for, but those motivated by deep cinephilic intrigue will find value in the exercise-like approach of the films, which clearly aren't trying to be accomplished films so much as attempts to try out certain principles of film language. The best of the three, Au quartre coins (1948), follows two couples alternately in an apartment and an idyllic landscape, as their gestures indicate a saga of emotions, desires, and betrayals. Rivette plays with blocking, expressing meaning through objects, and positions, well testing out how shots, often purposefully mis-matched, can relate to one another both in narrative and in abstraction. Le quadrille (1950) will turn the most heads as it stars a young Jean-Luc Godard, who also co-wrote the piece, but this is the most patience-testing of the three. A group of young people sit in a room, hardly interacting, in what is quite a slog to watch — but at the same time you can see how these "studies" aided Rivette's utterly distinct sensibility later on, in their attention to the detail of how bodies in frame can subtly conjure tensions and ideas.
A comprehensive retro of the works of Pierre Léon, whose cinema is hardly known outside of France, was an invaluable discovery — but again only for those who don't need English subtitles, as this unilingual critic unfortunately does. I can attest to Ted Fendt's enthusiasm for the films, who was on hand both on jury duty and to present his debut feature Short Stay, which was accompanied by three of his short films, Broken Specs, Travel Plans, and Going Out, all projected on film. The shorts play out like deadpan comic strips with a quiet, underlying pathos, all centering on mundane episodes with hapless young adults navigating the everyday. The feature feels more like an expansion than an assembly of these passages, but with a feature-ish running time, Fendt is able to make the work more anthropological, and, ultimately, more affecting. Mike (Mike Maccherone) is a distinctly uncharismatic twentysomething who, for obscure motivations, departs his suburban home in New Jersey and job at a pizza parlor to sublet his pal's room in Philadelphia and take over his donation-based city tour gig. In both cities, Mike seems equally out of place and directionless, and when his job giving tours and place to stay are both unexpectedly taken back, Mike's placelessness and purposelessness is literalized. Touching and funny in a cringe-worthy way, Short Stay is one of the most original debuts of the year, and looks more deeply and darkly at a common type of middle-class American existence that most indies shy away from in favour of something more chic and gratifying.
One of the best documentaries of the year, The Stairs, directed by Toronto-based filmmaker Hugh Gibson, is a profoundly empathetic look at three drug addicts cooperating with a harm reduction program at Toronto's Regent Park Community Health Centre. Gibson follows these characters over the course of five years, and first and foremost lets the viewer get to know them as people rather than "users" — the film only shows them taking drugs long after we've grown to care for their personalities. One can sense the deep sense of trust between filmmaker and subject here, and how it organically emerged over time. Refreshingly devoid of the sort of drug porn you might find in lesser films, The Stairs has an intelligence and humanism reminiscent of Allan King, paying attention to people, their behaviour and self-articulation, without trying to fit the material into some convenient message-driven box.
Wang Bing has had a career year, with both Ta'ang and Bitter Money premiering at Berlin and Venice, respectively. But in addition to his own work, Night and Fog in Zona, a new doc about Wang Bing by Korean film critic Jung Sung-il, is one of the most insightful and significant director portraits in contemporary cinema. While the film is guilty of some reductive mimicry — Sung-il applies Wang's principles to how he films and edits, even going so far as to outdo the running times of his recent films at four hours long — Zona goes beyond typical behind-the-scenes fare with unparalleled access to the acclaimed documentarian's process. Shot over a winter, Sung-il follows Wang as he prepares to shoot Til Madness do us Part as well as a sequel to Three Sisters, which mostly entails him having to get involved with a divorce between the husband and wife featured in the 2012 film. We see how Wang Bing researches his subjects first hand, gathering preliminary footage as he immerses himself in the environment and gets to know subjects and their daily life. Later, we see him instruct his assistant cameraman as they analyze their dailies, describing the importance of shooting wide and in long takes in order to let the people in frame have the space to behave spontaneously. For those interested in Wang's cinema this is essential, but for anyone curious about the philosophical and ethical questions behind doc-filmmaking, there is plenty of food for thought here.
The best film may have been John Gianvito's intensely detailed and devastating Wake (Subic), which over a nearly five-hour running time eloquently traces the colonialist presence of the United States in the Philippines across over a century of history, from before the Philippine-American War to the film's main focus: the aftermath of a U.S. naval base's toxic dumping, which has had unspeakable consequences on the local population. Unspeakable for their horror — but also literally unspeakable, as Gianvito discovers, since the outrage among the people in Subic hardly has an avenue through which to vent. As a filmmaker, Gianvito's ethical formal principles allow for lengthy, relatively uncut interviews that allow those impacted or getting involved to speak out and tell their stories. This is the second part to For Example, the Philippines, a title that suggests that the themes explored here and in 2010's Vapor Trail (Clark) extend beyond the specificity of subject matter to globe-spanning issues of colonial relations, their consequences, and our relationships to such histories.
A hotly anticipated "secret screening" was revealed to be the first part of La Flor, an epic 6+ hour film from Argentinan writer-producer-director Mariano Llinás that has been seven years in the making. His previous film, 2008's Extraordinary Stories, was already an ambitious feat, interweaving various plots over four hours on a minimal budget. It was one of the great unexpected pleasures of that year, offering an antidote to the austere and obscure arthouse works that fill up festivals with an energetic and playful celebration of storytelling. As it appeared in Mar del Plata, the incomplete La flor was not up to the same ecstatic standards, but nevertheless was a welcomingly breezy entertainment. Shooting on a Mini DV, Llinás transcends the limitations of production value with heart-on-its-sleeve earnestness and a disarming tongue-in-cheek tone. The first part of the film includes two stories, one about a team of female archeologists who need to stop an ancient mummy that mysteriously arrives on their doorstep, and the second which inexplicably combines an A-plot about a famous pop singer duo who have become bitter rivals after a very public breakup with a B-plot about a secret society searching for eternal life in the venom of a mythic scorpion. It might not make sense, and Llinás' formal chops are fairly limited, but even with simple camerawork, rough sound, and a hit-or-miss slate of alternatingly comic and melodramatic sequences, the film's love of storytelling (and, admittedly, itself) and reverence for the simplest pleasures of genre-silliness is charming, even touching.
The film will have a proper premiere somewhere in 2017, and will probably be subject to criticism for its unevenness and indulgence, but in Mar del Plata, before this film even fully exists, one has to pause and suspend their critical faculties for a moment to appreciate that this is a festival where the hottest event is a three and a half hour screening of a cheaply made saga about mummy possession, magic venom, and the recording of a cheesy pop song — something which would surely fly under the radar on the Croisette, the Lido island or at Potsdamer Platz.