Back to selection
CPH:DOX 2017: The Inaugural Spring Edition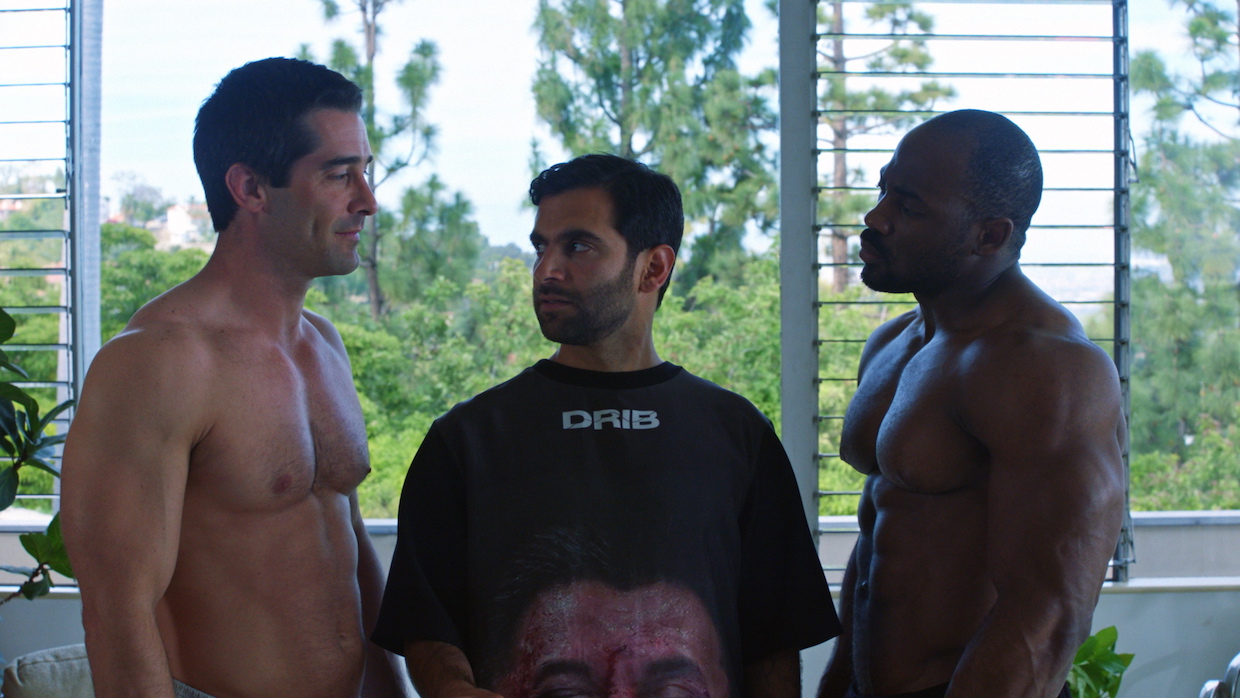 DRIB
The "something for everyone" film festival is a rarity these days. While most fests like to think they're providing a wide array for a curious cinephile to choose from, what they usually end up showcasing is a large selection of subject matter. In other words, the films themselves often look and feel very similar in style. (Indeed, I can often spot a Sundance film ten minutes in, and from a last row seat.) That makes CPH:DOX, "the third largest documentary film festival in the world," something truly special. This was only my second time attending Copenhagen's premiere nonfiction fest, but the combination of sincerely welcoming vibe and cozy screenings made me feel like I was part of a global doc geek family. I mean "cozy screenings" literally: this year's sponsor, Normann Copenhagen, created Denmark's first "pop up designer sofa cinema" inside the new festival headquarters at the Kunsthal Charlottenborg, a year-round contemporary art gallery.
The top-notch team of programmers – including newest member Charlotte Cook (formerly of Hot Docs, and currently collaborating with Laura Poitras and A.J. Schnack over at Field of Vision) – seem to have a variety of POVs and eclectic tastes. Everything from talking head docs to experimental hybrids to timely social issues flicks — even a "documentary musical" — were on display. (That musical would be the Laibach-plays-North-Korea flick Liberation Day, which had me wishing the Brechtian art rockers might sneak in their cover of "Sympathy for the Devil" alongside renditions of songs from The Sound of Music, which oddly, all North Koreans seem to know.) I saw films I loved and films I loathed — yet in every case I found myself thrilled simply by the risk-taking curating. This is a fest infused with chutzpah, unafraid to redefine what a documentary festival can be.
While certainly the focus, docs are also part of a much larger, well-thought-out tapestry. The 2017 edition (the first with March dates) included the launch of Propellor Film Tech Hub (bringing startup tech ideas to the film biz) and a 5-day, themed CPH Conference (day three featured Thom Powers' curated "Serialized" program, including a discussion with Ezra Edelman). There was also a Power to the People section (devoted to exploring the rise of populism), a Film & Debate program (with post-screening showdowns tackling such fraught topics as ISIS and immigration) and the inaugural CPH: Meetings.
The only "Meeting" I managed to attend was a long evening with the French philosopher heavyweight Bernard-Henri Lévy, in discussion with a Danish journalist, bookended by screenings of his films Peshmerga and the world premiere of The Battle of Mosul. Unfortunately, I'd already missed the event with the fearless provocateur Mads Brügger (Red Chapel, The Ambassador) and fellow investigative journo Mikael Bertelsen, co-stars of Jeppe Rønde's The John Dalli Mystery. That doc, which received a well-deserved DOX:AWARD Special Mention, is a superb cat-and-mouse chase centered on an EU official fired on suspicion of being in the pocket of Big Tobacco.
Oddly, I did stumble into a 7-hour marathon screening of the 2009 Danish TV series The Quatraro Mystery, a precursor to Dalli that sees the Copenhagen duo attempting to uncover what really happened to another EU commissioner accused of colluding with the tobacco industry decades earlier (and who subsequently either fell or was pushed out of a window). Needless to say, though, I sneaked out right after the colorful Brügger delivered a long and highly animated introduction – in Danish without translation. (There was one event this Trump-fatigued American purposely avoided – "Alternative Facts: The Steve Bannon Reality Show," an entire night devoted to the man behind 9 radical-right-wing "documentaries" and what passes for a US president these days.)
For the non-alt-right audio-minded docuphile, there were 19 concerts to accompany 20 music films – not to mention a show with Syrian musicians following opening night's Danish coproduction Last Men in Aleppo. (There was also an avant-garde sidebar guest-curated by musician Anohni.) In between screenings one could check out the art installations and VR experiences taking up the top floor of Charlottenborg (itself an architectural delight, a town mansion overlooking the Nyhavn canal). And I haven't even mentioned the abundance of themed parties – such as the techno party that accompanied the screening of Rage, a heady doc exploring the link between anarchism and rave culture.
Oh, and then there were the films – over 200 of them, actually. As a returning member of the Ekko Starbarometer crew (comprised of international critics rating the DOX:AWARD competitors), I ended up watching 13 films I hadn't originally planned on, in addition to the ones I had – bringing my total up to nearly 40 flicks as of this writing. And since there were far too many powerful docs for one overwhelmed and jetlagged journo to cover, I've decided to spotlight a few that rocked my world with images that stayed with me long after the festival closed, all of which to varying degrees contained the crucial ingredient to wowing me: the WTF? factor.
While the DOX:AWARD predictably went to the undeniably strong Last Men in Aleppo — the World Documentary Grand Jury Prize winner at this year's Sundance — my passion for unconventional surprise had me rooting for its tonal polar opposite, DRIB. With this doc, which concurrently premiered at SXSW, Norwegian director Kristoffer Borgli has crafted what amounts to a remarkable feat – a hilariously meta satire for our corporatized age. Shot with an ad agency aesthetic that matches its (failed) marketing campaign subject, DRIB is one gloriously convoluted, doc/fiction hybrid. The film stars the Norwegian (by way of Iran) performance artist/comedian Amir Asgharnejad, who wants to turn himself and his life into "conceptual art," and "to do for viral videos what Andy Kaufman did for pro wrestling." To this end, Amir becomes Internet famous for provoking random dudes to beat the shit out of him on camera. Eventually, these staged (a little detail Amir keeps to himself) acts catch the attention of an LA ad agency that decides to hire him as the mascot for their energy drink client (dubbed DRIB by the filmmakers to avoid a lawsuit) in a covert marketing campaign.
Of course, nothing goes according to plan – not even for Borgli, who finds his wonderfully inventive reenactments of the true tale inevitably being screwed with by Amir. Add in dynamo comic Brett Gelman in the role of the mastermind behind the campaign (who goes on a genius rant about how he's only involved in the corporate system to feed the monster of capitalism so it will burst) and the equally laugh-out-loud, politically incorrect activist/actor Adam Pearson, satirizing his own anti-bullying campaigns (and making lewd comments about fellow Under the Skin actor Scarlett Johansson), and the doc becomes an awesome experiment in going gleefully off the rails. I'm just hoping that Gelman's dressing down of an underling while driving with Amir — "Jason, I'm on speakerphone in the car with the talent…Do you think that that's acceptable?" — will soon become a meme.
Wildly different stylistically, but equally uncanny, is Pow Wow, the latest from Robinson Devor (whose 2007 Zoo I took moral issue with – a cinematic portrayal of bestiality should be about as acceptable as a sympathetic doc about NAMBLA in my nonconsensual-sex-is-always-wrong book). Devor's exquisite doc made me realize I'm simply a sucker for films that exhibit tension between a formal cinematic aesthetic (lovely to look at) and the surreal (often nearly experimental) occurrences going on in the frame. Premiering at Locarno, Devor's flick is (as the titles say) a study of "ethnographic encounters" of the desert people, specifically the struggling Native Americans and rich white folks who both call Palm Springs, CA home (or, in the case of the latter, second home). The film begins with easily the best opening shot of the fest – a whimsical sculpture of a giant face on wheels heading towards us, and a locked gate, in the desert, only to transform into a golf cart as it nears and a flamboyant guy in a ridiculous golfing outfit gets out. It only gets more fantastical from there.
There's the "Pow Wow" – traditionally a Native event commemorating the early 20th century fleeing of an Indian from a lynch mob, which now serves as an excuse for the Caucasian country clubbers to don their finest headdresses and designer cowboy (!) boots and get rip-roaring drunk. Devor also goes for a ride around town, driven by an elderly lady with a heavy French accent who nonchalantly recounts the murder of a local gay friend. (Later she's seen playing the piano while relating a tale of being chased by Arabic men on camels in the Sahara.) The legendary Las Vegas comic Shecky Greene tells Devor that "Sinatra had five guys go after me one night" (and also that "Mickey Rooney lived with my ex-wife for ten years"). Add to this madcap ensemble a plainclothes cop walking his dog amongst the palm trees: "Not uncommon to find dead bodies around here. There's never a shortage," he matter-of-factly offers. Think Midnight in the Garden of Good and Evil in the Sonoran Desert. With gorgeous cinematography and ambient sound design that's mixed with audio clips from Abraham Polonsky's Tell Them Willie Boy Is Here, also shot in Palm Springs, Devor manages to create a low-key, highly artistic observational doc that also leaves plenty of rope for his Errol Morris-like characters to hang themselves with. One after another the shockingly condescending white folks freely expound on Indian culture. A playwright/actor offers lessons on surviving in the desert, what to eat and drink. He points to a cactus, "That you wouldn't want to eat." He then goes on to note that Indians "would imitate animals – because they didn't have any other influences like we had." But there's also the world-weary Native dude lamenting that whites are still afraid of "the other" (as an adorable kid enters the frame and deftly climbs the ladder of a trailer). Indeed, watching Pow Wow did leave me creepily unsettled by "the other" – in this case, the guy in the expensive sports car raving about a genetically modified mango.
An equally stylistic portrait of the rich and clueless could be found in Eva Mulvad's A Modern Man, the director's long-awaited follow-up to her spectacular The Good Life, 2010's Danish Grey Gardens. A Modern Man could serve as a companion piece: both are intimate character studies of the high society wealthy (or, in the case of The Good Life, the formerly wealthy). Whereas the protagonists of The Good Life mourn the loss of fabulous days gone by, young "modern man" Charlie Siem is just beginning to define himself apart from his inherited millions. Mulvad drops us into Charlie's world right from the opening montage, which rivals Pow Wow's opening shot. We see the beautiful Hugo Boss model buy a bright red Porsche, then disclose to the dealer that he's colorblind. (Yes, this is a man who lives life in black and white.) He asks about the sound system, skates along on his roller sneakers – and voila, we're off to tag along with a shallow playboy in Monaco, set to a thrilling classical score. A cut to a tuxedoed orchestra playing that music reveals something startling — Charlie again, this time soloing intensely onstage on his violin. Flowers from a secret admirer arrive backstage, an older woman at an after-party tells the young stud he has magical hands, and Charlie takes it all in with a characteristic show of humility. No need to flaunt: he's sexy and he knows it.
Therein lies the poor little rich boy's struggle. On a date in an outdoor cafe with another flawless model – a female blond who asks about his friends – Charlie admits he doesn't have any pals because he's too selfish, and that's just fine by him. Another telling scene features his beloved violin teacher, who praises his parents because they didn't push and interfere. But Charlie vehemently disagrees – they didn't support his obsession enough. Charlie's passion for music, however sincerely deep, pales in comparison with his need to be as well-respected as his much better known father, the successful and staid German businessman Christian Siem. As the film progresses, we see Charlie at an Armani shoot, on TV mentioning that his fans are known as "Charlie's Angels," noting that "Everybody is negotiable" as he plans for an upcoming concert, and a bigger picture emerges than that of your typical rebellious-and-spoiled-son narrative. Even while he fights to stay true to himself, for artistic integrity, for respect from his peers – i.e., to play the big stages, to be a giant in classical music – Charlie simultaneously longs for pop culture fame, to be an object of desire. Where have we heard that story before?
What's so remarkable about A Modern Man (besides the fact that Mulvad manages to intrigue me with the type of guy I'd normally find painfully tedious) is that, at its heart, it's a modern portrait of the timeless diva, but with a twist – a male one. Charlie struggles with the exact same issues that smart, beautiful women do. He wants to be adored for both his beauty and his artistic talent (yes, his "brain"). Facing the age-old clash of professional admiration vs. populist adoration, Charlie is still trying to figure out when exactly cashing in becomes selling out. Perhaps my favorite scene in the film occurs in a hotel in Singapore. Mulvad's patient camera captures Charli, lounging in a white robe as he watches a movie online, maids busily cleaning up all around him. Painfully aware he lives a "childlike existence," he's nevertheless a man of privilege unaware there's ever anyone else in the room. Which would be despicable if it weren't so sad. "I would be happier if I didn't have to always think about myself," Charlie eventually admits with a rueful laugh. Narcissism is its own gilded cage.
Finally, I'd be ignoring the future if I neglected to mention what was my hands down favorite interactive experience of the fest, Kinoscope – a VR Journey Into the World of Cinema. Directors Philippe A. Collin and Clément Léotard, along with producers Ex Nihilo and Novelab by AudioGaming (and if those company names are familiar you're probably already a fan of the work of Arnaud Colinart and Amaury La Burthe, whose Notes on Blindness: Into Darkness was my favorite VR project of 2016) have crafted an ode to movies that caused me to feel as tickled as a kid at an amusement park. Whereas Notes had me close to tears, Kinoscope made me laugh out loud. I'm not quite sure what's going on in the interactive scene in France these days, but like the Danes with docs, these folks are so far ahead of what everyone else is doing it's astonishing. They seem to truly speak the language of VR (whereas too many artists are still talking film or videogames with the new medium). Voiced by Coppola's production designer Dean Tavoularis (Apocalypse Now, The Godfather) Kinoscope is a freewheeling animated ride from Chaplin to Kubrick to Tarantino territory (and more), a virtual mash note chockful of eye-candy surprises which also had me wondering if I'd just witnessed the birth of auteur VR.