Back to selection
Hot in the City: Previewing the 11th Annual CineKink NYC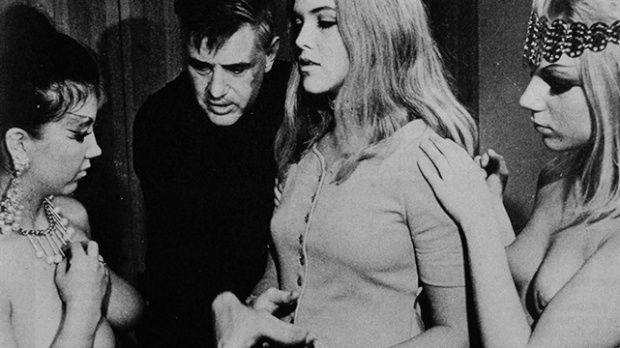 The Sarnos: A Life in Dirty Movies
This year's edition of CineKink NYC, now in the final day of its Kickstarter fundraising drive, wastes no time heating up, opening on February 26 with a cinematic bang in the form of Wiktor Ericsson's The Sarnos: A Life in Dirty Movies, a stellar pic about softcore pornographers with a love story at its heart. (The festival's gala kickoff party is the day before, February 25.) The titular elderly couple at the center of this doc are the legendary porn director Joe — the "Ingmar Bergman of 42nd Street" — and his longtime wife and support system (and sometime actress) Peggy. (No surprise the film had its U.S. premiere at DOC NYC in November and is being given a theatrical release by Film Movement in the spring.) In addition to deft editing and a snappy jazz score, the Swedish director employs gorgeous b&w clips from some of Sarno's features (he shot around 75), which reminiscent of the New Wave masters (Andrew Sarris was a fan). Everyone from talking head film academics to Annie Sprinkle and John Waters provide crucial historical context, making the strong case for Sarno — a guy who claims to have made films and "put the sex in later" — to be included in the pantheon of great indie auteurs. "Sex has consequences in Joe's films," a talking head allows, adding that it's "never recreational." (Sarno also might be one of the first feminist pornographers, focusing exclusively on female characters and their desires over the men's.)
However, the film is not just a clip job. More importantly, Ericsson spends a year lovingly and respectfully following the midtown-and-Stockholm dwelling duo as the 88-year-old Joe attempts to launch his latest softcore project, a chronicling which allows for an even deeper understanding of the relationship between this passionate octogenarian artist and his protective muse. High-end smut aside, this documentary debut, by a director with a long resume in fiction filmmaking, is the quintessential example of storytelling craftsmanship meeting riveting subject matter.
"Porno is what happens between the scenes," Sarno explains at one point. "You try to make it as hot as possible without showing anything." This is something Buck Angel, the charismatic subject of Dan Hunt's SXSW 2013 crowd-pleaser Mr. Angel probably understands better than most. Angel is both a porn pioneer (breaking barriers by winning Transsexual Performer of the Year at the AVN Awards 2007) and a master of illusion, perhaps the only FTM transgender individual to be able to pass wholly and completely as a gay leather daddy. (He's straight, partnered to piercing guru Elayne Angel.) With well-paced editing, which skillfully intertwines photos of Angel in his biologically female youth, and artistic camerawork, limited talking heads and a sense of deep respect for his subject (who Hunt follows over six years, from a Berlin porn convention to the Angels' current home in Mexico and all the way back to meet the parents in California), it's no wonder Hunt's project was backed by independent film organizations IFP and Women Make Movies.
If you're at all confused by the above, don't worry. You're not alone. Angel even mystifies fellow trans folk. One MTF porn star admits making the same mistakes with him that the non-trans world does with her. (And that the first time she did a scene with Buck was also the first time she had sex with "Uh…a vagina!" she exclaims in the film, relieved to have found the right description.) Perhaps sex educator and feminist pornographer Tristan Taormino puts it best: "When I first saw him I saw (the words) 'Buck Angel – man with pussy.' And I thought, 'Oh, shit!'…Man, does he have balls." In other words, the muscle-bound Angel has managed to transform his outsides to match his insides – while loudly and proudly showing off his work rather than hiding it.
Angel's the perfect example of the kind of LGBT hero I hailed when I recently penned a piece about coming out genderqueer, in which I called for all trans people to step out of the closet – especially those who pass. As Angel emphatically declares, "Just because I have a pussy doesn't make me fuckin' not a man." His mission goes beyond trans acceptance all the way to showing the world that it's O.K. to not fit in any box. Picking up a trans DVD at the bustling porn convention he expresses dismay at the question marks after "he" and "she" on the cover. "Own it!" he implores. "You're a woman – you just happen to have a cock!" he adds with a laugh. (Did I mention that his easygoing openness and sense of humor is also his secret weapon?)
By Angel simply being who he is – a well adjusted, happily married man with parents who have finally come around to the "ongoing" (as his father notes) process of accepting him – he defies anyone to call him not normal. Which, of course, means he's not perfect. The fact that he'll choose testosterone-induced health problems – he's forced to undergo an emergency hysterectomy during filming – over the prospect of ever giving up the drugs is a questionable call. (To his credit, Angel also responds to this chemical threat by immediately taking to the web with a PSA to enlighten those transitioning to testosterone's dangers.) Then again, the fact that Angel — a high school dropout and former female model derailed by drugs and alcohol, who now speaks at Yale and keeps the word "gratitude" on his corkboard — isn't hurt that his father still thinks of him as an oddity. That he instead sees it as a sign that there's "still work to be done" might indeed make him abnormal. Which is another word for extraordinary.
Speaking of sex-positive pioneers, festival founder and longtime kink activist Lisa Vandever expressed not the least bit surprise when I got in touch to rave about these two standout selections that I'd sneak previewed. "The works that we have coming through now are of a much higher quality than what we had to choose from in our first couple of incarnations," Vandever acknowledged. "In the earlier days, we might have selected something just because of the topic, but now the bar is raised and we're able to consider the overall whole of a piece. That's partly [due to] the increased availability of [filmmaking] technology to everyone, but I think also it's due to an expanded conversation about kink and sexuality in our overall culture."
"We're presenting more works that have premiered at larger, more mainstream festivals, like The Sarnos and Mr. Angel," she continued. "We've got more sex-positive events and outlets cropping up for such works, with even a mini festival circuit developing. (CineKink being "the Sundance of sex" and Pornfilmfestival Berlin being the, well, Berlin!) And our list of nominees for the annual CineKink Tribute award, which goes out to 'an outstanding depiction of sex positivity in mainstream film or television,' is burgeoning this year."
Yet how does an indie fest like CineKink stay relevant, I wondered, thinking back to last year's Sundance, which was jam-packed with sex-centric flicks. Vandever ventured, "There is still a very giggling take on sexuality that's pervasive in our culture. The 50 Shades of Grey phenomenon has certainly mainstreamed kink to an enormous degree. Yet even the difficulty we've been having raising funds on Kickstarter underscores that we still have a long way to go. Even with the encouraging strides we're seeing reflected in so many wonderful, sex-positive works, we still have potential donors expressing fear of somehow being connected with a kinky festival. And that's not even mentioning the lengths we had to go to make our campaign palatable for Kickstarter sensibilities – or the difficulties that filmmakers face in getting any type of sexually explicit depiction out into the world via such standard platforms as Vimeo or iTunes." She paused. "Hmm. That wasn't where I was headed originally. But, yeah!"
CineKink NYC runs from February 25-March 2 at Anthology Film Archives. It is currently in the last day of its Kickstarter campaign to support its 2014 operations.