Back to selection
DP Sherry McCracken on Shooting the Low-Budget Independent Feature, American Gothic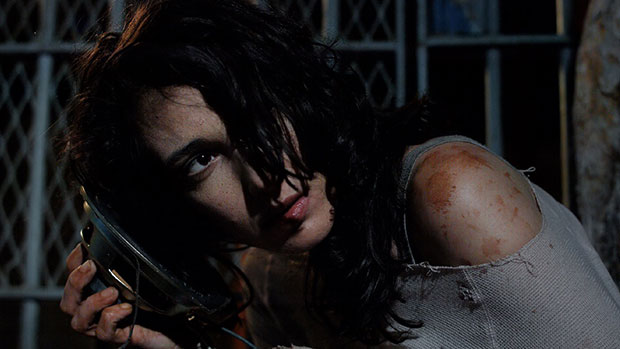 Sherry McCracken, DP for the upcoming independent feature American Gothic, came to cinematography later in life. She grew up taking photographs, operated her own portrait business and worked in local television, but then she turned to IT because she felt she could make a better living. She remained an active still photographer and was asked by a friend to shoot location stills for a movie project. After working on that, and a second picture, she gained experience in film and ended up being asked to DP a project.
In this interview she talks about how she made the switch to cinematography, how the camera was chosen, the challenges of a low-budget film, and how she believes that the new, smaller and lighter cameras make it possible for more women to work as cinematographers.
Filmmaker: How did you get into cinematography?
McCracken: I always loved movies, but never really thought about working on them. About six years ago, one of our best friends, Stuart Connelly (writer and director) and Mary Jo Barthmaier (producer), asked me if I could shoot location stills for the investor package of their first feature film, The Suspect.
After the money was raised they asked me to be the still photographer for the feature. I wasn't sure what that meant, but I was willing to learn. I spent 19 days on set, shooting production stills and behind-the-scene photos. I also started dabbling in shooting behind-the-scenes video with my Canon 5D2. Every day was like a boot camp for me. I was a rookie at filmmaking and it showed…. It was tough and a little humiliating… and then one day it all started to click.
The next film was Natural Selection, produced by Stuart and Mary Jo, and written and directed by Chad Scheifele. Chad and I had worked together on The Suspect, so he asked me to be his still photographer. I spent another 19 days on set shooting stills and taking in even more about the camera, lighting set-ups, set-design, continuity, etc. I learned about storyboards and shot lists. I learned how to block a scene, and how to work with actors to get the shots I needed while not getting in their way. That opportunity was like taking a master class.
Filmmaker: How did American Gothic come about?
McCracken: Stuart and Mary Jo reached out to me and my wife and actress, Dina Engel. Dina had a speaking role in Natural Selection and had also co-produced the feature.
The four of us talked about how we could make a feature that had high production values but cost a lot less money than what had been spent on the two previous films. It's great to have big ideas and do big productions, but it's another thing to actually be able to get your money back. It's really been a great journey because I've been involved with all aspects of it.
We came up with a new model where Stuart would write a script that could be shot at one location, with the story taking place within 24 hours. Stuart asked me to be the DP. I was a bit reluctant, having never been a DP, but I trusted Stuart and knew he wouldn't do anything that wasn't right for me, or the film.
Filmmaker: You chose the Blackmagic Design Production Camera. Had you used it before?
McCracken: No. We were looking for the best quality picture that we could get out of a camera that wasn't a RED, or an ARRI or something that would cost us a fortune. We could rent a RED but we wanted the flexibility of always having the camera available. The idea was to be able to use the camera to do an early proof-of-concept and then have access to the camera after production to shoot inserts and B-roll.
We wanted a 4K camera that had high dynamic range, could perform well in low-light scenes, and had great color. We wanted the option to use my Canon L lenses, with a footprint that was manageable for me to get into tight spaces (like a tiny powder room) and run with it even after it was all rigged up. We also needed it to be affordable. After several months of research, we chose the Production Camera 4K. We also purchased the Rokinon Cine Primes 14mm, 35mm, 50mm, 85mm.
Filmmaker: Were you mostly shooting handheld?
McCracken: It was a combination. We did a lot of handholding because we were moving around a lot. The main characters were prisoners, and they were running from a barn to a house and through the woods, so we did a lot of handholding and a lot of tight places where we couldn't really put the camera on sticks. Now of course, there were times when we did have a camera on sticks or a dolly.
Filmmaker: How long was the shoot?
McCracken: It was about 12 days. We had SAG actors, so we were on the 12-hour day limit.
Filmmaker: What were the locations?
McCracken: Stuart, our director and writer, wrote the script to be filmed at his home. He owns farmland, and they have a barn and a garage and an old farm house, so between those three different buildings we were able to film our scenes and also use the property, which has some woods and cornfields, to do all our shooting.
Filmmaker: Did you have to do many pickup shots?
McCracken: We did several pickup shots. Sometimes it would just be myself and Stuart and we'd go back to the barn where we had kept the set in place, and film some pickup shots there, and B-roll. That's just one of the major reasons for owning the camera — it was so convenient because between the camera and the lenses we could do pretty much anything we wanted to do that didn't involve the main actors.
Filmmaker: What was your workflow?
McCracken: We shot in RAW, so it ate up a lot of memory. And that was a costly part of the film — we did have to buy a lot of cards that are fairly expensive. Between that and batteries, that added to the expense.
Filmmaker: Were you offloading as you were shooting?
McCracken: Yes, we were offloading each day. We had a DIT that was dedicated to offloading and back up. We had enough cards to get us through the day. We'd do a couple of backups and then put the dailies together that we could review, and then we had the cards clean for the next day.
In part II, posted tomorrow, McCracken discusses the differences between photography and cinematography, and how lighter cameras make it possible for more women to work as cinematographers