Back to selection
"Triangle Below Canada": On Opening Night, the Tribeca Film Festival Marches North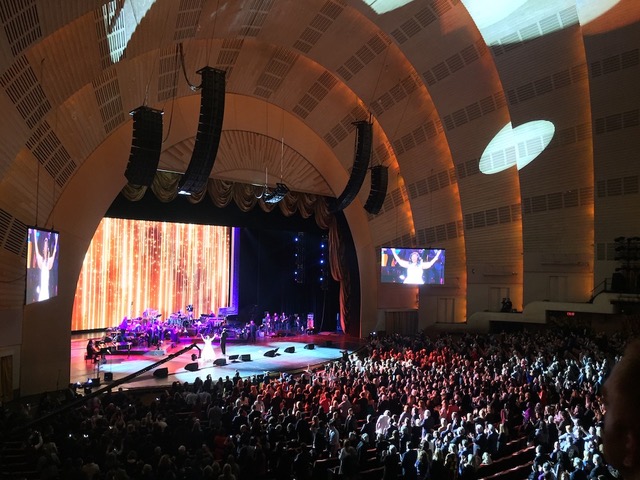 Aretha Franklin at Radio City Music Hall, Opening Night 2017 Tribeca Film Festival
In the course of 85 years, the "Showplace of the Nation," Radio City Music Hall, has hosted countless spectaculars, but few I suspect as geriatric as Wednesday night's revue of strutting septuagenarians revisiting their classic hits from the AM radio era — Barry Manilow, Dionne Warwick, the late Maurice White (in the person of what's left of Earth, Wind, and Fire), Carly Simon and Aretha Franklin. A few youngsters performed too, including Jennifer Hudson and Kenny G.
You certainly wouldn't mistake this for SXSW.
Call it North by Northeast. (With a tip of the bowler to Hitch.)
That would explain the choice of Andrew Cuomo, in full campaigning-for-something mode, to kick off the evening, the opening night of the 16th annual Tribeca Film Festival. Off the bat, Cuomo joked that this nominally downtown festival — last year's opening night documentary, The First Monday in May, was screened at the Borough of Manhattan Community College's Performing Arts Center actually located in Tribeca — appears to be aggressively expanding northward. Soon, he quipped starchly, wielding his trademark flat humor, Tribeca will stand for "Triangle Below Canada."
Half-hearted titters. Yeah, someone should tell him. Steer clear of not funny. Stick to power mongering. (This was his least-cringable joke, by the way.) Meanwhile, can we instead get a round of applause for film festivals like Tribeca that choose to showcase documentaries on their precious opening night, even if, predictably, they limit their topics to glam industries like fashion and music?
This year's opening night documentary premiere was Clive Davis: The Soundtrack of Our Lives, directed by Chris Perkel — hence the parade of living legends on stage, all of whom owe part of their success to Davis's years of support and friendship. Davis, sitting in the audience, lit by spotlight and treated to excited applause, was born the same year Radio City Music Hall opened. He is, in Cuomo's words, "a Jewish boy from Crown Heights, Brooklyn, he had a hard life, he was orphaned as a teenager, he worked hard, he went to NYU, went to Harvard Law School on a scholarship…"
Actually, that's about all we learn about Davis's personal life from the film, a hagiography that digs about an inch deep into Davis's character. Mention is made in passing, oh-so-briefly, of Davis's admission at age 81, in his 2013 autobiography, The Soundtrack of My Life, that he's "bisexual." No mention of the man in his life for the past decade, or his previous long-term relationship. Nor his practice of preventing those he managed from coming out. (Barry Manilow didn't admit he was gay until earlier this month, at age 73, in People magazine!)
By all accounts, Davis — having no formative experience with music or its makers, and who, in a few fervent years of mid-1960s corporate restructurings, zoomed from general counsel to VP to head of Columbia/CBS Records — was an inadvertent true "music man" who had "ears." Even a friend of mine, who was mistreated by CBS at the time and harbors no love for the company, and who worked directly under Davis in the several years after Davis famously signed Janis Joplin post-Monterey Pop, says as much.
Anyway, this is not a review of Clive Davis: The Soundtrack of Our Lives. What the film lacks in revelation or intimacy, it more than makes up for in scope, as a tasty slice of cultural history. Davis played a central role in the careers of so many iconic musicians and performers that his six decades in the music industry form an encyclopedia of pop. Reason enough to delight in this film, as the Radio City Music Hall audience clearly did.
(Newsflash: Apple just bought the rights — both Tim Cook and Jimmy Iovine enjoy brief cameos — so if you miss Clive Davis at Tribeca, I'm certain it's coming soon to an iTunes link near you.)
After Cuomo's introduction, co-founders Jane Rosenthal and Robert De Niro took to the stage, and De Niro, reading off the names of the evening's guest performers, got off the best zinger of the night: "All of them fresh from NOT performing at the inauguration."
The second funniest moment of the evening came shortly afterwards, when promos for major festival sponsors unspooled on the big screen prior to the feature attraction. After a slick spot touting the ultimate sleeping comfort of United Airline's spacious Polaris Business Class seating, came the title "United" in big letters. An audience member hooted, "Too soon!"
Mass hilarity ensued.