Back to selection
Tribeca 2017 Critic's Notebook: This Land Is Your Land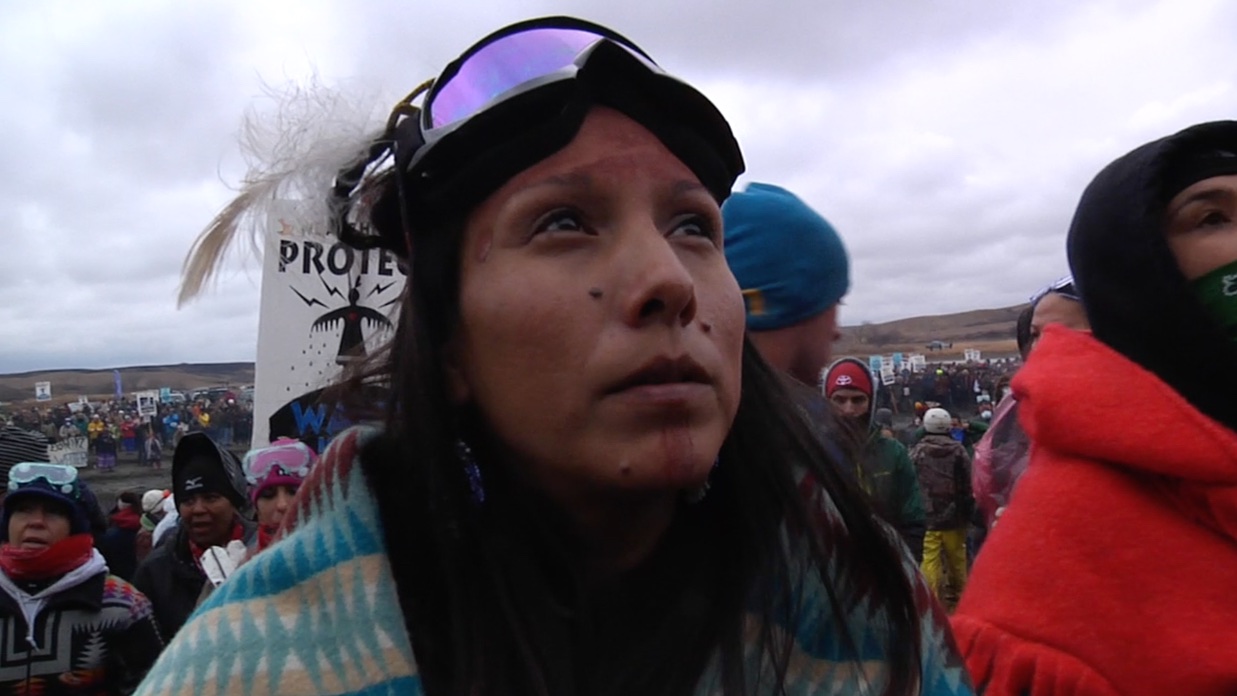 Awake, A Dream From Standing Rock
#Tribeca2017 came to a close last night, after a final day of screenings dominated by the many winners from both Thursday evening's award ceremony, held at the Borough of Manhattan Community College, and Saturday evening's audience award announcement. Among the dozens of awards the festival gives out, Rachel Israel's New York-set romantic comedy Keep the Change, which centers on an autistic couple, took home the Founder's Award for Best Narrative Feature, while Elina Psykou's Son of Sofia took home the Best International Narrative Feature prize. Elvira Lind's Bobbi Jene, already a favorite in these parts, swept the documentary prizes for Feature, Cinematography and Editing, while Jamie Meltzer's True Conviction took home a special jury mention.
Tribeca no. 16's real Closing Night event was held on Saturday however, at Radio City Music Hall, where, following last year's Taxi Driver anniversary screening, the fest once again leaned on the De Niro legacy for star wattage  with an epic The Godfather Parts I & II double bill. The Q&A that followed included all the significant living cast members and the film's director, Francis Ford Coppola. Moderated by Taylor Hackford, who recently directed De Niro in the poorly received The Comedian, the talk, which I viewed online, went on for 90 sometimes insightful, often hokey minutes. Seated to Hackford's immediate left, De Niro said little; Pacino and Coppola both talked at far greater length and clarity about what work went into making such landmark projects back to back than the others on the dais, among whom were Talia Shire, Robert Duvall, Diane Keaton and an often rambling and nonsensical James Caan. "Sonny" struggled to use his microphone when recounting confusing anecdotes from the set, causing Coppola to look visibly strained at several junctures. Diane Keaton recalled watched the film recently, admitting she viewed it for the first time in thirty years on a laptop computer. Even on that tiny screen, she claimed it made her cry all over again.
I watched far more Tribeca features at home this year, piped into a digital projector from a laptop, than I did at the Regal in Battery Park City, the Cinépolis Chelsea, BMCC or SVA. Keaton's recollection speaks to the festival's current ethos: #platformagnostic. Deftly curated once again by Ingrid Kopp, Storyscapes was the festival's first foray into this territory to find its sea legs but now, across the festival's programming, a focus on formal elasticity is evident. Tribeca presented a lot of work in cinemas the past two weeks that will, by and large, be consumed elsewhere; the festival's high-profile debut of a Hulu TV serial such as The Haidmaiden's Tale made as many waves, if not more, than the world premiere of a Tom Hanks movie opening theatrically the same week of its Tribeca launch. Deeper in the #Tribeca2017 roster, one could find TV pilots from promising young filmmakers like Haroula Rose (Lost and Found), conceptually rich web serials from members of the Borscht crew (The Midnight Service), category-smashing attempts at untraditional and independent TV in the omnibus format (The Eye Slicer) and from indie auturists like Onur Tukel (Black Magic for White Boys).
The startlingly gripping Dakota Access pipeline conflict doc Awake, A Dream from Standing Rock, featured in the festival's New Online Work (N.O.W.) section, is already available online. A triptych by filmmakers Josh Fox, James Spione and Myron Dewey, Awake is a motion picture designed to allow you to stop and start at your own behest. The filmmakers use varying strategies to depict the ongoing outrage of peaceful native protestors being sprayed with ice cold water and choked with tear gas; impressionistic first person and strict verite, polemic and memoir are tried out at various points in a movie full of startling glimpses into last year's struggle to resist the pipeline, the effects of the Trump administration's recent order to go forward with the pipeline and the global struggle, from Poland to South America, to thwart the worst attempts by capitalists to extract valuable, carbon-producing or potentially pollution-intensive resources from a planet on the brink of ecological catastrophe.
The right of private entities to exploit public land is also at the heart of David Byars's No Man's Land, a movie I hope finds its way to a cinema near you. An up-close look at the Malheur National Wildlife Refuge occupation led by Ammon Bundy and the late LaVoy Finicum, the film details the strange but perhaps understandable sentiments that powered the armed seizure of that swath of Federal land in Harney County, Oregon in a way few in the mainstream media, save VICE's James Pogue, have attempted to. The Malheur affair wasn't just about an outsized reaction to ranchers Dwight Hammond Jr. and Steven Hammond's arrest for arson on Federal land following an ongoing battle between them and officials from the United States Forest Service (USFS) and the Bureau of Land Management (BLM) over grazing rights for their cattle. Bundy and his followers were seeking an opportunity to advance their view that these agencies are constitutionally bound to give most of the public land they oversee to states, local municipalities and private ranchers.
The movie gives this viewpoint its due, while also suggesting how deeply ambivalent we should remain about such nostalgia for Homestead Act, and for the ethnocentric Manifest Destiny ethos this viewpoint requires to sustain itself. Most of the land west of the Mississippi was stolen — fair and square, perhaps — by the white man from native hands; when those same natives fight for the maintenance of 150-year-old treaties, they are pushed aside or torn asunder. No such plight, save Finicum's grizzly and unnecessary death — depicted here using a startling real-time marriage of footage from several sources — visited these men and women. Yet here is Jason Patrick, one of the key figures in the occupation of the refuge and significant character in Pogue's forthcoming book on the subject, toward the end of No Man's Land, trying to compare these occupiers to the Black Panthers. You feel sorry for him: Sympathizers for this community of angry, alienated, "we're not going to take it anymore" white "patriots" needn't make such spacious comparisons, and they do so at their own intellectual peril. But for those angered by Finicum's shooting death — three bullets to the back from the hands of two state troopers after a roadside stop during an ill-advised and widely telegraphed attempt to meet with supporters outside the refuge — this film may be viewed one day as their very own The Murder of Fred Hampton.