Back to selection
NAB 2017: The Interesting Stuff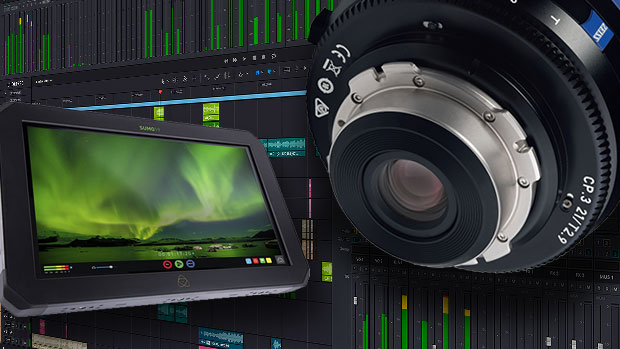 Last week was the annual NAB show. Every year in April the film and television community comes together in Las Vegas to "ooh" and "ah" over the latest technology. With so much announced and demonstrated, here are the most interesting things I heard about:
Blackmagic DaVinci Resolve 14. Blackmagic announced several new products, but the most interesting — once again — was a major update to DaVinci Resolve. Version 14, which is available now in beta, claims a number of performance enhancements that make it up to 10 times faster than the previous version. Resolve also has an entirely new audio editor based on Fairlight audio. (Blackmagic acquired Fairlight last year.) The audio editor supports hundreds of tracks, 6-band parametric EQ, expander/gate, compressor and limiter dynamics and can record up to 96 tracks simultaneously.
This release also adds new collaboration tools including bin, clip and timeline locking, a chat function that doesn't require an external internet connection, and a timeline comparison tool.
They still offer a free version, and the full version has dropped from $999 to $299. A Beta of DaVinci Resolve 14 is available now
Blackmagic URSA Mini Pro Remote Bluetooth Control,. Blackmagic also announced that Bluetooth for the URSA Mini Pro will now be enabled, and they are releasing a demo iPad app. They also announced an open protocol and API for those that want to write their own controls or apps. The update will come in June.
Canon C-Log for 5D Mark IV. Canon announced C-Log support for the Canon 5D Mark IV. It will cost $99, and at the moment they are saying that you will have to send the camera in for the update. Canon claims 12 stops of dynamic range and the update will be available in July.
Canon was also showing off the C700 with Global Shutter, which should be available in the summer.
Canon 70-200mm T4.4 CN-E lens. Canon new compact zoom lens, the CN-E 70-200mm, is a sister to the CN-E 18-80mm announced last year. The lenses have similar weights and the same physical size. They also both work with the ZSG-C10 accessory grip. The grip adds a record button, zoom rocker and an auto focus button, really turning it into a "video camera" lens.
The lens is parfocal and is going to be available in August, probably at around $5,250.
If you're looking for a faster lens, you'll have to stick with the EF 70-200m f/2.8L, which is cheaper, heavier, and really a still lens rather than a video lens.
Sony. There wasn't that much new from Sony. They announced a firmware update for the F5, F55 and FS5, which up frames rates to 120p. They also announced a new 1920 x 1080 OLED viewfinder for the F5 and F65.
Panasonic did an interesting thing; they teased a camera that they aren't going to announce until Cine Gear Expo in the summer. No one is sure what it is, though it is a "cinema camera" that works with "low-cost media" and fits between the GH5 and VariCam LT (which doesn't narrow things down much at all!).
Panasonic released the 10-bit full HD 4:2:2 internal recording firmware update for the GH5.
They also showed a 360 4K camera that they say will start shipping in August. No word on price for that either. The camera produces 2:1 equirectangular format 360-degree video by stitching the output of four cameras.
Zeiss CP.3 and CP.3 XD Lenses. Zeiss has had a lot of success with their CP.2 lenses, and now they have a new series. Smaller and lighter than the CP.2's, the CP.3's all have a 95mm front diameter, are T.21 from 25–135mm and T2.9 for 15, 18, and 21mm. The XD adds Zeiss eXtended Data, which sends additional meta data from the lens. These lenses have new coatings to improve contrast and reduce glare.
Sigma Cine Prime 14mm and 135mm. Sigma announced two new high speed prime lenses. Both are T2 lenses, and bring Sigma's line of Cine lenses to a total of seven. They will be available in PL, EF and Sony E mounts and will start shipping in July, probably at a cost of $3,499, which is the cost of the other lenses in this series.
Big lenses, For those with money to spend, and have a very large sensor camera (such as the Alexa 65) new lenses were announced for you too. There's the Leica Thalia series of lenses. They are available in PL mount in focal lengths of 24, 30, 35, 45, 55, 70, 100, 120 and 180mm. Interestingly, Leica seems to think that the quest for a perfect lens has gone too far, the product manager saying: "While they are new lenses, they do offer many of the characteristics that have encouraged cinematographers to pair older lenses with digital sensors. They are clear without being overly sharp."
Meanwhile Cooke announced the Cooke S7/i line of Full Frame Plus primes in eight focal lengths: 18, 25, 32, 40, 50, 75, 100 and 135mm.
Monitors. Atomos announced the Atomos Sumo, a 19" monitor-recorder that records 4K 12bit Raw, 10bit ProRes/DNxHR, plus 1080p60 live switching and recording. The Sumo will cost $2495. And SmallHD announced a 5" daylight viewable touchscreen monitor designed for use with DSLRs and other small cameras. The SmallHD Focus will cost $500 and ships in June.