Back to selection
From Race to Resistance to Refugees: The 28th Human Rights Watch Film Festival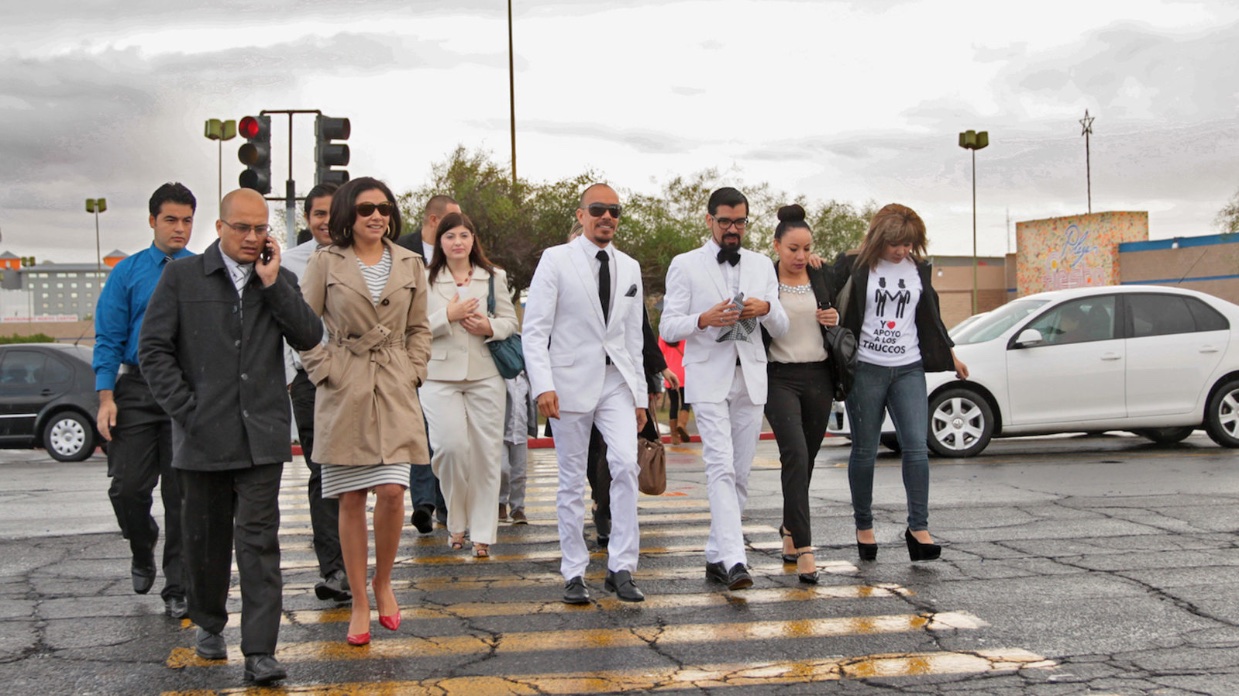 No Dress Code Required
The 28th edition of the Human Rights Watch Film Festival, running June 9-18 at NYC's Film Society of Lincoln Center and IFC Center, will be showcasing 21 feature docs and panel discussions (and no fiction films – a smart programming move as the fiction films in past years inevitably ended up the weakest links in the lineup).
Glancing through the program there looks to be a whole lot of timely stuff to choose from, including a "From Audience to Activist" discussion in which "filmmakers, journalists and activists share best practices on how to hold powerful institutions accountable safely and effectively," and "The Resistance Saga," an entire day dedicated to Pamela Yates's award-winning trilogy (1984's When the Mountains Tremble, 2011's Granito: How to Nail a Dictator, and this year's 500 Years: Life in Resistance) that follows the Mayan citizens of Guatemala from their fight for basic rights right through to the first trial in the Americas prosecuting the genocide of indigenous people.
In addition, there are high-profile docs like David Alvarado and Jason Sussberg's Bill Nye: Science Guy, an engaging portrait of the kids' show icon as he becomes an adult hero, tackling creationists, climate change deniers and his own personal turmoil, which hits theaters through PBS Films in the fall. And also closing night's Nobody Speak: Trials of the Free Press, Brian Knappenberger's Netflix release (and Field of Vision production) that takes the Hulk Hogan vs. Gawker legal battle as a jumping off point to explore how billionaires are using their wealth to shut down not just journalistic outlets they don't like but the First Amendment itself. (Though for my money, the second half, in which Knappenberger turns his attention away from the tabloid titillating wrestler and his infamously sleazy nemesis, is the real story. Indeed, the brave reporters of the Las Vegas Review-Journal — who investigate and finally out the suspected billionaire who bought their paper — need their own doc. The filmmaker buried the lede!)
So where does a justice junkie begin? For starters, here are just a handful of top-notch, under the radar picks that may very well inspire your inner activist.
Racial (In)Justice:
With such stellar films as Sabaah Folayan and Damon Davis's Whose Streets?, focusing on the citizen activists of Ferguson, and Peter Nicks's The Force, following the Oakland PD's difficult attempts at reform, do we really need another doc addressing police violence in communities of color playing the fest circuit this year? We do if it's Erik Ljung's (SXSW-premiering) The Blood is at the Doorstep. Its title is a reference to an activist group's chant outside the home of Milwaukee's attorney general in the wake of the killing of Dontre Hamilton, who was shot 14 times by a much-criticized white police officer.
Like Steve James in Chicago and the Renaud brothers in Little Rock, Erik Ljung is a hometown filmmaker, and here his intimate knowledge of the streets and residents of Milwaukee pays off. While the mainstream media only swoops in at the smell of death, this unobtrusive and thoughtful director earned the trust of Dontre's grieving family — specifically his strong-willed mom and nobly patient older brother — over the course of years as they battle a system designed to fail them.
CNN, Fox, MSNBC and their ilk may get sensationalistic shots of the 2016 Milwaukee riots (after 23-year-old black man Sylville Smith was shot by a black officer), but Ljung's lens is able to capture something far more profound: the day after. A sea of white and black faces — most notably Dontre's brother — slowly walk the streets of their city, large black trash bags in hand. Unfortunately for us, neighborhood cleanups don't make the 24-hour news cycle. All the more reason to support local indie filmmakers like Ljung.
LGBTQ Rights:
I'm embarrassed to admit I had no idea that while America was engaged in a state-by-state culture war that culminated in same-sex marriage becoming the law of the land in 2015, our neighbors south of the border were experiencing pretty much the same thing. Cristina Herrera Bórquez's No Dress Code Required (which had its North American debut at the Palm Springs International Film Festival) follows a ridiculously adorable, hairdresser/stylist couple in Mexicali, Mexico in their Kafkaesque quest to get married.
Víctor and Fernando have been together for nearly a decade and see no reason why they should have to trek all the way to Mexico City for their partnership to be legally sanctioned. (And only to be invalidated when they return home — sound familiar?) Suffice to say, the bureaucratic bullshit they come up against in Mexicali (questions about valid birth certificates, potentially forged signatures, and even STDs!) make Kim Davis's arguments seem reasonably sane. Which is why it's all the more remarkable that these impressively patient and dignified men, who include the couple's (gay) lawyer in Mexico City and (straight) barrister in Mexicali, ultimately prove that, as corny as it may sound, love does indeed conquer all in the end.
The Refugees Next Door:
Tonislav Hristov's refreshingly low-key The Good Postman is one of those rare gems (another is Kedi, Ceyda Torun's beautiful meditation on the cats of Istanbul) that I caught on the festival circuit in 2016 and then kicked myself for never getting around to writing about. A Sundance U.S. premiere, the film examines the European refugee crisis through the eyes of the citizens of a Bulgarian town on the Turkish border. Hristov focuses on one man in particular, the titular postman Ivan, who runs for mayor on a platform of welcoming the flood of asylum seekers flowing through this tiny village in an effort to revitalize a community whose residents are quickly aging and dying off.
And while his neighbors are both opposed to and supportive of his brainstorm, the film is anything but predictable. Rather than conveying a heavy-handed political message, Hristov provides us with a thorough portrait of a rural community, including its often laugh-out-loud absurdities. It's a funny, feel-good film about the refugee crisis — a rare gem indeed.
Workers Rights:
Finally, Adam Sobel's The Workers Cup, a 2017 Sundance-debuting film I caught a few months later at CPH:DOX, is another surprisingly unique picture, a fascinating look at the (1.6 million!) migrant workers currently constructing the stadium in Qatar that five years from now will host the FIFA World Cup. Sobel's title is a reference to the name of the tournament the workers themselves are invited to participate in, and the director deftly follows the multi-round competition itself – including the practice sessions that take place in between endless work hours for slave labor salaries at camps set far from the glitz of the capital.
Yet Sobel's film is certainly not clear-cut. While the workers truly appreciate the chance to let off steam, revel in some team spirit, and feel a part of what they're building, the tournament also serves as a propaganda tool for the Qatari government. (These desperate workers aren't being exploited – they're actually enjoying a good game of football!) Add to this the layers of corruption one would expect from a film involving FIFA, and you've got the makings of a heck of a thrilling sports doc.